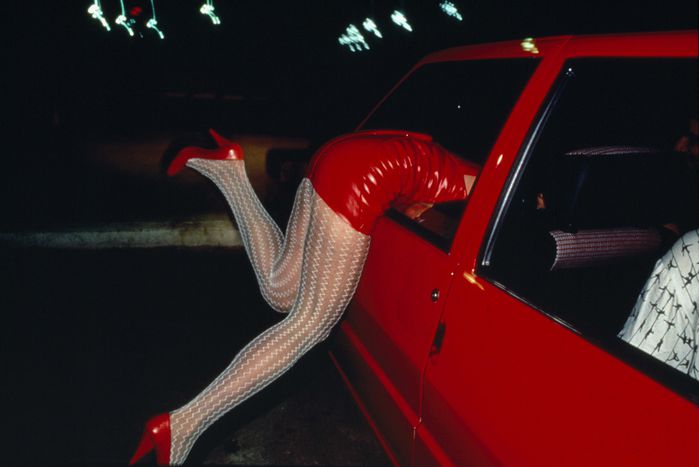 Euro 2012: Empty seats, Eastern sex
Published on
While ticket sales for the European championship were not as high as Poland might have hoped, the country did get down and dirty with sex tourism. All big sporting events have their scores, and not just those involving a ball... In Poland, which co-hosted Euro 2012 with the Ukraine, sex tourism is big business and between June and July records were smashed in the not-so-beautiful game.
It's legal, cheap and profitable, and horny football fans guaranteed a steady clientele
'Why don't you come and work out with us before the match?' Suggestive poses, arched backs, seductive looks; this is how the 'Euro girls' entice their clients. On flyers they tempt fans, topless, dressed in skimpy lingerie and with a football in hand. Aggressive advertising of 'football specials' has spread. Leave your car parked in Warsaw for an hour and when you return you'll be sure to find that your wipers have been adorned with some seriously racy flyers. Adverts touting striptease clubs and 'happy ending' massages that you just wouldn't find elsewhere. Weeks before the European championship began, sex tour operators were hard at work. In the host cities, Warsaw, Poznań, Wroclaw and Gdańsk, prostitution rose to the challenge. Online, adverts for pouting girls proclaimed: 'available now, 20 euros for 1/2 hour, 25 for 1 hour' for the cheapest.
Sex tourism hot spot
Weeks before Euro 2012 kicked off, clients of these websites drooled at the prospect - an eBay for prostitution with helpful advice to boot. They reserved clubs or girls from online photo catalogues, filtering them by cup size, age or services on offer.  Sometimes you would also come across comments - some more eloquent than others - that clients had made on their selections: 'You can't deny that everything there leads you to temptation: clubs along the B roads, agencies in the city centres, beautiful women',  reveals 'Titilleur' ('tickler') on Doctissimo's sexuality forum. 'I went to a club and straight away a gorgeous girl offers me the drinks menu. She gave me a very warm welcome and the prices were incredibly low (like most things in this country), so we moved on to more serious matters'.
Football aside, Poland is a well-established destination for sex tourists. Even outside the Euro 2012 period, prostitutes' order books are filled with western names. Whether by plane or bus, tour operators have specialised in sex tourism across Eastern Europe. Polish clubs are allegedly popular with Italian, English and Scandinavian tourists. Gabriela offers her services in Lodz, and counts several western men among her regular clients. In an article published in the weekly magazine Newsweek Polska on 30 January 2012, she revealed: 'Poland is a major destination for westerners, even without the football. Italians are robbed every day, because they are used to living a nocturnal lifestyle back home. The English prefer to stay around Kraków. And you mainly find Scandinavians in Gdańsk.'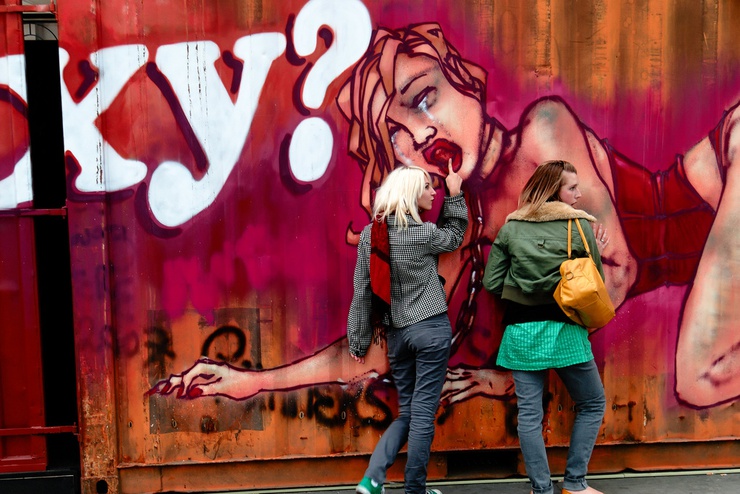 Clients sing the praises of Polish prostitution online. 'Prices in this country are unbelievable - I'd recommend it!'  The girls aren't shy; they're cheap, accessible and sweet. The conversations revolve around these themes, with details on the prices on offer: 80 to 100 zlotys (between 16 and 20 pounds) for half an hour; 100 to 300 zlotys for an hour in a hotel, 20 pounds for a novice, 70 for high-class girls. On Doctissimo's sexuality forum 'Le gland bleu' ('the blue member') explains: 'There's no comparison price-wise! When you think that, in France, you can expect to pay 30 euros (24 pounds) for a blow job, 80 euros (64 pounds) minimum for sex in a grotty hotel and 2 to 300 euros (160 to 240 pounds)  for an hour with a girl.' For these clients Poland is 4 to 8 times cheaper, and they run fewer risks than elsewhere, as prostitution is completely legal.
Reaping the benefits
The sex industry has understood the real meaning of 'made in Poland'. For prostitution, a big sporting event means an influx of fans ready to be tempted. 'Escort agencies', as they are known in Poland, and clubs prepared early on to meet the demand of Euro 2012. 'Of course we are preparing ourselves',  says Sonia, who works in one of Poznań's agencies. 'None of us is planning to take any time off or stop doing business during this period. We can earn much more in less time. We will even be able to boost our prices a little.' So are football fans ripe for the fleecing? Perhaps not, given Poland's reputation for low prices. Instead, prostitutes are counting on making up for this by the number of clients they will see, as Sabina, who works in one of the agencies, explained to Newsweek Polska: 'There will be matches in Gdańsk. Swedes and Germans will be coming here. I hardly need to tell you that we're expecting record profits.' Gabriela and her friend can earn on average 5 to 6000 zlotys (1200 to 1400 euros) a month. 'It's enough to meet our day-to-day needs, but not enough to put any aside. We're not going to waste any time in June - I'm hoping that we will be able to at least treble our wages.' As a comparison, according to Poland's central statistical office (the GUS), the average Polish salary in 2011 was 3399 zlotys (804 euros), and from 1 January this year the minimum wage has risen to 1500 zlotys (283 pounds).
For prostitution, a big sporting event means an influx of fans ready to be tempted
Others outside of the industry are more worried about the consequences of this testosterone overload in the streets. Joanna Garnier from the La Strada foundation had voiced the concerns of many in Poland: 'Aside from the issue of prostitution, we are more worried about the safety of women in general. There are lots of people, lots of alcohol and men on the lookout for sex. Women may be accosted in the street, solicited or even assaulted. We are deeply concerned about the possibility of rape and non-consensual sex.'
Images: main (cc) Camera viva/ flickr; in-text: Dean Ayres/ flickr
Translated from Talons aiguilles, string et ballon rond