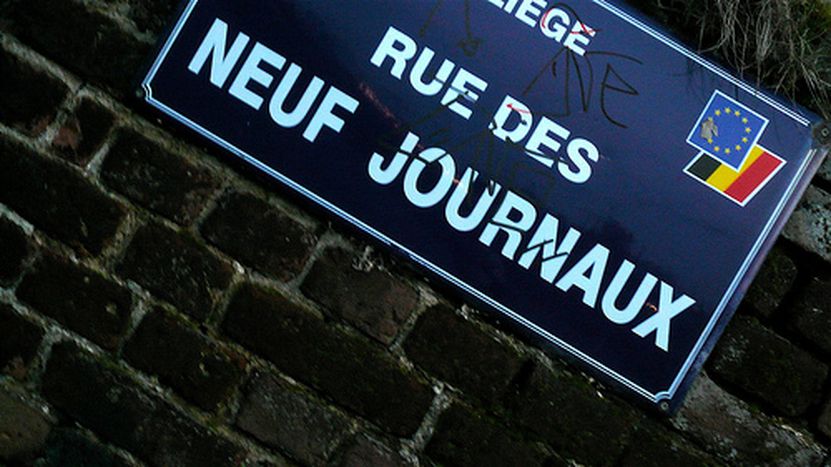 EU reporting bad Belgian news
Published on
Translation by:
jonathan mellor
Belgian national media is not impressed by the European coverage of political crisis. The presence of the European institutions, it believes, is impeding its autonomy
'Problems within Belgium have to be resolved by the Belgian government, either temporarily or permanently, but they cannot go straight to the European commission without first trying to solve them nationally.' This is how Sophie Vanlommel, writer for a local newspaper in Antwerp, describes the Belgian people's discontent at their treatment by some of the media, which they believe confuse Belgian and European rule.
The Belgian media, more united than the politicians
The Belgian media still cover news from the whole country
In the two regions which have leading roles in the Belgian crisis, Flanders and Wallonia, writers in local publications insist that the use of French or Netherlandic is no barrier to communication within the country itself. Quite the contrary, in fact: providing a clear example of plurality, the Belgian media, even while giving the main headlines to news from their own region, still cover news from the whole country. Politicians would do well to take note. 
The resignation of Belgian prime minister Yves Leterme has done little to alleviate concerns on all sides in the face of the current situation. Headlines over the last two weeks show that lack of sustainability tops the list of national preoccupations. Both sides of the political spectrum coincide that, in this sense, their role in the Franco-Flemish separation is 'just to inform, not to campaign.'
Flemish fairy-tale castles
Correspondents for international news sources suggest that, perhaps because Brussels is involved, the francophone media are easier to deal with than their colleagues in the Flemish press. 'That said,' clarifies María Ramírez of Spanish national daily El Mundo, 'the Flemish part is making a great effort to win over international public sympathy, and recently have invited us to their fairy-tale castles, to show us they can be helpful and friendly.'
Parents can only choose whether their children are educated in French or Dutch in public schools in Brussels
For Sophie Vanlommel, the radical position which Belgian education has reached is 'too much', diminishing as it does the cultural diversity of the country. Parents can only choose whether their children are educated in French or Dutch in public schools in Brussels, a kind of oasis in the midst of the confrontation. Sophie is bilingual as are many of her colleagues. She stresses that the sense of unity between them all is 'exceptional, wherever we are from. We are here only to write.'
Europe and Belgium's forgotten news 
In terms of outside interest, exclusively Belgian news filed by foreign correspondents lags behind stories generated by the EU in Brussels. The latter is, of course, legitimate territory for reporters, but it is clear that those sent to Brussels have Europe as their number one priority. Only Rolf Fredriksson, Swedish TV correspondent, claims to spend as much time and effort reporting on Belgium as he does on the European Union. 
This present confusion regarding Europe and Belgium does not overly gratify the Belgian population, maybe because news of Europe is often led with the word 'Brussels', or because the EU overshadows its host country: only scandals such as the resignation of one of its governing politicians seem to remind public opinion that Belgium does, after all, have its own flag.
Translated from La Unión no respeta la soberanía belga