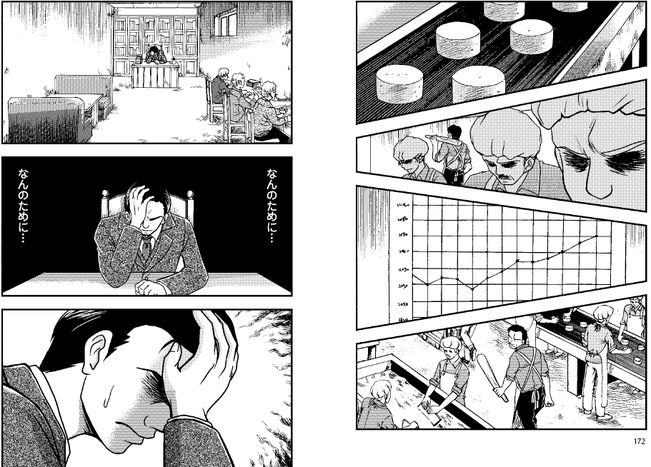 EU-Japan history via Karl Marx, the manga
Published on
On 14 March 1883, the father of socialism died. In these times of economic crisis, sales of Capital are on the increase in Europe, and Karl Marx is also going to become a comic strip. The Tokyo publisher East Press is launching a series of 28 manga versions of important European and Japanese literature. Dostoyevsky is among the bestsellers, along with Dante, Kafka and Hitler's Mein Kampf
If you think about it, some of the titles in the catalogue seem easy enough to guess; William Shakespeare's King Lear (1603- 1606) and Leo Tolstoy's War and Peace (1865-1869) would lend themselves pretty well to images. However, you start to get stuck when you consider that Søren Kierkegaard, the Danish master of existentialism, is also included in the series with The Sickness Unto Death (1849). A more unlikely text than this is perhaps Karl Marx's Capital ('Das Kapital', 1867).
Between Dante and Kafka, the Führer turns up
The 190 pages of Capital do, in fact, have captivating features which, in the transposition of this well-known classic of economics, yield an interesting, if not an easy, read. Kosuke Maruo, who is managing the series, ensures that every text has been carefully studied in order to transpose the original flavour of each volume without giving up interesting narrative choices.
'It is important to understand the reasons for Hitler's way of thinking'
It is more than purely didactic attempt to make readers want to discover the original text. Hitler's autobiography Mein Kampf (1926) has also been included among the titles. 'It is not in any way our intention to publish Nazi ideology,' explains Kosuke Maruo, 'but I believe it is important to understand the reasons for Hitler's way of thinking.' For the Japanese publisher, the German dictator's controversial work is only one offering among many others meant to allow the Japanese public to understand a little about European history. 'Personally, I would never publish it,' comments Marco Marcello Lupoi, the publishing and licensing director of Panini Comics, one of the most important publishers of comics in Europe. 'I am all for leaving books that have done this much evil to fall into oblivion,' he continues.
Manga in schools
'Takiji Kobayashi's The Factory Ship (by the Marxist writer in 1929) is the bestselling title, followed by Fyodor Dostoyevsky's The Brothers Karamazov (the final novel by the Russian in 1880),' explains Maruo, 'although we expect Marx to sell well and possibly even beat Kobayashi.' East Press says it is satisfied with sales and the reactions of the public. 'Some of the titles of the series are going to be used as teaching material in schools,' continues Maruo. 'Libraries are beginning to open up to this type of educational product in the manga format.' 'A similar initiative is not new to Italy, either,' comments Lupoi. 'However I am not sure what place it is likely to find in 2009.' For example, years ago, the Italian comic artist Renato Polese had already attempted to convert works by French and American authors Jules Verne and Hermann Melville into comic book formats. 'Today I would not be surprised to find something similar in Spain or France, as both countries have much more avid comic fans than we do,' concludes Lupoi. 
'Spain or France have much more avid comic fans than Italy'
Apart from the authors already mentioned, other works will be presented by Europeans such as Goethe, Machiavelli, Nietzsche, Stendhal, Saint-Exupéry and Hugo. For those who want to get to know Japanese classics better, Kosuke Maruo advises Osamu Dazai's No Longer Human and Soseki Nansume's Kokoro ('The Heart of Things', 1914). 'Both are very popular and are in harmony with profound features of Japanese culture.'
First published 9 March 2009 on cafebabel.com
Translated from E se Marx fosse un manga?