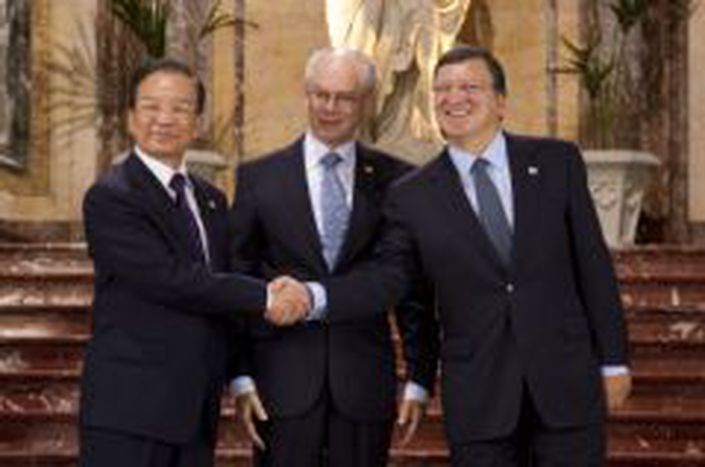 EU-China: Is Brussels still the port of first call?
Published on
Translation by:
Pierre-Yves Leveaux

By Chibuzo Opara (Live from EU Council Summit) Nothing exemplifies China's growing economic and political clout like its current global market position where it is currently the third biggest economy after the US and the EU. China is also the EU's second largest trade partner after the United States while the EU is China's biggest export market.

In 2003 China became of the EU and in the last 5 years trade between EU and China has grown at almost double the rate of growth between the EU and the rest of the world. However even though daily trade between the EU and China exceeds 1 billion dollars every day, China is still given status in Brussels and subject to trade tariffs.

As leaders of the European States meet today in Brussels to once again debate key issues related to the stability and economic well-being of the Union. Posturing by different leaders and worries about the different country positions in relation to the Single Supervisory Mechanism could overshadow a report by Herman Van Rompuy on the strengthening bilateral relationship between China and the EU which were further confirmed at the recent China-EU summit in September.a strategic partnerdeveloping country

In September an EU-China summit, incidentally the last one to be attended by the current Chinese Prime Minister Wen Jiabao, ended with a on both sides. Agreements were reached and signed on on innovation, competition, space and low carbon programmes. While discussions were held on especially Syria and Iran Wen Jiabao promised more of China's help with the economic crisis but complained bitterly about its unfair treatment by Europe especially with regard to since the end of the 80s and early 90s.

sense of mixed feelingshuman rights and international peace and securitythe arms embargo in China

Looking below the surface however, trade between the EU and China is not uniform across the EU and Sino-European r. There are some views that China might decide to pursue bilateral relations with individual member states with which it might have more trade and strategic relationships. This approach might be more cost effective and beneficial than one with the whole EU which might be too cumbersome to manage. However, counter opinions argue that it benefits China more in the long term to pursue a than with individual member states pitting them against each other. In truth, however, a combination of both strategies and a middle road might in the short and long term.

elations and views vary from member state to member statecomprehensive EU-China relationshipbe the more realistic option and approach

(Photo Credit - European Council)

Translated from EU-China: Ist Brüssel immer noch Anlaufstelle Nr. 1?