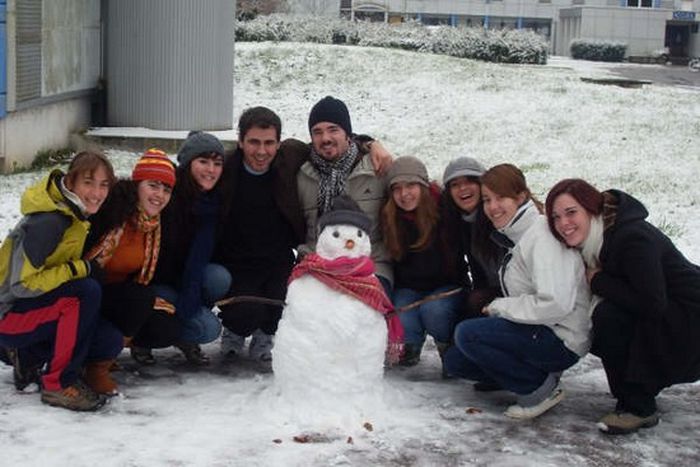 Erasmus testimony: a Spaniard in Grenoble, France
Published on
Translation by:
Helen Moorhouse
What happens to those Erasmus students who leave a relationship or partner behind? And those who can't handle their beer? Does that mean they can't go too? Tips for heartened and disheartened Erasmus students who find themselves in a different culture, pitfalls included
There are many areas of discussion concerning Erasmus programmes. Some are obvious, like the language barrier. Others are not so, like the facilities that the teachers can offer their 'beloved' new foreign students.
Get nowhere fast in Erasmus
In the first few days, you will come across a hundred and one types of 'poker face': when you go to the bank to open an account and get nowhere, when you go to buy a sim card and get nowhere or when you go to the international student office to register and once again get nowhere. Not to mention the tendency to only hang around with people from your country, getting by on 300 euros (£261) per month or having to leave the camembert outside the window because you don't have a fridge.
But, despite all that, we have to admit that Erasmus programmes have more advantages than disadvantages: you can fly the nest and learn how to cook; you can experiment with a Spanish tortilla for your French friends for the first time in your life; you can learn the dangers involved in riding your bike drunk at night and appreciate what you have left behind in your home town (the good weather, how much your partner loves you and how good a cook your mum is). Whilst at the same time you can comfort yourself with everything that awaits you in the new country: different people, music and traditions.
You won't ever ask your parents for money again
However, the hardest lesson to learn isn't the Spanish tortilla recipe or the correct use of 'tout', 'tous' and 'toutes', but getting to know yourself, learning how to manage in different situations and learning how to confront your worst enemy behind closed doors: you. But whilst 'all that glitters is not gold', don't get disheartened Erasmus student. You won't ever ask your parents for money again, by June 2009 you will speak French and if you don't learn how to cook Spanish tortilla, don't worry, you will always be able to get ready meals from the supermarket.
Conclusion: Erasmus suicide
In this monologue is the story of a somewhat 'quirky' native who falls in love with a German Erasmus girl in Almeria in the south of Spain. But she ends up falling for the hunkiest guy in the class with the trendy car. In his sorrow, he is left thinking about the authentic local sites he could have shown her - 'those things only locals know about'. In return, with her vivid imagination, she would have given him an insight into German culture, taking him to Germany to sample the best German beer. In the end, love leads him to do something unthinkable: destroy his ideal. 'In any case', he says in his final thoughts, 'I always knew going on an Erasmus programme was suicide.'
Next week: catch the fourth in a five-part series of Erasmus testimonies of a Bulgarian Erasmus student in Bonn, Germany
Translated from Mi experiencia Erasmus: no es oro todo lo que reluce