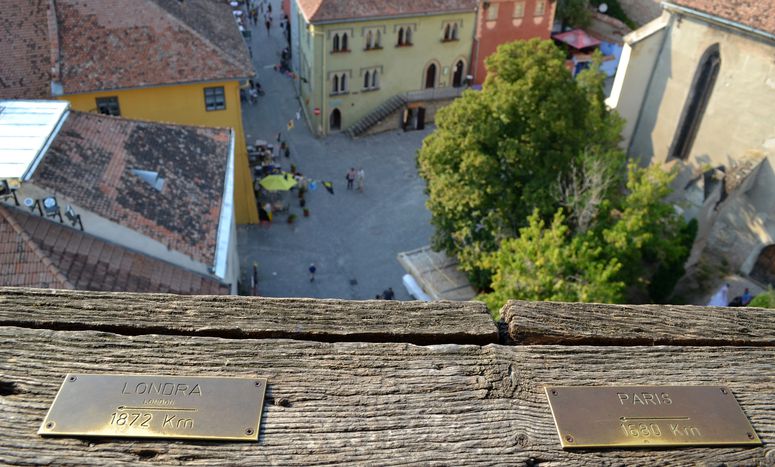 Enlarging personal borders in a borderless Europe
Published on
"Anthony works in the grocery store / Savin his pennies for some day / Mama Leone left a note on the door / She said "Sonny move out to the country / (…) And it seems such a waste of time / If that's what it's all about / Mama if that's movin up then I'm movin out".
These are lyrics from the 1977 hit song "Movin Out" of the legendary American singer-songwriter Billy Joel. The track is about aspirations of working and lower-middle class New Yorkers who take pride at working long hours in order to afford the outward signs of having "made it".
It could also be true in 2014 for youngsters in post-financial crisis Europe. The difference is many young Europeans are thinking about moving out to another country.
Destinies behind the numbers
According to the 2011 Eurobarometer survey, 53% of young people in Europe are willing or keen to work in another European country, but lack of cash discourages many of them from taking a first step towards this by spending part of their education abroad. 
The survey covered 27 EU Member States, as well as Norway, Iceland, Croatia and Turkey and showed that students who spend part of their studies or training outside their home country boost their employability and are more likely to work abroad later in life.
But inside a United Europe, economical notions like GDP and minimum wages are still dividing people and nations.
In January 2013, six countries had minimum wages above 1000 Euro per month while in other five people earn more than €500.
Workers in ten states find less than 400 Euro on their paycheck at the end of the month. The lowest minimum wages are in the newest member of the European Union: Romania, Bulgaria, Latvia and the other countries who became part of the community in 2004, 2007 or 2013.
It's not surprising that the difficulties of daily life determined thousands of young people to try their luck away from their home.
University of Macedonia in Thessaloniki (Greece) presented last March a worrying statistics about the new generations in the country hit the hardest by the financial crisis on the continent.
Lois Lambrianidis, Economic Geography professor, estimated that no less than 150,000 Greeks have left their country after graduation in the last five years. Many of them headed to United Kingdom, France, Germany and the US even without having searched for work in Greece first. 
Compared to Greece's almost € 690, the Romanian monthly average wage of € 190 reflects a constant economic crisis of the Southeastern European country in the last 24 years, since the installation of democracy.
Romanian HR company SmartDreamers realized in July 2013 an online survey and asked 1000 people between the age of 24 and 30 and another 500 from the 18 – 24 demographic group.
As a result, 78% of them were determined to go abroad for a better salary and to make some savings. More than half of those surveyed were working, 10% of them already abroad.
One in five said they would leave for reasons like personal development possibilities or better education for their future children.
The biggest obstacle they mentioned is that they can't afford to live in a foreign city while looking for a job there, while 11 percent also fear discrimination.
The liberty to explore
Romania 2014. The country with opening to the Black Sea is the eastern border of the European Union since 2007, when joined the union alongside Bulgaria.
With a population of 20.1 million, it is one of the poorest countries of the EU.
A country of contrast between archaic countryside and cities with blocks of flats massively built in the Communist era, before the December 1989 Revolution.
A state where the ten richest people have an estimated fortune of 4.451 billion Euro, but a quarter of the children are living in poverty, according to UNICEF.
Romania recently made headlines in the international press with the Roşia Montană project, which would have become Europe's largest open-pit gold mine, but was rejected for now by the Parliament due the use of the gold cyanidation mining technique.
A nation of people who are chasing their dreams even across borders, if let to do so.
In the 1970's, under the harsh Communist dictatorship imposed after the second World War, Romanians could travel only in fellow Communist Eastern European countries, in group, carefully supervised by their travel guide.
In the 80's prepaid visits were allowed through so-called "County Tourism Offices" in several countries, including East Germany (The German Democratic Republic), but only with permit from the authorities, after a background check.
After 1990 the borders opened, but most of the states have imposed visa requirement for Romanian people, meaning bureaucracy, time and money, which not many could afford.
Real freedom to travel came as a result of becoming member of the European Union on 1st of January 2007, since when Romanians could travel abroad in 22 countries by showing their ID card.
Not needing a passport and being able to cross borderlines in a few minutes gave Romanians a nice feeling of belonging and opened new perspectives.
Younger generations had become the big winners of the move. The only obstacles are lack of courage or finance.  
Laws are above speculations
"In fact, I moved abroad in a random" – Elemér tells me while he is heading to work in the classy town of Aylesbury, Buckinghamshire, 58 kilometers north-vest to London.
The 28 years old works as a caregiver since 2009, when he left Romania.
"It wasn't hard to leave the country and find a job, but everything was so new: the environment, the culture" the Public Relations graduate explains the beginning of his journey in the UK.
In Romania, he worked for a town administration near the Hungarian border, until decided it's time to do something else. It was about limited possibilities both professionally and financially in a town of under 14,000 people.
Elemér, called by his family and friends Öcsi (meaning "lil' brother") moved to a friend who was living already for a few months in the United Kingdom. He helped him finding a job.
It was not the job of his dreams, but earns enough, made some friends and has plans for the next years. Last summer he achieved one of his dreams and spent a couple of weeks in the United States of America.
In the aftermath of a whole media campaign about the eventual invasion of Romanian and Bulgarian people after 1st of January 2014, since when the United Kingdom had to lift working restrictions for these two countries, Öcsi is not feeling discriminated.
"It helps that laws are forbidding discrimination and people respect the laws. Everybody have to respect the nationality, culture, habits, sexual, political or confessional orientation of the others and have the right to be what he wants" he explains.
Making friends in a complete stranger environment wasn't difficult at all, "God knows how many different people I met, mainly as colleagues: from Pakistan, India, Nepal, China, the Philippines, South Africa, Hungary…"
He thinks the only ones who have a problem with the elimination of the working restrictions are lazy Britons, who are afraid they could loose their job "because they know that Romanians (or most of them) for example, are coming here to work".
But the hardest challenge comes from the inside: he is still fighting the constant homesickness.
Living her own "Scandinavian dream"
Almost 1500 kilometers away, a town of 18 500 residents in Sweden made it's way into the medical journal of the American College of Physicians with a research on how steroid shots can temporarily relieve the painful symptoms of carpal tunnel syndrome.
The hospital of Hässleholm, where the research was conducted, is located near the city center, surrounded by vast green areas, is, a complex of same-looking, red brick covered buildings.
One of the employees of the Department of Medicine is Laura from Romania.
Now a third-year student of the Kristianstad University College, she moved to Sweden six year ago, at the age of 22.
She didn't spoke the language but her boyfriend was working for the two years in the Scandinavian country when decided to follow him.
"Before I came here, I was an accounting student. I worked for about two years at a factory. The cultural differences were not a barrier, but I couldn't do anything with my Romanian diplomas" she begins.
Laura had to study for two years, taking mathematics, English and extracurricular courses to be able to start college in her new home. She wanted a fresh start, so instead of numbers, focused her attention on humans and applied to medical school.
The university she attends send her for practice at the hospital where she later got a job she likes.
Laura can confirm that Scandinavian countries are between the most developed and open-minded nations and says she never felt less equally treated than her Swedish classmates.
"I made friends at college and at work. They are mainly Swedish, but Germans and Mexicans too".
She knows exactly what she wants for the future: after graduation, she wants to work in surgery or on ambulance and study one more year.  
"Unfortunately, I don't want to return to Romania. Healthcare system is very different here. It is a pleasure to work in a hospital. This is my dream!"
Once you get used to travel…
For the last two years Karinne was working as a department manager for one of the worlds largest fashion distributors, the Spanish fashion company Inditex Group in Arad City, Romania.
In October they offered her a temporary two months job in the Russian Federation and she accepted.
"I moved to Kazan to help solving some issues in the local store" the Journalism and Business Administration graduate tells.
As a former Erasmus student, she spent a semester in Portugal so the experience of living in another country wasn't new for her. Especially that she splits her day between the store and her apartment.
Karinne says people in the capital city of the Republic of Tatarstan are self-confident, but quite different from Romanians or Portuguese and even from Russians, having their own language.
When approached in English, they reacted surprised, interested of why doesn't she speak Tatar or Russian, or were even offended. "Surely it is quite an experience for me".
Other young Romanians are traveling abroad to learn about others and develop themselves.
One of them is 23 years old Iasmina, who has spent last summer in the African country of Togo as a volunteer in an international project.
"I wanted to go outside my comfort zone and I always planed to visit Africa. That experience changed my life. I learned to appreciate things like water, electricity, or internet and that people the less they have, the more will offer you what they can" Iasmina confess.  
Even when her team needed to leave the country because of political instability, she didn't lose her appetite for discovering the world by helping communities.
Moving has never been an issue for her: she graduated in Cluj-Napoca, started MA in Timişoara and continued it in Hungary, at the University of Szeged.
Starting from the middle of October until the end of December 2013, she took a break from college to get involved in a project in the Bulgarian city of Blagoevgrad, discovering the neighboring country of Romania and promoting volunteering.
Asked why she joined the project in Bulgaria, she says "for two reasons: it is my field, communication and to know a different culture. It all started when I went to Szeged for ten months with an Erasmus scholarship. I think experiences like these contribute the most to personal development."