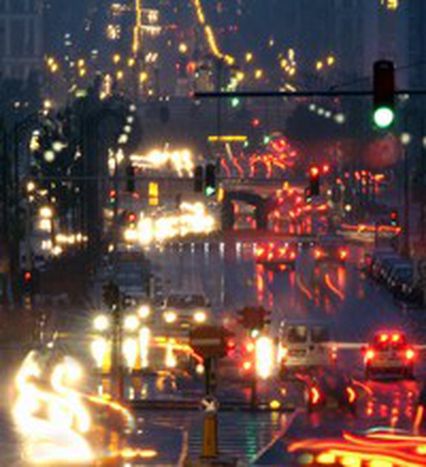 Energy saving, a lucrative market?
Published on
Translation by:
julia mills
Between 1970 and 2002, the EU's energy consumption rose by 40%. Today, more than ever, it is high time to economise.
Is it the combined effect of the rise in oil prices and the idea that traditional energy resources are running out which is pushing industry to invest in fuel-efficient technologies? Or is it a result of an economic climate in which the interests of the planet finally correspond with those of big industry?
Saving energy is fashionable
Sweden, the UK, Austria, Italy… In Europe, conferences on environmentally-friendly or fuel-efficient vehicles take place on a regular basis. The same can be said of green national policies which are cropping up in the four corners of the continent. In July, the Spanish government invested 8 billion euros in a three-year plan to reduce energy consumption, an initiative to which the French government responded in September by a series of measures aiming to reduce the country's energy consumption. France's strategy foresees research and development plans costing 100 million euros for fuel-efficient vehicles (which use less than 3.5 litres of petrol per 100km).
These anti-waste plans, which also include tax cuts for investments in the construction of 'green' technology like solar-powered heating, are urgently needed as the European Commission predicts that by 2030, the EU will be dependent on imports for 90% of its oil needs.
Lucky timing?
For several years, the European Commission has challenged its member states and industries to remedy the energy problem. Whether a matter of coincidence or deliberate choice, a certain number of its previous propositions on the subjects have just been adopted. For example, the Energy Using Products (EUP) directive which fixes strict constraints on the design of certain products (light bulbs, office equipment, air conditioning systems) to reduce their energy consumption. Already in 2002, the EU adopted a directive on the energy efficiency of buildings, which obliged EU member states to take the necessary measures by January 4, 2006. Some will see in the timing the explanation for the recent measures taken by Madrid and Paris in this domain.
In June, the European Commission put the nail in the coffin of energy-wasting practices by publishing a 'green paper' on energy efficiency. This paper aims to shift Europe's energy consumption back to 1990 levels, thus reducing the annual energy imports of its 25 member states by 60 billion euros. Many of the proposed projects target the transport sector, which represents 40% of the total energy consumption of the EU. For example, the creation of a European label indicating clearly the fuel consumption of vehicles has been suggested, as well as helping to end traffic jams by a European radio-navigation programme using the Galileo satellite.
Virtuous opportunism of the transport sector
The car industry is not resting on it laurels in this virtuous race. Since the commercialisation of the Prius, the first electricity-petrol hybrid car created by Toyota in 1997, the fuel-efficient car industry has taken off with a bang. Now in 2005, all carmakers put together, consumers have a choice between 15 different models of cars of this type. Car companies have invested considerable sums in research and development, and partnerships between carmakers have multiplied in order to propose buyers increasingly efficient cars. This is the case with BMW, which has hooked up with Daymler Chrysler and General Motors to invest more than 1.5 billion euros in cars with very low fuel consumption.
Even the aeroplane industry is following suit, notably in the commercialisation of the new Boeing 787 which should in theory consume 20% less kerosene than current aeroplanes. If there are still not enough statistics for it to be possible to evaluate with precision the benefits engendered by this new economical energy market, the size of the investments injected in these green technologies suggest that it has become very profitable to play on the ecological heartstrings of consumers.
Not all good news
However, industry is not losing all its bad habits. The European Automobile Manufacturers Association (ACEA) has qualified the Commission's proposed reduction in emission standards, EURO V, as "pointless" for certain vehicles. The main proposition which it contests is that which makes leisure vehicles, such as Sports Utility Vehicles (SUV), respect the emissions standard, whereas up until now they were exempt. "Pointless" is also the term used by the British Minister for Housing, Yvette Cooper, when announcing that the new construction laws promised back in 2003, which aimed to increase the energy efficiency of buildings by 25%, would be pushed back a year and slightly loosened.
Industry investments in economical and environmentally-friendly technologies are clearly motivated by the search for profit. A market for these products exists and manufactures are just responding to environmentally concerned consumers. However, not all consumers have come to realise the benefits of saving energy, and industry wants to satisfy them too.
Translated from Economies d'énergie : un marché juteux ?