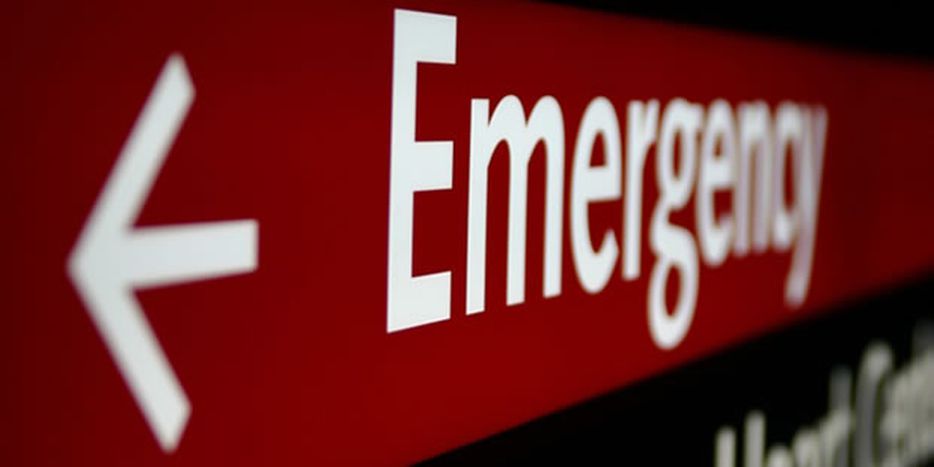 Emergency Dept.
Published on
A story of a young man who ends up at emergency department of a state hospital.
Here I am, sitting at a red chair which reminds me of the talent show jury… However, I am not sitting here to select, instead I am waiting to be selected. It is 2nd of January, and like thousands of people who suffer food intoxication after joyful New Year's Eve, I had to see a doctor. The long discussion with my sister and parents convinced me get to the hospital. Since it is Saturday, the touristic journey from Oslo ended up at an emergency department of a state hospital in Izmir, Turkey.
I am still sitting at one of the red chairs which are designated for the patients in the queue. The door to the left opens to the emergency department where the life and death are judged for many and to the right, there is a door which only permits the entrance of the patients. In front of me, there is a cool doctor who looks kind of hot with her tattoos in her arms. She has a quick chat with incoming patients, measures the blood pressure and marks your priority to get the treatment. I call this place purgatory.
The purgatory gate is controlled by a tall security guy who, I suppose, repeats following sentences around 200 times a day: "Dear patient relatives, please empty the emergency entrance! Do not block the way. There is a canteen ahead. Please wait there until we give you an update."
Each time the door of the purgatory opens, the curious faces of relatives check if their patient is still waiting at the queue. Among them, there is certainly my father. After I insist him to follow the rules, he leaves; but only for now.
Short after, I compare myself with other patients in the queue. Apparently, I am not even an apprentice here. The doctor even knows some of the patients by name. They are the celebrities of this world whilst I am just another extra. The young janitor who is dark and slimy approaches to the doctor. He fakes talking to her by ear.
Janitor: The old woman's son insulted me.
Doctor: You mean Hamit?
Janitor: Yes. He said fuck all doctors, nurses and janitors in this fucking hospital.
Doctor: (She doesn't really pay attention to him) It happens. The queue after New Year's Eve is always longer.
I said the janitor fakes talking to her by ear, because he did not whisper and his eyes were on other patients' relatives while having his dialogue with the doctor at purgatory. After not getting enough support from the doctor, he quickly left back to the emergency.
Back to my intoxication status, I was not able to eat or drink in last 15 hours and I felt quite dehydrated. My body was not even able to emit water and whatever I drank or ate was resulting back to me as vomit in less than an hour. I had the same ugly expectation while waiting at the queue and asked the doctor for help. She quickly gave me a vomit bag and showed me the way for the toilet. I think this small incident helped to prioritize my status, and she let me see a doctor less than a minute with another patient. So, I left the purgatory with same janitor.
While we were walking through the corridors of the emergency, I saw some of the rooms where there are at least 10 patients. A quick glance into those rooms is enough to lower one's inner energy. The janitor finally brought me to the room and I found an empty bed by the wall. Again, I was an apprentice. Soon, I will describe you every patient that I saw in the room and you will agree with me.
Lady with the mask lies on the bed which is in front of me. She is close to 60 years old and dressed quite traditionally. Even though, her situation does not seem highly critical, she is allowed with a young relative inside. At first, I didn't understand the reason behind this priority, but later, I noticed that this is her daughter who serves as her Kurdish/Turkish translator. Against all the communication obstacles such as language and the oxygen mask, she has been the first one who got in touch with me by waving her hand and nodding her head. All I managed to do was waving my hand back to my new neighbour. I am welcome here.
Next to the curious lady, there are two overweight women who are my fate sisters because of high blood sugar. They seemed connected to the serum. Actually, every patient at emergency seems receiving some serum. While I was getting more into my inmates, the doctor has arrived. After a few questions, I was also decided to receive serum and the nurse quickly started to inject the liquid through my veins. I was expecting to drink Turkish Raki today, not serum. Then I saw the most hopeless patient of our room. I overheard that she was 91 years old and she was beyond being skinny. I put myself in her shoes and asked: How come people do not suicide when they are so old, sick, and in pain? What would I do if I were her? The fourth patient has been the one which got me lost in thought.
The fifth patient was one of the other cool individuals of the hospital. Around 60 years old man who is sitting in pose of lotus on the patient bed where he shouldn't put his shoes. He looks at me as if saying: "Look at me son! I was rocking 70's." And the rest of the patients were more or less similar kind.
One of the nurses was passing by, so I didn't want to miss a chance for a question. She said I should wait around 30 minutes to finish the serum and after a few minutes, I fell asleep. Of course, my peace cannot last long; I noticed some shadow on my right side and a sudden pressure in my veins. It woke me up. When I opened my eyes, I saw my father squeezing my serum tube.
I: What the hell are you doing?
My Father: Shh! I only checked your serum. It was flowing slowly.
I: You were squeezing it! Get out of here. You are not allowed.
My Father: (Walking away) Okay, okay… I am at the canteen. (Checking around for the doctor) You see I can get in here. Only if I want to…
I: Well-done.
Somehow, the doctor and the nurse were missing in our room. And later I heard that my father convinced the security guy to get in. Unfortunately, breaking the rule and doing what shouldn't be done is seen by traditional Turkish culture as a superior talent. After we left the emergency department, I asked my father: What if some patient died while you were in our room? And what if you were held responsible of it? How would you react? He shrugged his shoulders and hence the emergency was over for me, but it is the reality for others.
Sercan Leylek / IZMIR