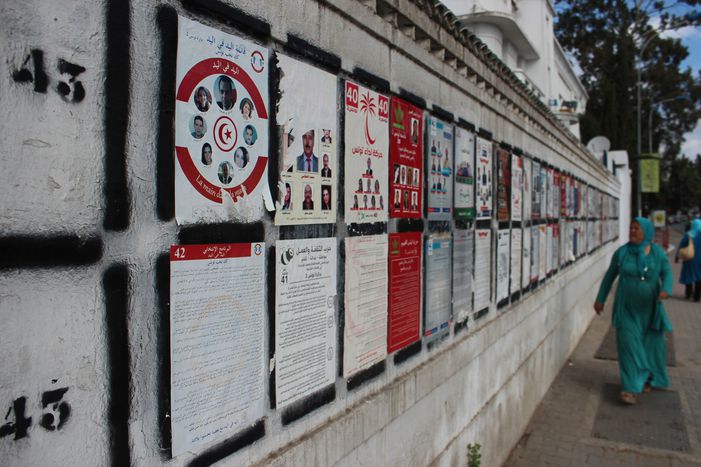 Elections in Tunisia: Between Hope and Despair
Published on
"We've voted because we have hope, because we have faith. We've voted because tomorrow will be better," remarked a 24 year-old Tunisian woman, proud of her ink-stained finger after having answered the democratic call on Sunday 26 October. They say that hope is the last thing to be lost, and that is certainly the case with the Tunisians.
After the Tunisian population ousted its dictator, Ben Ali, the situation in their country worsened. Prices were rising as the people were losing their jobs, the terrorist threat loomed ever greater and the supporters of the various political persuasions clashed violently in the streets. This tension triggered the assassination of two opposition leaders, Mohamed Brahmi and Chokri Belaid, in 2013. Towards the end of the same year, the Islamist party Ennahda, which had won the 2011 elections and governed alongside Marzouki's Congress for the Republic (CPR) and Ettakatol in what was known as the Tunisian "Troika", stepped down after proving unable to deal with the situation. A technocratic government was established in its place, with Mehdi Jomaa as its leader.
In times of social and economic crises, few people could imagine that Tunisia would hold such peacefully democratic elections like the ones they've held, and even fewer people imagined a relatively high turnout for them. The data supplied by Tunisia's authoritative independent electoral agency, ISIE, indicate a turnout of just over 60%. But there is one statistic that cannot be ignored: the turnout proportion was at its lowest, around 48%, in Sidi Bouzid, the place where the Tunisian Revolution began, a catalyst for the Arab Spring and one of the poorest cities in a permanent state of protest. Moreover, the figure of 60% is calculated from the total amount of people who registered to vote, which was around 5 million in a country which has more than 8 million citizens who are old enough to vote.
The results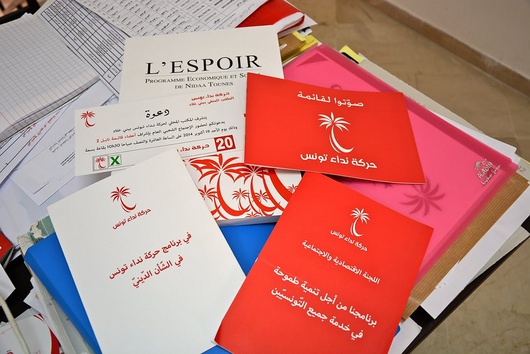 The Call of Tunisia party has come out on top of these elections with 85 seats in Parliament, out of a total of 217. Ennahda has won 69 seats in the House, putting itself in second place. The former is a new liberal party formed in 2012 and led by Beji Caid el Sebsi, who was a minister during Habib Bourguiba's administration and, for a short time, a Member of Parliament for the incumbent government during Ben Ali's presidency. The latter, Ennahda, is an Islamist party which toned down its speeches after its overly Conservative vision led to mass citizen protests in 2013. This party is led by Rashid al-Ghannushi, one of the most prominent and best known politicians in the national political sphere. These two parties share one characteristic: Their leaders don't belong to the social class which led the way in the elections, that of the Tunisian youth. Ghannouchi is 73 years old and the leader of the Islamist party, Essebsi, is 87.
Various European observers who watched over the polls congratulated Tunisia on the success of these elections. Michael Gahler, spokesman for the European Parliament's observation team, hailed ISIE's abilities on Tuesday following its remarkable triumph in holding transparent and professional elections in such a limited timeframe.
Politically disaffected youth
On Sunday, many voters took it upon themselves to make it clear that the elections are only the beginning. While leaving a polling station in the Bardo neighbourhood, home to many of the young students who came together in the 2011 protests, a young man told us that everything was a lost cause for them but that he votes to secure the future of his children.
"We were the ones that brought about the change, but now there is nothing for us, nobody to represent us," said another young man. They feel cheated and disillusioned. They don't feel as though any party represents them, but they vote because they have not lost hope. They realise that transition is a slow process and that patience is required, and they are sure that things will be better in a few years. Another young man, who was monitoring the event for one of the parties, said that this was not a revolution for him; at the moment, this was just a protest. "We will know in a few years whether this was a true revolution," he remarked. A young taxi driver told us that he would not be voting, because he thinks that all politicians are just after power and money, which is a notion shared by most of the young people who decided not to vote.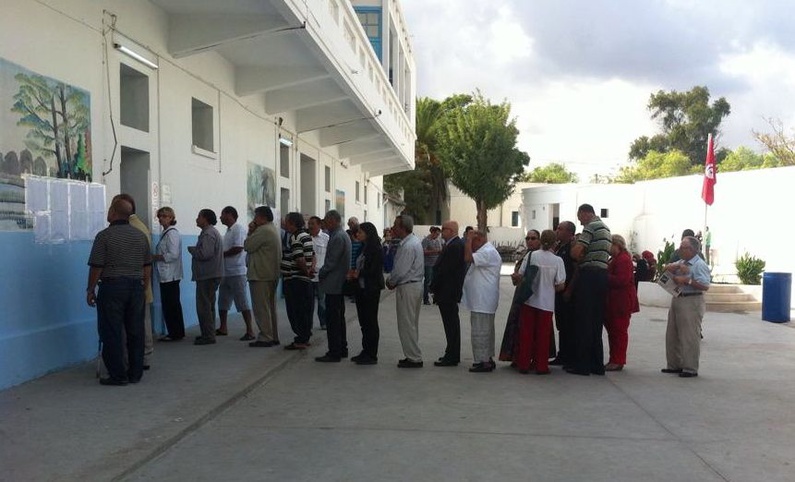 In the Bab Souika neighbourhood, where people with fewer resources live and where, as soon as you set foot, you can see the litter all about the place and the chaos which is often characteristic of less developed areas, the polling stations were full and the people met up after voting to discuss their favourites. Much more veiled women and fewer young people could be seen turning up here. One woman told us that you have to be patient and that, "Time is needed to learn how to practise democracy." When we asked people whether they still believed in change and whether they thought that things would get better, they replied by saying "Insha'Allah" (God willing).
Security concerns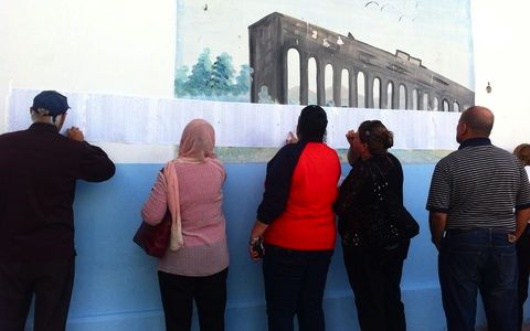 In Enasser, one of the richest neighbourhoods in the city – or 'New Tripoli' as it's called by the Tunisians due to its large amount of immigrants from Libya – a young lady, upon leaving the polling station, said that she wants the economy to improve but that security is her main worry. Many people insist that the situation has changed since the revolution. Some young people do not go out on the streets alone at night and they do not feel as safe as they did before.
This impression contradicts the calmness with which the polling day was held, transpiring without any problems in such a peaceful atmosphere that many were surprised to see. However, peace comes at a high price in a country threatened by terrorism which, so far this year, has arrested approximately 1,500 suspected jihadists. More than 80,000 soldiers, policemen and national guards watched over the polling stations, with enormous Steyer AUG Austrian assault rifles hanging from their shoulders and their fingers on the trigger, as if they had to open fire in the blink of an eye.
The elections are only the first step in a potential transition which remains in question, the result of which will only be noticeable sometime in the future. Nevertheless, this is undoubtedly a small success for an Arab state which was under a dictatorship for many years with no democratic tradition and where a lot of pressure is exerted from Conservative Islamist parties. The Tunisians still believe in their ability to transform their country. Because Tunisia is neither Syria, and nor is it Libya or Egypt. This is something that some of this country's citizens took it upon themselves to clarify on Sunday.
Translated from Elecciones en Túnez: entre la decepción y la esperanza