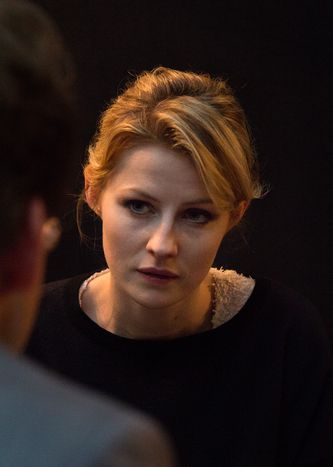 EDDA MAGNASON: THE SWEDISH BLUE NOTE
Published on
The singer Edda Magnason has successfully broken into cinema with the very jazzy Waltz for Monica;  a début experience which earned her an invitation to the Berlinale Festival. Meeting with an artist who knows how to share.
The pro­gramme of the day may very well be called "Eu­ro­pean shoot­ing stars", but Edda Mag­na­son is far from being a débu­tante; she knows all about in­ter­views and photo shoots. With supreme grace, she moves from one in­ter­view table to an­other and I try as best I can to open with some Swedish niceties, only for her to smile gen­tly to show that she would pre­fer to talk in Eng­lish.
All that jazz
Edda is al­ready a star in Swe­den. Her two al­bums, Edda Mag­na­son and Goods, with  jazzy tones have caused a sen­sa­tion and cast the spot­light on this clas­si­cally trained  Swedish-Ice­landic singer. So it's not re­ally sur­pris­ing to see her take on the role of late singer Mon­ica Zetter­lund for her cin­ema début. "I was ap­proached after a con­cert by a mem­ber of the au­di­ence who knew the per­son in charge of cast­ing. I then had three au­di­tions for the role. It was quite an ex­cit­ing chal­lenge be­cause Mon­ica Zetter­lund is very well-known in Swe­den," she ex­plains. The film, Waltz for Mon­ica, by the Dan­ish di­rec­tor Per Fly, fol­lows the jour­ney of the fa­mous singer from  the six­ties who con­quered the world jazz scene be­fore dying trag­i­cally some years ago. "The role in­volved act­ing and singing at the same time. Music sym­bol­ises the life and char­ac­ter of Mon­ica; I had to spend a lot of time study­ing the way she moved and sang", she says. Edda Mag­na­son also got to re­lease the film's sound­track as her third album, a re­cent suc­cess.
Trailer for Waltz for Mon­ica, di­rected by Per Fly.
"KNOW­ING HOW TO SEP­A­RATE SINGING AND ACT­ING"
The orig­i­nal ver­sion, "Mon­ica Z" be­came one of the great­est suc­cesses in Swedish cin­ema, mo­nop­o­lis­ing all the na­tional awards. Nom­i­nated a whop­ping eleven times dur­ing Guld­bagge (the Swedish equiv­a­lent of the French Césars awards or the BAF­TAs, Ed.) ear­lier this year, the film won four awards and Edda Mag­na­son won the award for best ac­tress. Edda may well be used to fame, but she still feels like she only just made it big in her ca­reer. "My music only reached an in­ter­ested au­di­ence. Now, with Mon­ica Z, I reach the masses". An ex­pe­ri­ence which has opened new doors for the Swedish singer. "Ob­vi­ously now I want to do the two (act­ing and singing), but they are two very dif­fer­ent things, and you have to know how to dis­tin­guish be­tween them." Mean­while, she has started on a new pro­ject; a mu­si­cal com­edy called "The feel­ing of going" in Malmö.
WATCH: "WALTZ FOr Mo­nica" BY Per Fly is IN CIN­E­MAS FROM 19 marCH 2014
_
FIND ALL BERLI­NALE FES­TI­VAL-RE­LATED AR­TI­CLES ON THE OF­FI­CIAL BERLIN BA­BEL­BLOG HERE. ALL NEWS ABOUT THE FES­TI­VAL CAN ALSO BE FOUND ON THE FACE­BOOK PAGE Ber­lin.​Babel.​Blog oR ON TWIT­TER @Ca­fe­ba­bel­Ber­lin.
Translated from Edda Magnason : La blue note suédoise