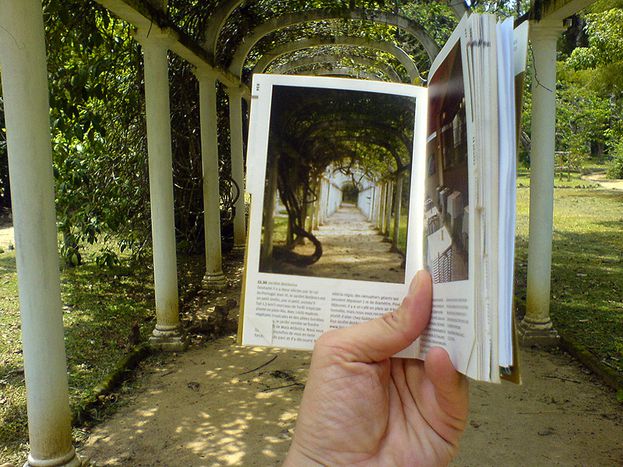 Eco-neighbourhoods: green housing boom
Published on
Having finally awoken to the danger faced by our planet due to global warming, politicians and citizens are working to build green and sustainable living spaces. From ecologically-friendly homes to 'eco-neighbourhoods', Europe is going greener by the day.
During the construction or renovation of a building, no matter what its size, large amounts of pollutants are released. The building sector alone produces 25% of all greenhouse gases. In terms of energy consumption, the situation is no brighter. 'The building sector accounts for 45% of energy consumption in France,' explains Christophe Bombled of the Friends of the EcoZAC Association.
Home-owners are no less guilty. Water consumption per person has grown from 7 to 150 litres in one century, and household waste production has reached 25 million tonnes per year. Then there are the public health issues: air quality, asbestos, toxic paints, radon and carbon monoxide, all cause nearly 200 deaths a year in France.
Europeans seem, however, to have woken up to the scale of the problem. This can be seen in a study conducted by the Louis Harris Institute at the behest of the French Agency for Environment and Energy Control (ADEME), published in June of 2004. 98% of those interviewed supported the development of renewable sources of energy, and 80% consider that to be the future of energy.
The public authorities have also addressed the question through two recent laws: the 'Climate 2004' plan and the 'Focus on Energy' law, which has attempted to lower energy consumption by 50% before 2008.
Green Materials
The tendency today is towards changes in behaviour. It has become necessary for new and renovated homes to consume less energy and release less harmful gas. The High Environmental Quality (HQE) standard has been set up as a reference.
A home becomes green through its choices of energy for heating or electricity (heat pumps, wind, thermal or solar power), means of control of water consumption (low flow systems, use of rainwater), and materials, such as wood for interior walls and hemp as insulation. It is important not to confuse natural materials and eco-friendly or green ones. 'Asbestos is a natural material but far from an eco-friendly one,' warns the French Building Federation (FFB).
Homes can also be sensible or passive in their designs, notably by readiness for bioclimatic energy. It is possible to combine an extremely low consumption of energy (less than 15kWh/m²/year) with a pleasant room temperature throughout the year, all without the use of conventional heating.
A long-term investment
But all this has a cost. Owning a green home involves a long-term investment in two parts. The organic part of the construction, which requires costly materials, offers little monetary return on investment. The passive energy consumption aspect, however, is a cost-saver. It saves the home-owner the cost of a heating system, usually among the most significant expenses of a traditional home.
According to Quentin Goulard, an architect who specialises in ecologically-friendly houses, a green home is a good investment in the long term. 'The construction costs of an organic house are 30% higher than those of a 'normal' house, and those of a passive house 10-15%,' he explains. But, thanks to a reduction in energy consumption 'passive houses pay for themselves within 5 to 10 years.'
We have the tools to make ecologically-friendly housing the norm. 'From a technological standpoint, we are hardly advanced,' insists the FFB. The Danish and Germans are well ahead: they have reduced their household consumption of energy to 15kWh/m². In contrast, the aim in France is to go from 90 kWh/m² to 50 within 5 years.
A Europe of 'eco-neighbourhoods'
From 1994 to 2004, the European campaign for self-sustainable cities generated pilot projects in certain large residential areas.
In Freiburg (Germany), the project follows the model of the 'garden-city' conceived in Britain at the end of the 19th century. This urban project brings together social housing, gardens, and landscaping improvements. The Vauban and Riesenfeld neighbourhoods - home to 15 000 inhabitants 4 km from the centre of Freiburg - were built according to the following principles: low-consumption housing, use of rainwater, and priority to public transport, pedestrians and cyclists. All of the buildings are low-consumption thanks to innovations in insulation and ventilation. Many rely on solar power for heating and electricity generation.
In Britain, the Beddington Zero Energy Development (BedZED) is the first 'zero-energy' village. Inaugurated in 2002, BedZED is located twenty minutes by train from the south of London. The architect Bill Dunster, who came up with this pilot project, wanted to reimagine an English garden-city with a much higher population density. Half of the homes in BedZED are reserved by the Peabody Foundation for low-income families.
BedZED uses the maximum of natural, renewable or recyclable materials – wood, brick, metals – found within a 50 km radius, in order to favour local industry and minimise transport costs. An ingenious system of ventilation allows escaping 'used' air to transfer its heat to incoming cold air. British Prime Minister Gordon Brown has recently announced a project of five eco-towns across England.
In Barcelona, the rehabilition of the Poble nou neighbourhood is based around the pedestrianisation of the area, the construction of new public spaces and the reorganisation of daily life, as demanded by the locals. Work and housing complexes have been constructed, combining comfort of living, professional activity and a simplified lifestyle. 4 600 clandestine residences in industrial areas have been recognised and their rehabilitation will permit the reintegration of this marginalised section of town.
The penny has dropped in Europe, it seems, and important projects have been set in motion as a result. More ecological initiatives, however, are needed for a powerful green force to counter the threatening dark grey of global warming.
Translated from Le boom des maisons écolos