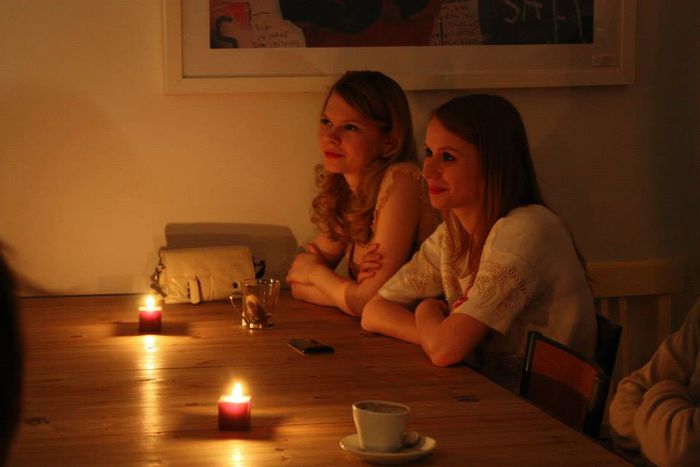 EAT MORE, DRINK LONGER: ANTICAFE PARIS
Published on
Translation by:
Danny S.
Nowadays, new coffee house concepts are booming. ‪Alongside businesses in which you can pet cats, there is now one business in Paris where you pay for time instead of what's consumed. A new Café de Flore for wannabe workaholics? I had to check it out. 
A quick look at the time: I've already been sitting here for ten minutes, which comes out to roughly 70 cents. A quicker look at my wallet: a little over 4 euros. That'll allow me to stay roughly another hour. ‪I'm neither in a tanning salon, nor a laundromat or Autoscooter but rather in a café. Other locales have one thing in common with the Anti-Café of Paris' gay district Marais: people pay by the hour and not by consumption. This means that for four euros per hour, one can enjoy as many hot and cold drinks and pastries as the stomach desires. ‪Everyone's familiar with flat-rate drinks and all-you-can-eat asian buffets. The idea to use this sort of payment system at a cafe first arose in Moscow in August 2011. As of April of this year, this idea has now also existed in the French capital.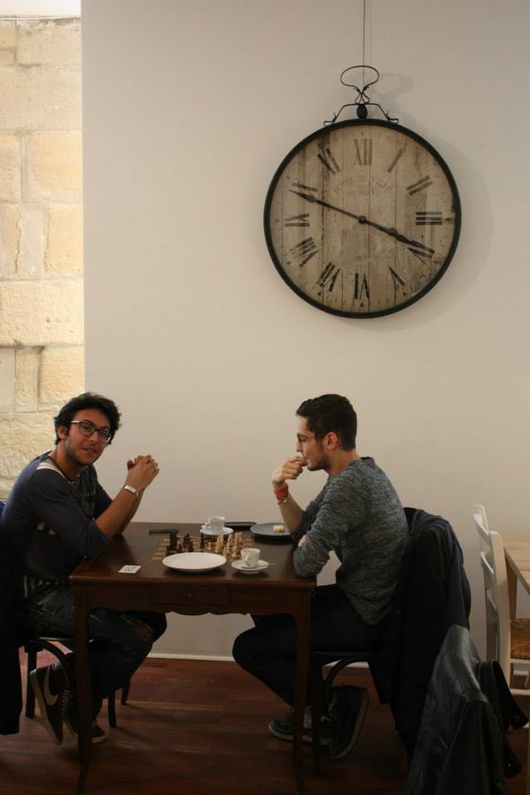 The payment system isn't all. The business advertises itself to be "completely different"—a quasi second home where you can have fun and work. Wifi is also provided here in addition to beverages and snacks. ‪You can use the printer as well as the projector, hold meetings and give presentations at a large wooden table and, oh yes, you can also get to know people. At least that's what the website promises. That's how the visitor pictures it to be on a cozy Sunday afternoon at the beginning of December. But the "relaxed atmosphere" is a fallacy. ‪If you don't close the door as you enter the room the crowd will cry out because of the cold winter air streaming into the large room—it's written in large letters outside to close the door! ‪In other words, welcome home. To check in, the arrival time gets stored on a smart card. Then you can seat yourself, given that you can find a spot, since it's always crowded on the weekends.
The following rule applies: on the ground floor you can help yourself to the shelf of board games and books, right next to which you'll find a bar filled with glass mason jars of things that'll satiate the desire for a snack: sheet cakes, madeleines, pretzel sticks, chips and peanuts—but even those who have a gnawing hunger can get their fill. The battle for the contents of the fridge is reminiscent of one's college days when one reached for food or snacks with determination, although very politely, and when one was lucky to snag another sip of elderberry lemonade or a few leaves of lettuce. And what about the alcohol? ‪"You can bring your own during the evening. ‪Besides, that's also our principle: bringing your own food and drink is welcome," says one of the founders. 
However, visitors aren't allowed to operate the Italian coffee machine themselves, slipping the mentality from college days back to being in one's parent's home. But for that, one gets a large café crème prepared by a Spanish-speaking waiter.  ‪The underlying "Cave" is dominated by a working atmosphere, which is accentuated by lounge music.  ‪Students sit around the large wooden table, having their picnics with their notebooks and macbooks opened while charts and diagrams flicker on their screens.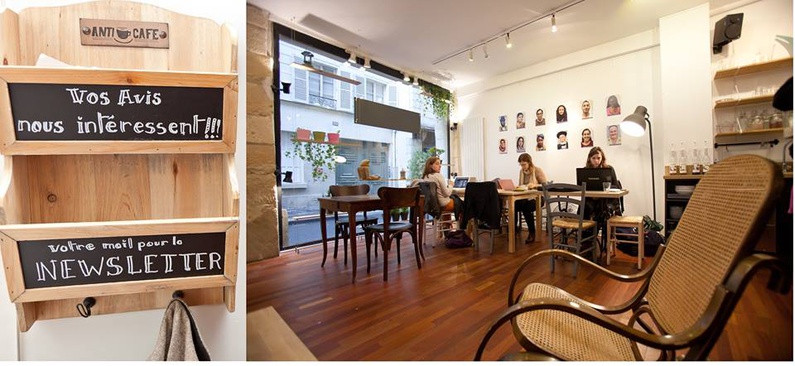 The clientele here is comparable to the business and design students in their twenties and thirties who are a bit trendy, sometimes artistically dressed, but not overbearingly so. Button up shirts and horn-rimmed glasses are reminiscent of the Berlin from five years ago, and match their environment: gray lounge furniture, light wooden tables in contrast to darker Ikea designs, a few potted plants in the windows and so-called vintage accessories are spread throughout the room. On the wall: Neon on canvas for sale, and the obligatory clock that no longer works. 
After all, you quickly forget the time here. One comes here to work, and that's made as comfortable as possible, which is nice. Too bad the restaurant touts itself as being something that it's not: different. Aside from the payment method, nothing here is innovative. ‪Hardly anyone reads or uses the meagerly-filled bookcases, while those who busy themselves with board games are viewed as people who otherwise have nothing better to do. The talk revolves around printer paper or borrowed markers—nothing more, nothing less.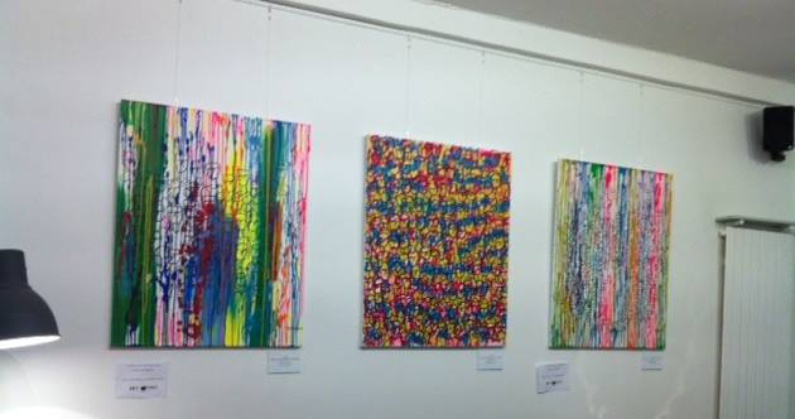 ‪"You can't force people to talk," says one of the founders. ‪That's true, but you can create an atmosphere in which visitors feel at home and can then come in contact with others—a place that isn't automatically associated with work. The concept is surely profitable, but doesn't offer what it promises. It's a place for freelancers and those without a designated workplace, not for people who really expect something from the advertised innovation. Plus, it's by no means a new Café Flore.
Anti Café, 79 rue Quincampoix, 3e. ‪Monday to Friday from 9 a.m. to 11 p.m. ‪Saturdays and Sundays from 10 a.m. to 12 p.m. +33 (0) 1 73 73 10 74 
Translated from Mehr essen, länger trinken: Anticafe Paris