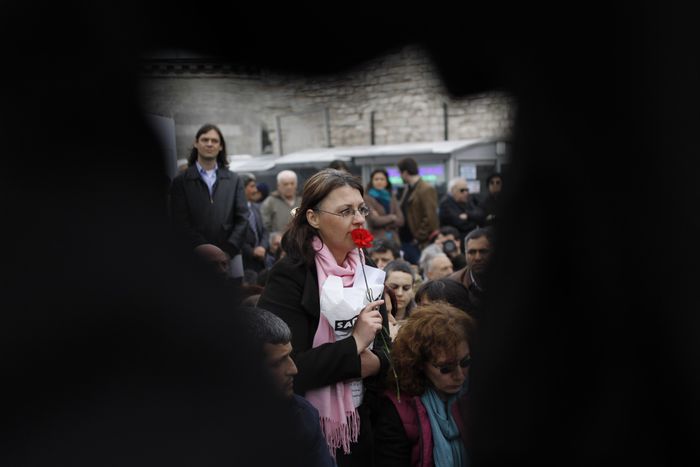 Easter in Istanbul with Turks and Turkish Armenians
Published on
When Turkish Armenian soldier Sevak Shahin Balikci was accidentally shot dead by an army colleague on 24 April, both Turks and Armenians came together to pay their respects. 24 April also marks the fact that easter coincides with the commemorations for the Ottoman-era genocides of Turkey's Armenian minority for the first time.
There are positive signs that relations may be improving in Istanbul, especially since assassinated Turkish Armenian journalist Hrant Dink's killer was sentenced on 25 July
Sabiha Gökçen airport on the Asian side of Istanbul – the Turkish city famously sits on both the European and the Asian continents – is named after the first female military pilot in Turkey's history, the adoptive daughter of the modern secular nation's founder, Atatürk. In 2004, Turkish Armenian journalist Hrant Dink dared to emphasise that she was the orphan to Armenian parents. It caused immense debate, and the chief editor of the Armenian-minority newspaper Agos was found guilty of 'denigrating Turkishness' under article 301 of the penal code. The designated 'enemy of the nation' was later assassinated before the newspaper's headquarters in Osmanbey on 19 January 2007. He was finally brought to some kind of justice on 25 July as his juvenile killer Ogün Samast was sentenced to nearly twenty-three years in prison.
Easter at the Armenian church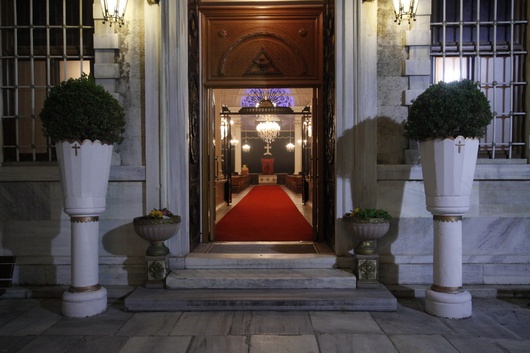 The neighbourhoods in the centre of Istanbul, on the European side of the Bosphorus strait which runs through the city, are loaned a multi-confessional atmosphere thanks to the Ottoman-era mosques which mix with the orthodox, protestant and catholic places of worship. In an ancient monastry, friars run in every direction to prepare for easter celebrations, but remain crippled by a certain silence: 'The next time you want to ask a priest something about Armenians, he will most surely kick you out,' one Italian friar tells me sincerely of what Turks see as a civil war period. 'There were deaths here. Pay attention to what you write, or you might never be able to come back to Turkey.'
The tone is set, but I feel these religious men are exaggerating. At the lamentation of the holy Thursday in the Armenian church of the Three Altars, which is off the main central street of Istiklal and leading into the heart of the fish market, I enter a monumental black door. The light of the candles set in the sand sieve through the Gregorian building, with its sophisticated crystal chandeliers and surrounding yellow light. Believers are joined on the benches by those who are more curious, including religion historian Sebastien de Courtois, an expert of the christians of the Orient. 'The community here wants to integrate and don't rake up the intellectual obsession of the Armenian genocide,' the French writer explains. 'It's just an emotional void for them.'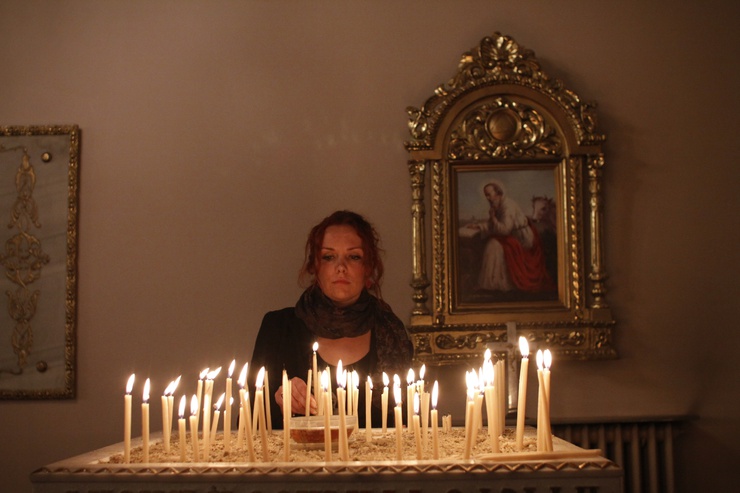 24 April: easter of resurrection and painful memories
The Armenian diaspora who left Turkey after being persecuted and moved to Europe or the United States haven't forgotten the past. Hrant Dink wrote that the recognition of the pain which the crimes of 1915 caused this community - 300 intellectuals were shot and killed as the last of the Ottoman era was stamped out - should come from the heart of Turkish society, and not from foreign-signed resolutions. Others have different opinions. Sonia has lived in Paris since the seventies and has come to Istanbul with her two daughters. She is waiting for Asim and his wife before the blue mosque, who have come to meet her from a faraway village in the province of Yozgat, in Anatolia in central turkey.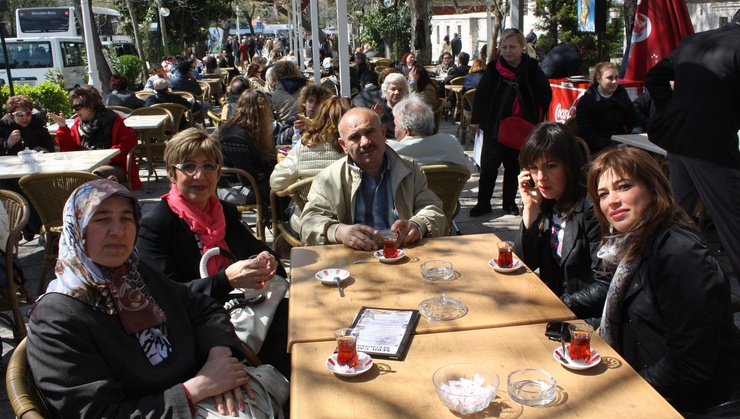 Asim is Sonia's cousin, a relationship which she only worked out after undertaking some genealogical research. In 1915, their grandmother was kidnapped and forced into marriage with a Turk, which resulted in the birth of a child. But she escaped and managed to have a second family. 'When we saw each other for the first time two years ago it was very emotional,' says Sonia in French, as Asim goes off to evening prayer. 'We found each other ninety-six years later. We even went to the cemetery together.' Sonia didn't feel able to decorate her easter eggs this year because the anniversary brought up so many bad memories for her; meanwhile Asim has come back and seems to not be listening, or even understanding us, and looks elsewhere.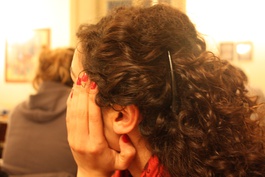 Maral, 29, is a researcher at the university and is not a practising christian, although she goes to two churches for easter. The first one is Bakırköy in the eastern suburbs of the city, where she grew up before moving out to live alone. It's a city with a dense population – around eight million live in Istanbul alone – and at least seven catholic churches, as well as a nineteenth century Armenian church, Surp Astvatsatsin, which is too small for its followers to use. Maral's parents welcome me at the church entrance with a spiced brioche for easter, before the mayor and other local authorities pass by and lay a wreath in the name of AKP (justice and development), the ruling party which has been in power since 2002, a year after it was founded. Maths student Sarkis and Lora, a primary schoolteacher in training, are just two of the young Armenins here. 'Easter is more important for us than the commemorations of 24 April. This is now, and the past will never come back,' they say.
Changing of attitudes
Maral's second mass takes place in the neighbourhood of Kurtuluş. She crosses the city again to get there, passing through the central Taksim square to get there. Her boyfriend takes us along; he is a muslim and has never participated in an Armenian mass. 'His mother is coming too,' says Maral. 'My parents don't know that I have a Turkish boyfriend, and it won't be easy to tell them. Especially since my aunt often tries to set me up with other Armenians guys – I've had enough!' She smiles contagiously, but she is open about her worries. 'All of our childhood education is in Armenian, there's no other alternative. At university things got better, we finally got to meet the others. The Armenian community has to open itself up more and not only act the way my aunt does!'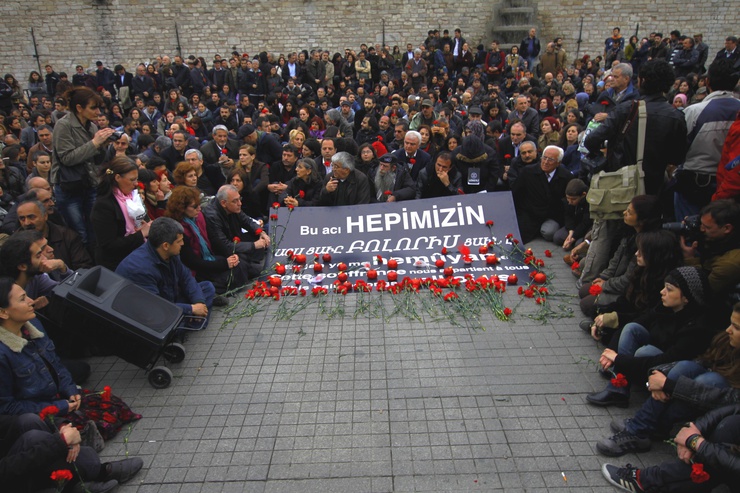 Political scientist Ahmet Insel places a red carnation at the museum of Turkish and islamic arts, a former prison in Sultanahmet where the murdered intellectuals of 24 April 1915 spent their last hours. 'It's normal that the Armenians are afraid of protesting in public,' he explains, of a critical culture which apparently only started to flourish in the sixties. This Sunday there are two protests; one by the muslim human rights organisation and another, bigger one, where Armenians gathered at Taksim square at five o'clock. Turks and Armenians have united for the historical second year in a row a response to a 'public appeal to pardon' which the liberal intellectuals of the country had promised a few years ago. Hundreds holding flowers or candles got down onto their knees in silence, with poignant Armenian melodies in the background. Some metres away some dozen nationalists break the silence from behind a police cordon, chanting racist taunts and protesting against a genocide 'inflicted on the Turks by the Armenians!'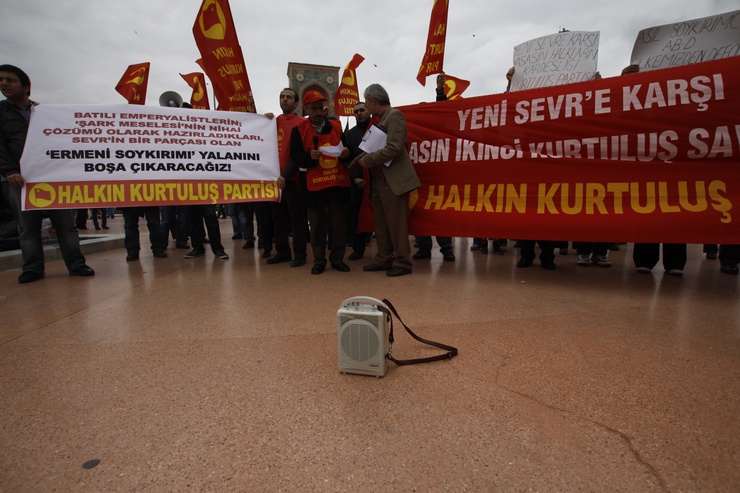 Many thanks to Bulent Kilic of cafebabel.com Istanbul and Nicolas De Cheviron
This article is part of cafebabel.com's 2010-2011 feature focus on the Balkans - read more about the project Orient Express Reporter
All images by © Nicola Accardo except for mosque and protest by © Nemanja Knezevic
Translated from Turchi e armeni: la riconciliazione è già iniziata. A Istanbul.