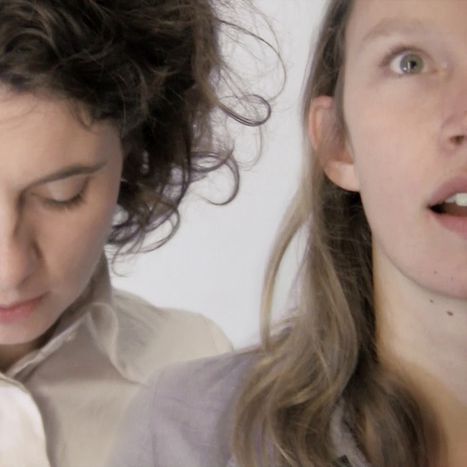 Dutch play 'Bye bye world': 'We all crave to start all over again'
Published on
The winner of the Amsterdam fringe festival 2011 examines the deep-seated desire to disappear from the lives we know and start afresh. Dutch theatre company Gehring & Ketelaars brought the play to Edinburgh this August
Two women, one dark, one blonde are sitting next to each other. Dino is stretched out on the floor. 'Yes,' she whispers serenely, 'yes'. 'No,' Olga mutters, slouched on a wooden block next to Dino. 'No, no.' In many ways, this scene epitomises the mood of experimental play Bye bye world, directed by Marjolein Frijling, 31. The drama uses storytelling and performance to tell the tales of two very different women who end up grabbing a coat and leaving their homes one morning, never to return. 
Are you an Olga or a Dino?
For socially awkward Dino the carefully planned decision to run away is an affirmation, a chance to start all over again. For Olga, ten years married, with a house and a successful career in communications, her impulsive move is born of isolation and frustration, as her busy life increasingly lacks meaning. Bye bye world is that rare thing: an experimental play with which everyone can connect. This is partly because the drama simply tells a good story. Occasional absurdist acting and frequent narration work to enhance the story, while an inventive use of the entire theatre space draws the audience into the action.
However, more important are the two very believable protagonists. 'Most people say, 'Oh, I'm really a Dino,' or 'I'm really an Olga,' says 26-year-old Dutch actress Vera Ketelaars. Her collaborator Anne Gehring, who she met at drama school, agrees. 'Most women in their thirties are either more Olga or more Dino,' says the 29-year-old. Both characters are isolated from society and those around them. This is enacted in a number of painfully familiar dialogues: question-answer routines void of any deeper meaning and one-way monologues in which the speaker appears to dismiss the presence of the listener. A certain amount of exaggerated and satirical acting, particularly during exchanges with the over-achieving Olga, perfectly demonstrates the protagonist's alienation, while also allowing some comic relief. The genius of Bye bye world is that it turns a dominant discourse on its head. We live in a world of CCTV and mobile phones, where it seems that someone can almost always track our whereabouts and we are told this is for our own good. Yet it is with elation that Vera Ketelaars turns to the audience and announces, 'It is possible! You can just get on a train or a plane and never be heard of again. It is possible.'
Leave
Gehring and Ketelaars reclaim a fantasy which we have all dreamt of but which is increasingly taboo. The drama normalises the characters' alienation, refusing to diagnose the women as prone to depression, anxiety disorders or panic attacks. 'We didn't want to make this psychological or to give psychological reasons for what they do,' says Anne. Instead, the protagonists' desires firmly remain ones which every member of the audience can recognise. 'We came up with the idea for the play because it's something everyone wants to do,' admits Anne. 'Sometimes we all have this longing; we all crave to start all over again. We were fascinated by the idea that you don't have to live the life you're living, you can do something else.' Audiences have certainly responded to this. 'One woman in Australia said that that was exactly how she'd felt that morning, she'd really wanted to do it, to just leave,' says Vera.
'You don't have to live the life you're living, you can do something else'
Bye bye world leaves the audience unsure of what happens next, which is both a criticism and a strength. Finishing at the moment when Dino and Olga board a bus to leave their home city, it refuses to tell us whether the women are successful in their quest to reinvent themselves. Can we really run away from our problems? What happens to Olga's husband, to Dino's mother? However, the play starts before the audience arrives and continues after we leave. It refuses to give us answers, offering only an insight into two disturbingly familiar lives and so, consequently, into our own.
Bye bye world is being performed every day until 26 August at the Underbelly in Edinburgh. It will be performed at the Amsterdam festival in September, as well as touring London and potentially going to Israel and Iran in the coming months
Image: courtesy of © gehringketelaars.nl