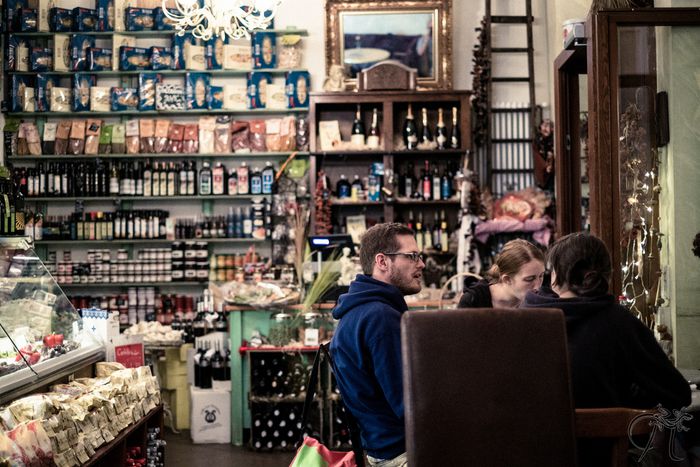 Does Turkish food in Berlin taste like Turkish food in Turkey?
Published on
Thousands of Turks who went to Germany 50 years ago to work in factories settled down, their juniors opening markets and restaurants offering a great variety of Turkish food. Berlin has a population of over 300, 000 people of Turkish origin, and these first- and second-generation immigrants confirm that it is not so hard to cook traditional meals with German products
My grandmother lives alone in the small Black Sea mountain village where she was born and raised. In summer, the population rises to 15-20; in winter, there is only snow to the knee, complete silence and my grandmother. One afternoon as pine cones crackle in the fire, I ask her why she doesn't spend winters with us in Istanbul. 'Tarhana doesn't hold there,' she says, referring to the soupy mix of flour, yogurt, onions, tomatoes and green peppers. I have no such concern in Germany, home to 3 million people of Turkish origin. However at the first turnspit booth I go in, my heart sinks. Döner kebab is being prepared in a totally different way than as in Istanbul. Two different sauces, one hot, another with mayonnaise, are poured onto the meat served in pita bread, alongside a cabbage, tomato and carrot salad. In Istanbul, döner in pita bread is served almost always plain, without any other ingredients, except maybe sometimes a little bit of onion and French fries.
Peppers and seagulls
German citizens of Turkish origin and expats mostly live in the same areas: Neukölln, Kreuzberg and Schönlen. Maybachufer Turkish Market is set up on Fridays near the edge of the canal in Kreuzberg. Here all kinds of fresh fruits and vegetables, fish, spices, appetizers are available. Now is the right season for leeks, I say to a young woman who is turning them over and over in her hands. 'Yes, but these leeks are different from those we are familiar with, they are thicker and harder,' says Şenay Darlı, who lives in the nearby Schönleinstrasse. 'You cannot prepare leeks with a meal of rice and minced meat as we know, it doesn't taste good; so I will fold the leaves into the shape of amulets, boil and serve them with yoghurt.' The mother-of-two moved from Konya in central Anatolia 16 years ago, and her husband works in textiles.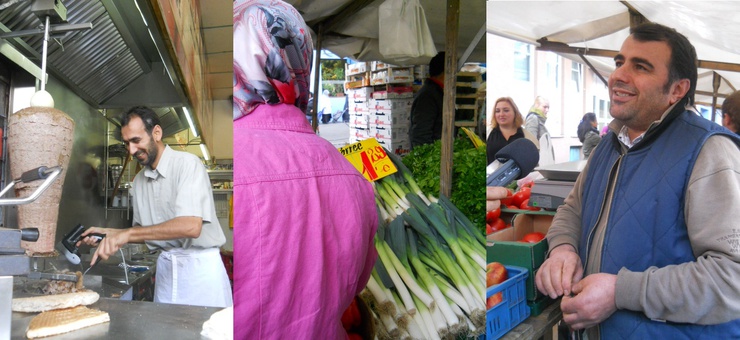 Metin Türker, who has worked as a market trader for the last two decades, agrees. 'We try to import bell peppers in the spring time from Turkey, but it's not always possible. The peppers usually found here are larger and not suitable for preparing stuffed peppers,' he says. He craves Istanbul simits (Turkish bagels) and candy wafers. 'We find simits here but they don't taste the same when you are not able to share your pretzel with the seagulls while crossing the Bosphorus on a ferry boat!' I make a mental note; bring an armful of simits and wafers next time I come to Berlin. There is only one Turkish chef in Germany who has a Michelin star, and that's Ali Güngörmüş, who lives in Hamburg. So I pay a visit to Lady Handan, who is preparing lentil soup for me this evening. 'When it comes to food, I can find almost everything I am looking for at the Turkish markets,' says the beauty specialist, who lives in Kreuzberg and has been in Berlin for the last 30 years. She agrees that certain things are not like in Turkey. 'Whether it is from the air or the water there, I don't know,' she says, echoing the market trader. 'Right now, it is the season of pelamyds at the Bosphorus. You can't imagine how much I crave for that fish.'

Tekin Hasan Alemdar sells entrees such as içli köfte, kısır, potato salad and kebabs at his small restaurant in Schönleinstrasse, the ingredients coming from the Turkish market. Meat is purchased at 'halal' markets where it is sold according to the ritual of muslim slaughter. 'The customers want it that way,' he explains of the fact that animals are slaughtered in the name of Allah; enunciating this blessing at the point the animal yields its life is the single most important aspect of halal meat. Yet Alemdar finds that everything tastes the same as in Turkey with the exception of içli köfte (kibbeh or stuffed meatballs), a specialty from the Antep region in Turkey; he could eat ten of his grandmother's homemade stuffed meatballs at one sitting. 'I cannot find that taste of my childhood,' he says. By all accounts, the fact is that everything tastes almost the same, made with original ingredients, with red pepper paste coming from Antep and the garlic from Taşköprü. 
Raki time
The Turkish culinary influence is not unnoticed by Germans themselves. I visit Berlin every two months, living with a Turkish friend in Fuldastrasse. Everytime we cook something (especially which smells good), I offer a plate round to my neighbours; as David Bowie said when he lived in Berlin, he loved his Turkish neighbours for that. Younger generations are known for their late night indulgences in 'cheap, big and delicious' döner as they say, although it is also because establishments are open late. Another evening activity is drinking rakı, an unsweetened, anise-flavored hard alcoholic national drink that is popular in Turkey and in the Balkan countries as an apéritif. In Istanbul, you can see a 'Yeni Rakı' bottle on the table when you knock someone's door in the evening. But it is the first time I have ever heard of the 'Tiger Rakı' brand, produced in Germany with the slogan 'The Lion's Milk Tiger Rakı!'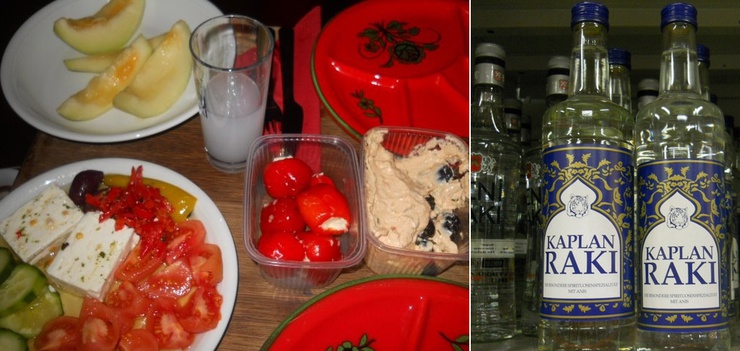 Rakı is accompanied with a few mezes, and I notice Turkish appetizers which accompany raki are often sold under the label of 'Greek meze'. At the Marheineke Markthalle, my thirtysomething Turkish friends studying in Germany help me sample the hoummus, babaganoush (eggplant, tahini and garlic dip), roasted red peppers, stuffed vine leaves and sigara böreği (cigar shaped pastry made with feta cheese and phyllo dough). Unlike the older generation and settled families, Berlin's cosmopolitan style of cuisine suits my student friends temporarily.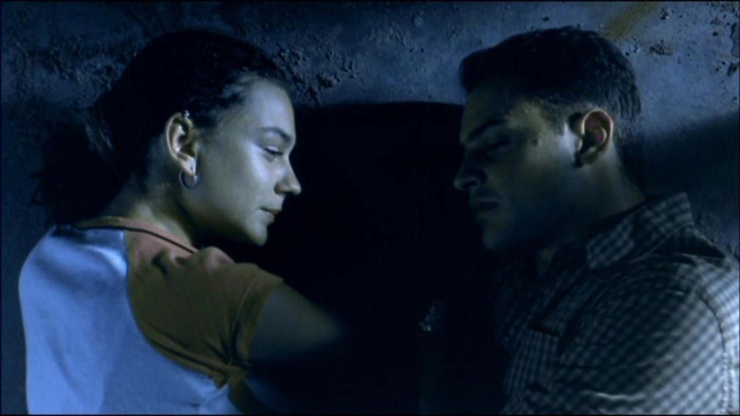 Tonight, something is missing: music. We play a record by Orhan Gencebay, a famous Turkish fantasy music singer. But after a while I get the same feeling of restlessness. What is missing this time? 'The iodine smell from the sea,' says Ali, who has who lived in Berlin for a decade. 'It doesn't matter how much salt you pour on your food; you still don't get the same taste as in Istanbul at the Bosphorus.' Lacking is not the salt in the food but iodine in the air. You can change everything you like but a palate will follow you, and you need time to educate it, though I do try to bring beers, pickles, breads and chocolates back from Berlin as much as I can.
This article is part of the sixth edition of cafebabel.com's flagship project of 2012, the sequel to 'Orient Express Reporter', sending Balkan journalists to EU cities and vice versa for a mutual pendulum of insight. A huge thanks to the folks from cafebabel Berlin
Images: main (cc) Jonathan Adami/ flickr; © Elif Turkolomez for 'Orient Express Reporter II', Berlin 2012