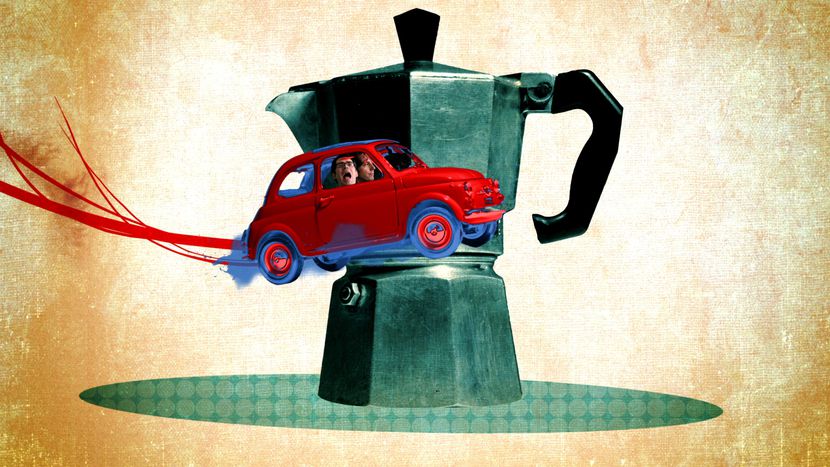 Documentary Italy: love it or leave it in a Fiat 500
Published on
When the lease on their flat in Rome was up, film critic Luca Ragazzi convinced television journalist Gustav Hofer to spend a last six months touring their country and understand why they were moving abroad. Little did they know that those were the six months that changed Italy
Gustav Hofer, 35, was born and bred in Serentino in South Tyrol. He studied at the universities of Vienna and Middlesex (London) before moving to Rome over a decade ago, where he is a correspondent for the Franco-German TV channel Arte. His partner, 40-year-old Luca Ragazzi, is a film critic and 'roman Roman' who has lived in the United States. As directors the duo won several prizes for their documentary about gay rights in Italy, Suddenly Last Winter ('Improvvisamente l'inverno scorso', including a special jury mention at the 2008 Berlin film festival and Italy's silver ribbon award (nastr d'argento) in 2009. They are back with Italy, Love It Or Leave It, which documents their journey through their native country in a traditional Fiat 500.
cafebabel.com: Luca and Gustav, you wanted to move abroad before making this documentary. Why?
Luca: We had to leave our apartment in Rome and it seemed like destiny: the right moment to leave Italy had arrived, and Gustav was insisting on a move to Berlin (in the documentary you see the pair learning German through voice tapes in their car - ed). I didn't feel like it. We decided to undertake a long journey and be reconciled with our country. It's a land finding itself in a time of great difficulty with few prospects for its youth. However it's also a country which is seeing the light at the end of the tunnel at the same time.
Gustav: The idea to leave was there ever since we got together, thirteen years ago now. We thought about going to Argentina, but then the crisis hit. Then we thought about Barcelona, but in Spain things aren't going any better than here. On the other hand Berlin remains the European symbol of a city where people manage to see their projects through.
cafebabel.com: When and where did your journey start?
Luca: Initially Gustav wanted to show me how icons that have made Italy famous in the world are now merely a ballast that no longer represents anything. We started in Turin, where Fiat labourers living on benefits don't manage to make ends meet at the end of the month, and where the Bialetti coffee factory shut down. Next we went to Milan to meet some of (then-prime minister - ed) Silvio Berlusconi's supporters. We moved on to Rimini (on the Adriatic coast - ed), which is the place in Italy where the highest amount of Viagra is consumed; we looked for the Italian stallion stereotype which doesn't exist anymore. Our film was shot during the first six months of 2011. In it we were able to record significant moments like the anti-nuclear referendum, Giuseppe Pisapia's mayoral victory in Milan or the scandals about Berlusconi's bunga bunga parties.
cafebabel.com: You have been lucky; you were able to record the six months that changed Italy in the lead-up to Berlusconi's resignation in mid-November and Mario Monti's coronation as his successor.
Luca: We didn't even expect it to happen. We are ahead of everyone who will now want to tell the story of this period. We're touring around the world with this film because we want to everyone understand what is happening in Italy. The decisive moment for me was the women's protest 'If not now, when?' ('Se non ora, quando?') that brought thousands of non-partisans into the streets shouting 'Resignation! resignation!'.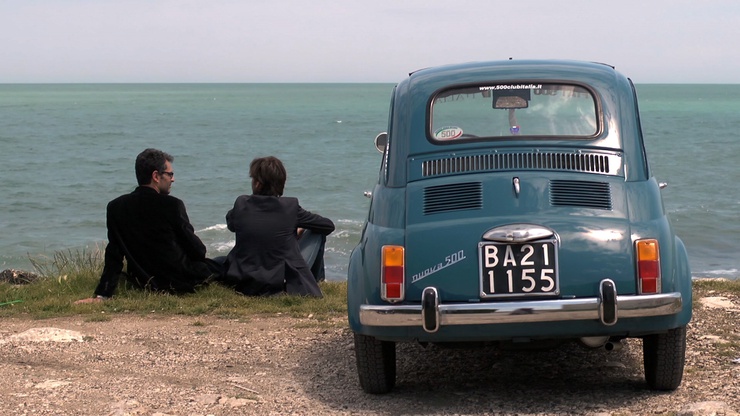 Gustav: In recent months a collective awareness has grown: Italians no longer want to be so passive. They want to be the protagonists. People have understood that things are worse than before. They have stopped being seduced by propaganda spread on the news. On top of that, the internet has helped shape a more cohesive public opinion.
cafebabel.com: In the second part of the film Italy redeems itself and convinces you to stay: who's to thank for your decision?
Gustav: The person who impressed me the most in our interviews was a man who collaborates with the Sicilian justice system, Ignazio Cutrò. He is an entrepreneur who has repeatedly denounced the mafia. This lead to him being marginalised by the local community. He is continually threatened by fires and the destruction of his agricultural machinery. I thought he would have convinced Luca to leave, but his passion and courage convinced me to stay.

Luca: The writer Andrea Camilleri told us such heavy things that it upset us. Actually every story we heard in the south contributed to a change during our journey. It was as if the Italy that is famous in the world only still exists in the south because in the last two decades the rich and progressive north has only produced communion and liberation (a catholic-inspired lobby network) , the northern league (Lega Nord) far-right party and Berlusconi himself (who was born in Milan - ed).
cafebabel.com: Does the documentary still make sense now that Berlusconi's reign is over?
Gustav: Of course it does. Italians don't easily change their mentality. The problem is not Berlusconi; it's 'berlusconismo', a system of negative values that has suffocated words like ethics and deontology. Italians now need to rediscover those concepts. The significance of the film is in sharing the stories of Italians who try to change things; we present them as positive models to follow.
Luca: Italians have always been good at complaining about everything but they are lazy when it comes to rolling up their sleeves to change things themselves. This is the main attitude that must change. We met persons who did not wait until a miracle arrived from above, but instead who started changing things in their everyday life.
cafebabel.com: The film's conclusion is very explicit: 'life is too short not to be Italian'. What do you miss the most from Italy and the Italians when you are abroad?
Gustav: Passion...
Luca: …he means passionateness...the fact that Italians are always more extreme than others in everything they do, as if they always see things bigger. To us it always seems like people abroad have received a blow on the head and try to control everything too much. Here in Italy people manage to always see things in a more colourful and amusing way. Another quality of Italians is their mental elasticity, the possibility of always going home content, regardless of the severity of laws or possible harsh punishments. Then you also have the Italian climate, its food, its beauty… Italians often feel accustomed to all that, but if you took it all away they would panic. With this film we also want to invite them to see how the glass looks half empty.
Read this article in Hungarian courtesy of cafebabel.com Budapest
Italy: love it or leave it will be broadcast on the Franco-German channel Arte on 27 November at 23.25. Click on the official website (in Italian and English) to see the full screenings programme in Italy and the world.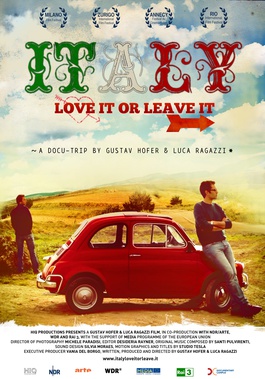 All images courtesy of © Italy, love it or leave it
Translated from Luca Ragazzi e Gustav Hofer: "Raccontiamo i sei mesi che hanno cambiato l'Italia"