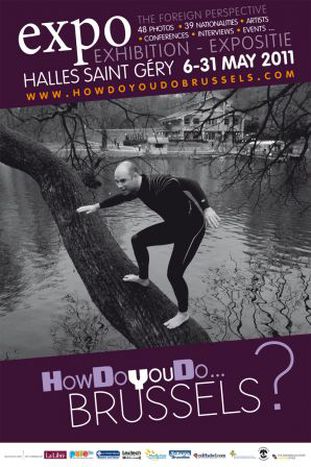 Discover Brussels! Exploring the influence of foreign communities in Brussels' history and role as European capital
Published on
Cafebabel Brussels is organising two interactive events in the frame of the exhibition , with the partnership of the  How Do Yo Do...Brussels?BreXpat programme of King Baudouin Foundation. « When Europe meets Brussels » / « Quand Bruxelles rencontre l'Europe »  A Speed-Dating on May 25 at 7pm at Halles St-Géry Meet your new Brussels' neighbours!
A "speed-dating" type evening in which expatriates and Bruxellois have 7 minutes to exchange and share views and get to know each other.
Around 60 participants (30 Bruxellois and 30 Europeans) will, in 7 minutes, exchange information on their lives in Brussels, their culture, their reasons for living in Brussels, but also their favourite spots and activities in the capital. The event aims to bring Belgians and Europeans together. .
"Brussels, one thousand pages of history and culture"
Debate on 11 May 2011 at 6 pm at Halles Saint-Géry

Brussels and its hidden treasures are to be revealed. As Belgium's and Europe's capital, Brussels has over the last 50 years become a melting pot of cultures and communities, giving it a truely international character. Lovers of Brussels, but also newcomers to the city, can discover Brussels' thousand year long history, its different communities, and the cultural heritage which the capital has amassed since its inception.

Roel Jacobs, an expert in the history of Brussels for Visitbrussels,  will talk about the history from the Middle Ages until today, about Brussels' position in Belgium and in Europe and the important historical events of the city making Brussels this International city.

Louis Lohle-Tart, an renowned ethnologist, will discuss about Brussels as a meeting point of the communities, the demographic development of Brussels and the contribution of the different communities and the waves of immigration.

, a multicultural and multifaceted guide, holds a PhD is Art History and Philosophy and has specialised in alternative touristic tours, often accompanied by sweets. She will talk about the influence that foreign communities and traditional crafts have had on Brussels' architecture. She will also be happy to share some of her most secret spots.
Sonja De Smedt
, Brussels' guide  specialised in the esoteric, masonic and alchimic secrets of the city. Christian will talk about the symbols engraved in the history and architecture of Brussels.
Christian Ronsmans
is an artistic exhibition started by four foreign women of different nationalities living in Moscow. They were motivated to discover how other people lived, felt and thought about the city. The positive feedback they received inspired them to create an exhibition.
Bruxellois