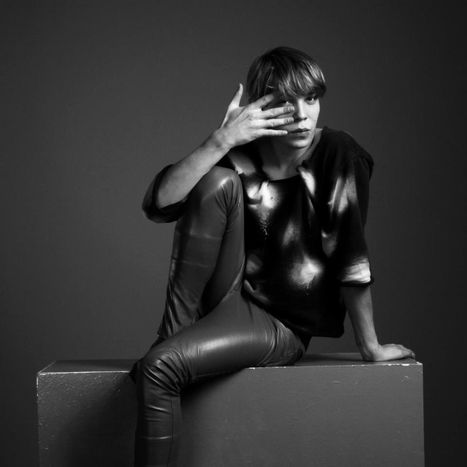 Denisas Kolomyckis: 'Lithuanian society will be ready for LGBT rights in a few years'
Published on
His shyness seems at odds with his achievements; already by the age of 20, the Vilnius-born ballet dancer has stacked up experience in the world of the arts, from the Lithuanian capital to New York via London and Paris, where we meet. Nor has he any qualms about speaking of his homosexuality: 'I am one of those rare people who talks about it in every interview'
Denisas Kolomyckis manages to conclude out interview with the opening line of it: 'I am focused on art, although if I had to introduce myself I would prefer not to have to say anything,' he says, at the Sully bar in central Paris. It seems that artists like him don't like defining themselves. He seems introverted but is ever-smiling. This young, openly gay Lithuanian man is not an easy person to talk to - he has lived his twenty years so intensely that any introduction is left unsaid until the last minute.
Open Lithuanian minds
After spending half of his life studying ballet in the foremost school of art in Lithuania which pays tribute to the native artist Mikalojus Konstantinas Čiurlionis, Kolomyckis continued his training in the British conservatoire for dance and drama (CDD). 'When I was 18, I happened to meet Jonas Mekas in Lithuania; the filmmaker invited me to go to New York,' he says, of one of his mentors, who has mingled with the likes of Yoko Ono and Andy Warhol. Alongside dancing, Kolomyckis describes himself as being passionate about painting. He has also acted in various films, the last of which was a bit part in We Will Riot (2013), the third film by the 23-year-old Lithuanian director Romas Zabarauskas.
The mantra 'Vilnius is the new cool' is repeated throughout We Will Riot. Kolomyckis expands on the idea. 'Lithuania will be the new Paris in five years time,' he adds. Although the economic growth of his country, the best in the European union after Latvia in 2012, seems to have influenced cultural development and the opening up of the world to Lithuania, Kolomyckis admits that his compatriots are still quite backward thinking. 'Certainly Lithuanian minds have opened up since joining the EU in 2003; however, today I am forced to hear in our parliament that if you are homosexual, you are diseased.' Even so, Kolomyckis is optimistic. 'In five years at the maximum, same-sex marriage will be legalised. By then, Lithuanian society will be ready.' With the future approval of these unions in France and in the UK, Kolomyckis senses that this is the moment to act. 'There is a huge debate about it all over Europe. This affects what is being said about it in Lithuania as well.'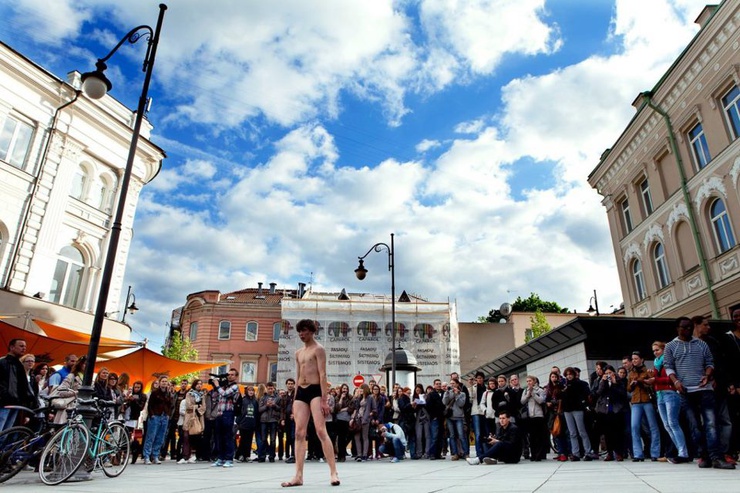 However, this Baltic republic does not appear to want to integrate the LGBT community. Amnesty international's most 2012 report highlights the Lithuanian state's worrying homophobia: the discrimination towards lesbians, gays, bisexuals and transgender people is maintained by a law of protection of minors which prohibits supporting equal marriage in front of children: 'Restricting gay propaganda is nonsense,' Kolomyckis declares, as he rolls a cigarette.
'I am gay and I feel good about it. It's not my fault if a part of the government doesn't want to see it'
Despite this, Denisas assures me that he doesn't have any problems when he speaks about his homosexuality when he returns to his country. 'I am gay and I feel good about it. It's not my fault if a part of the government doesn't want to see it.' It seems that his mother, who brought him and his brother up by herself, gave him this strength. Although his work sometimes means that he must be far from his family, he admits that in the future he would like to go back home. 'When it comes to where I'd like to live, I love Lithuania. I consider myself an ambassador for my city and my country.' He may consider Paris to be an open city and the indisputable capital of culture, but he promises that Lithuania is catching up.
Read part one and part two of our series of LGBT portraits
Images: main courtesy of © Vika Petrikaitė via Denisas Kolomyckis official facebook page; logo  © Adrien le Coärer; in-text DK performs at 'Africa days' in Vilnius, 18 May 2011 © Vincas Aliesus/ Denisas Kolomyckis/ video (cc) Romas Zabarauskas/ youtube
Translated from Denisas Kolomyckis: "Lituania será el nuevo París"