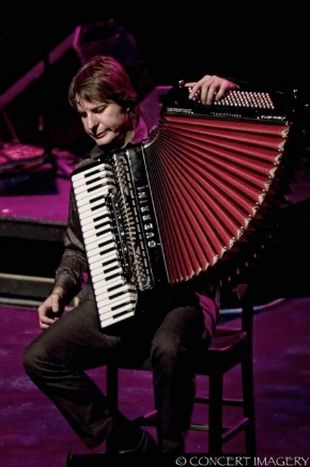 Dario Ivkovic: 'people don't seem interested in roots of Balkan music'
Published on
Best-known as a member of both the German touring group Shantel & The Bucovina Club Orkestar and French band Les Yeux Noirs, the Serbian accordionist is an electrifying personality onstage. We talk music legends, Balkan beats and why 'girls like guitarists better'
cafebabel.com: Dario, how long have you been in the music industry?
Dario Ivkovic: As a Serbian, music has always been essential for me. We have music playing all day. It isn't as evident in western Europe where you have to meet several requirements before being able to perform: you are supposed to be a professional, to have some sort of academic musical education and to have proven yourself.
cafebabel.com: Why did you choose to take up the accordion?
Dario Ivkovic: My uncle in Serbia is an accordionist. Ever since I can remember I've been crazy about him. He played at weddings in that great period, 1980s Yugoslavia, when people had some money - unlike today, where poverty is more common. I deeply respect accordionist Ljubisa Pavkovic, who was the conductor of the Serbian national orchestra until he retired two years ago. I am truly fond of the traditional music he represents. He is a big star in Serbia and I used to see him on television as a child. I haven't lost the feeling I experienced then, of movingly joyful moments. That was another reason I turned to the accordion. When I told my mum that I wanted to play an instrument she told me I was foolish when she found out which one. Playing the guitar might be more fun - girls like guitarists better…
cafebabel.com: What other influences could you list?
Dario Ivkovic: I like Balkan music because it is strong, it isn't 'shalala': when we play, we play; when we cry, we cry. I love Hungarian music as well. In Voivodina in the north of Serbia, we have many talented musicians of Hungarian origin such as Janika Balaž. He was a remarkable tamburica (a type of lute - ed) player and band leader. His legacy still lives on. He collaborated with the admirable Zvonko Bogdan, among others. Macedonia also has distinguished musicians like the Roma saxophonist Ferus Mustafov. I know him personally – our paths cross thanks to constant touring. I'm generally in favour of more traditional Romanian music, as I look out for people with more character.
cafebabel.com: What about other genres?
Dario Ivkovic: I love swing, especially the French swing of the 1930s: Stéphane Grappelli, Tony Murena, Gus Viseur… Jazz is too complicated. I like 'comprehensible' music that you feel like dancing to.
cafebabel.com: What are you involved in right now?
Dario Ivkovic: Half of the year I tour with Germany's DJ Shantel and Bucovina Club Orkestar, doing Balkan party nights. We perform together a hundred times a year. I am also in Les Yeux Noirs, a Paris-based band which is known for combining eastern European and Jewish music in a fresh, modern way. It is not as pop-like as Shantel; we have more lyrics and depth.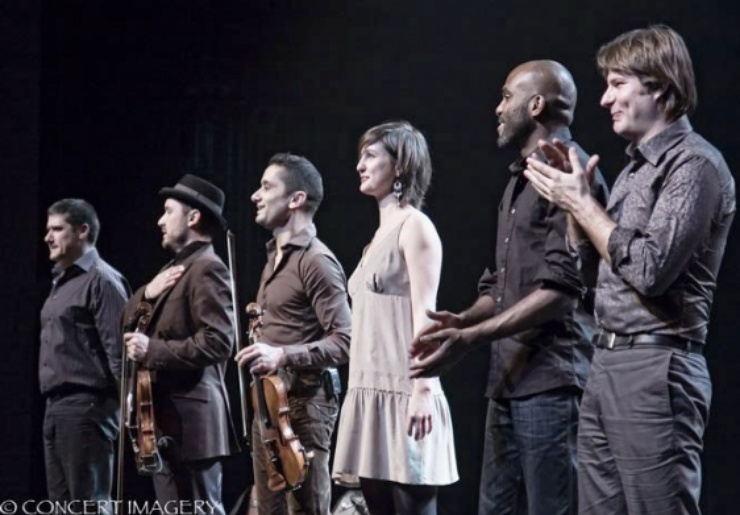 I like different situations: I still do some weddings, I play in cabaret every once in a while and occasionally in bars. Last year I had a great evening with Hungarian musician Kálmán Balogh. I appreciate the trademark atmosphere when the gypsy musician plays in front of the table, not on the stage. It is so genuine.
cafebabel.com: How did you meet Shantel and become a member of the Bucovina Club Orkestar?
Dario Ivkovic: When Stefan Hantel (Shantel's real name – ed) started this project after being an electro DJ, he intended to set up a Balkan party night for Germans. He approached me in Paris about six years ago, proposing a tour of a few days, with my playing early in the evening and him later. After a while, he invited me to work with him in the studio.
cafebabel.com: You lead a cosmopolitan life. How does it affect your identity?
Dario Ivkovic: When I am in Serbia people say: 'ahh, the french guy' and in France I am the Serbian guy, but it doesn't bother me. I know two different cultures: I am aware of the mentality and the manners of both nations and I take the best of the two to melt in myself.
cafebabel.com: What things are most important things to you?
Dario Ivkovic: All of my friends are musicians. We are obsessed with music and talk about it ceaselessly. I don't know who the first president of France is, nor who the Serbian one was, but I can tell you all about Ivo Papazov's latest album.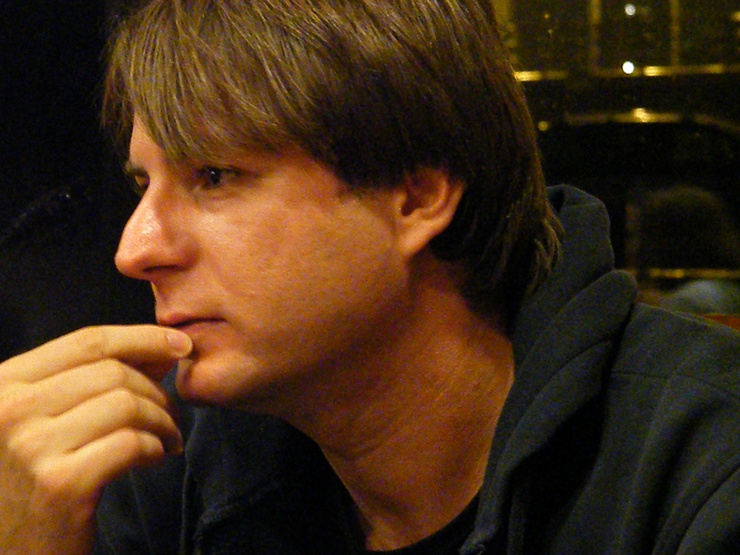 cafebabel.com: Do you get more audiences in eastern and southern European cultures because of the fact that the music you play implies genuine folk and traditional elements?
Dario Ivkovic: The show mainly includes Serbian and Macedonian pieces, with some songs from Greece and other Balkan countries. It's a pleasure to see that the listeners can't help dancing and partying to Balkan melodies. However, it is strange that they hardly ever look any deeper; they don't seem interested in the roots of these songs. They stay on the level of pop dazzle. In western Europe the music the Bucovina Club Orkestar plays is seen as exotic but for me these rhythms are natural. It is sad that European cultures are relatively close yet can be this far apart.
Read more from the official cafebabel Budapest blog
Images main and Ivkovic with Les Yeux Noirs at St Albert, Canada in 2009 © courtesy of Dave Bowring/ lesyeuxnoirs.net; in-text Dario Ivkovic © Ria Puskás