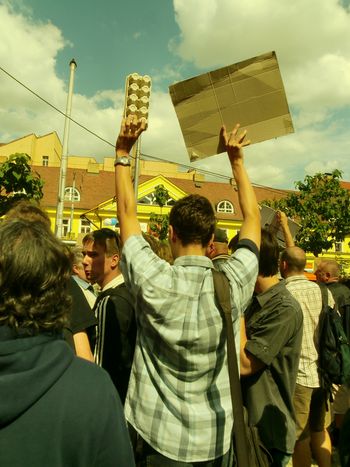 Czech Republic: 'we are leaving behind the eggs and going to vote'… for the right
Published on
Translation by:
kate stansfield
The new generation of the Czech right-wing is waging its political war. Its weapons are eggs and Facebook contacts. Practices of suspect ideology. The result? A huge mishmash of ideas that mix anticommunism, liberalism and support for both Tibet and Israel. The maxim on the agenda: we do not revolt without eggs, and lots of them
All political personalities are exposed to the opinion of the people. Student protests against the governments of (French president Nicolas) Sarkozy, (Italian prime minister Silvio) Berlusconi or, in particular, (Greek PM Kostas) Karamanlis, are frequent. However, the youth of the Czech Republic never seemed very politicised. Evidence of this was the low turnout at the demonstration against the Iraq war in Wenceslas Square; fewer than 1, 500 people attended in 2003.
Capitalist laissez faire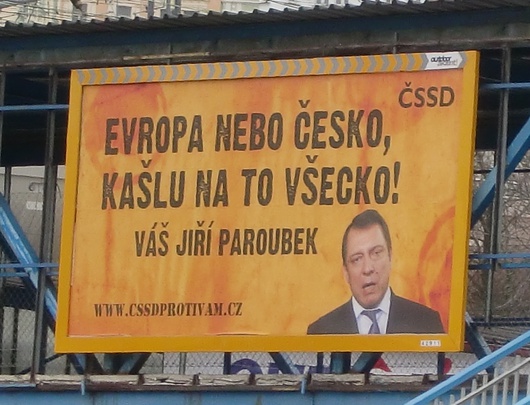 The brutality of the electoral campaign brought about hitherto unseen social tensions: showers of eggs over the social democrat (CSSD) opposition party and, in particular, over its chairman Jiri Paroubek for his arrogance and populism. But he is not the only one. There is no shortage of these qualities within the ODS, the majority conservative party. However, their actions are usually forgiven, even when their prime minister calls his opponent 'ugly and evil' in electoral broadcasts.
The hostilities began in May 2009 on Facebook and became quite a trend, so much so that the social network of right-wing young people reached an impressive 52, 000 members. The network is made up of a heterogeneous group of young people like any other, dreadlocked, flarewearing adolescents who immortalise their 'armed' actions on their mobile telephone cameras, and members of the ODS promotional 'blue team'. They declare themselves right-wing, anti-communist and (neo)-liberal, as well as supporters of Tibet and Israel. Many are pro-American. Nearly all of them back the introduction of academic and medical fees featured in the ODS manifesto.
'The under-25s don't even have a clue about what happened in 1989, let alone the events of 1968'
The unifying link under-25 generation of Czech youth is a rejection of the left. They have never known communism, few are interested in politics and they are not afraid of ideological shortcuts. This is why we can read 'social democrats = communists' on one of their banners. 'They don't even have a clue about what happened in 1989, let alone the events of 1968', laments Jan, a member of social democratic youth, and Robert, an ODS sympathizer, both opponents of 'violent and impulsive actions'.
Right-wing demonstrators
This could all seem odd to a young person from Germany, Italy, France or Spain, who are used to taking to the streets for radically opposed reasons. But in a country where anticommunist rhetoric is all the rage and where History has to be looked at from different perspectives, it must not be forgotten that it is normal to confuse the Velvet revolution with a capitalist laissez faire inspired by Western practices.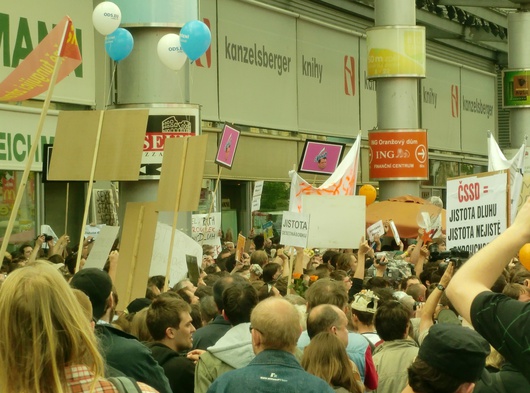 The critical point was reached in Prague on 27 May 2008. That day, CSSD speeches were constantly interrupted by the hurling of hundreds of eggs and insults. The whole of the political class has condemned those incidents and the young people ended up closing the campaign by holding up a banner which read: 'We're leaving the eggs behind and going to vote'… for the right. The right itself is probably preparing to celebrate its victory in style.
Translated from Repubblica Ceca: la generazione à la coque