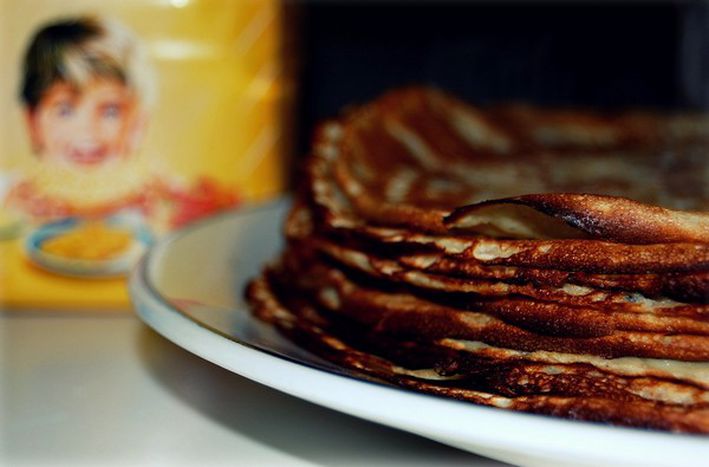 Crêpe Europe
Published on
Translation by:
ClaireBrunel
Sweet, savoury, with butter, flambéd… when it's the christian holiday of Candlemas, Dia de la Candelaria in Spain or la Chandeleur in France, crêpes are unavoidable. What about the rest of Europe?
There are plenty of alternatives to the famous crêpe Suzette (which is lightly fried in a mixture of melted butter, sugar, Grand Marnier, orange and lemon) across Europe: the British pancakes, the Polish nalesniki, the Italian soca, the Viennese Kaiserschmarrn, the clatita from the Carpathians, the German Pfannkuchen and the very Russian blinis, the Pandekager with Carlsberg beer or the Hungarian Palacsinta. There are a multitude of recipes, but two things remain in common: baking powder for lightness and flour for substance. By the way, it is flour which gives the crêpe evening of the Chandeleur its true meaning: initially flour symbolised the solar wheel, and it was eaten forty days after christmas as a gift to the gods who protected the wheat crop in the Celtic tradition. What a lovely promise for the future!
Flour power
Europeans generally opt for wheat flour which is used to make sweet crêpes. But other types of flour can be used in different recipes: chick peas in Italy, buckwheat (Sarrazin) in France, corn for a lighter dough… Another technique is using beer yeast. The bacteria use up the sugar in the dough mixture thus producing carbon dioxide which makes it lighter. That's why it's important not to be too hungry: the mixture needs to rest for a while. The more you beat the mixture, the longer it should rest. Alternatively, you can use lukewarm milk: it will speed up the process without the need to wait.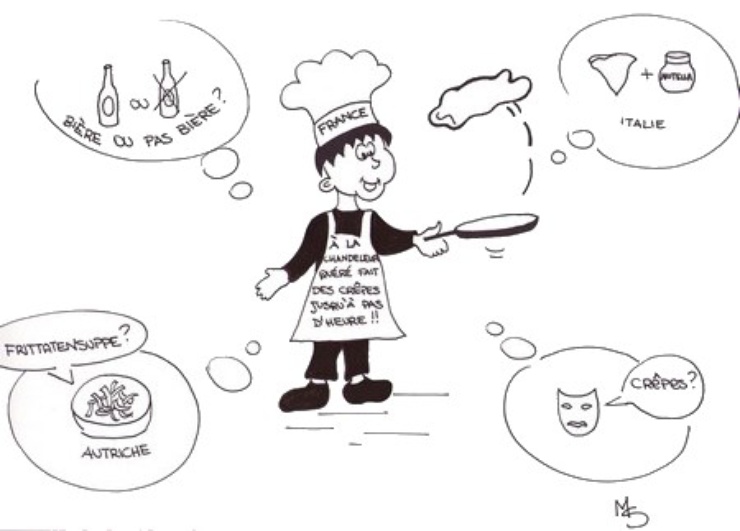 From one crêpe to the next, the diameter (15 to 20 centimetres for Polish nalesniki, 10 to 15 centimetres for British pancakes and blinis) also varies across Europe, as well as the thickness from a few millimetres (crêpes dentelles or 'lace crêpes' in Brittany, north-western France) to a good two centimetres (egg cake in Germany). Batter or clafoutis in French really is nothing other than a fat fruit pancake and clatita is the most common dessert found in restaurants in Romania. Below, the traditional recipe for French crêpes. Feel free to toss without restraint.
Recipe for six food-lovers
250 grams of wheat flour ½ litre milk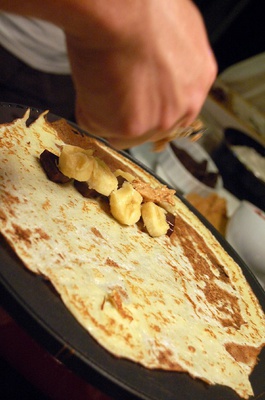 3 eggsa pinch of salta bit of cooking oil

Instructions: Beat all the ingredients vigorously together in a large mixing bowl. Add a drop of chilled ale. Leave to rest as required. Concerning utensils, a normal pan will do the trick for the least equipped. You will need to oil it properly using kitchen roll soaked with cooking oil, for example. For enlightened amateurs, it's preferable to use a special crêpe pan (crêpière) because this type of pan has lower sides and is lighter so that you can flip the crêpes with more ease. For the purists, we can only recommend the purchase of an amazing Krampouz , certified from Brittany as being 100% pure Sarrazin, with its patented system allowing the uniform spreading of the mixture on the heated surface. All that's left to say is bon appétit!

First published on cafebabel.com on 3 February 2009

Images: main (cc) dayjeejenny/ Flickr; in-text illustration © Monia; pancake (cc) travelingmcmahans/ flickr

Translated from Chandeleur : l'Europe à poêle