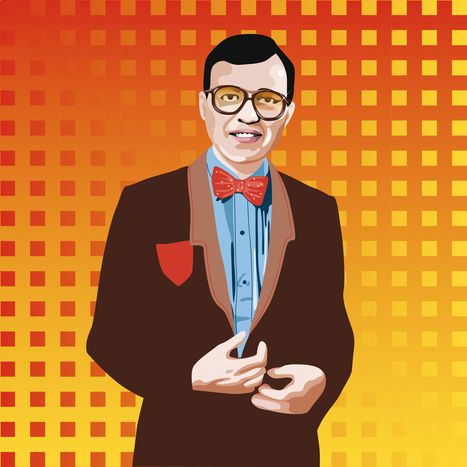 'Cosmic' French crooner Bertrand Burgalat
Published on
In 2010, he thought about giving up music. Two years later, the French singer is making a comeback with what could be his best album so far, 'All Directions'. For the 48-year-old, it's a voyage of no return. For me, it's a one-way trip to the moon in 48 hours. An interview at his home in Tricatel, known as the heart of French pop, reveals all
'I had just finished reading a book by Eric Neuhoff about Dominique de Roux, the writer who stole signposts all the time. All Directions. I told myself that I was going to get out of this maze that I was in. I wasn't going to go round in circles.' Bertrand Burgalat replies to a youngster who wanted to know why he chose 'All Directions' (Toutes Directions) as the title of his latest album. Burgalat, who recently became a father, is starting a new life, a 'voyage of no return', at the age of nearly fifty.
What an idea
These days, we think about getting rid of anything we might have 'inherited', all those stupid problems with affiliation that we may have. Now they come back to haunt us without even giving us a warning. My father is a fan of Burgalat. I, on the other hand, didn't know much about him before I met him. Burgalat himself finds that 'neat'. I told myself, what an idea to go and interview a guy born in 1963 – the same year that my father was born – whose promo photos found on the web remind me more of the days before the war than of the new millennium. At the same time, Burgalat doesn't skimp on style: brown mocassins, tweed polo shirt tucked into pleated trousers and a pair of bifocal glasses – the same kind that Germany's famous Inspector Derrick wears.
Burgalat receives guests in his normal dandy attire in his Parisian home, near the office of his label, Tricatel, situated in the city's 18th arrondissement or district (there are twenty in total - ed). Whether you like him or not, there is one thing you must know about Burgalat: even if his style is outdated, he doesn't like to stand out. 'I've always had this tendency to go the opposite way to fashion,' he says. 'I think it's a mistake. I don't really care about being strange or unique. I'm not Karl Lagerfeld who is going to say that the eighteenth century is 'rubbish' and 'long live rock'. I'm not a trendsetter.'
'I'm not Karl Lagerfeld who is going to say that the eighteenth century is rubbish'
I find this strange, seeing as he seems to have a certain sensitivity to him which he describes throughout the interview as being 'anachronistic'. 'When I say anachronistic, it's because people consider me to be nostalgic,' he explains. 'That's actually not the case. There was an absolutely horrible term that they used at one point: they said that I was 'retro cool.' Let's just say that the sixties fashion can be seen even on Bertrand's belt buckle. On the other hand, Burgalat tries to free himself from these labels with the help of his music. 'I spend a lot of time in the studio banning anything which tries to 'resuscitate' the past,' he says. 'A lot of people have put another artist's name to mine simply because my music reminds them of what they heard back in the day. I've had people comparing me to Serge Gainsbourg, Burt Bacharach, easy-listening compilation albums... I have to admit that it makes me laugh.'
'It's stupid but being a musician is something you learn'
This reference to Burt Bacharach could interpreted as a recognition of Bertrand's talent as both a composer and arranger which he has already shown in his previous three albums, The Sssound of Mmmusic (2000), Portrait-Robot (2005) and Chéri BB (2007). He even managed to seduce the director Eva Ionesco who asked him to make the soundtrack for her film, My Little Princess (2011). It's another way of saying that in France, Bertrand Burgalat is seen as a 'connoisseur of pop'. He is almost too talented. All the signs of talent in his music only reinforce the perception that people have of him as a musician who is too hard-working and too 'pernickity'. 'I'm not fussy,' he says. 'I improvise a lot. At the same time, I try to be precise in order to find the right combination, the right colour. It's stupid but a musician has to make music. I prefer to come up with ten small projects a bit all over the place – even if I'm not going to earn a lot of money - rather than one large project.' That's how it is - he is not another plastic Bertrand, but a rather 'spacey' one.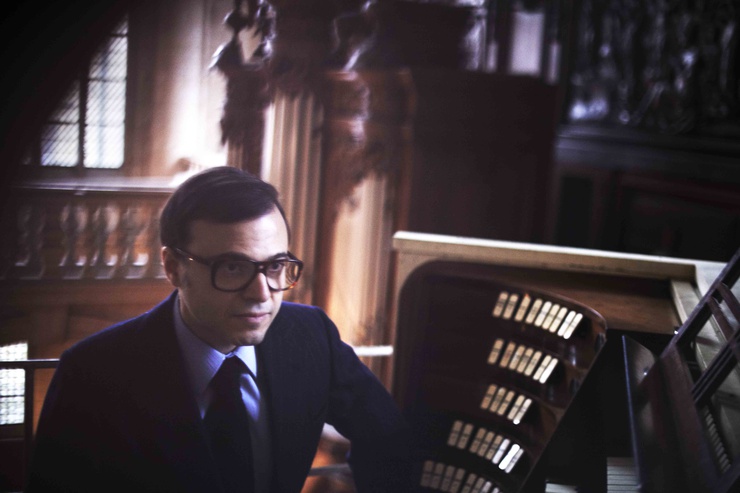 Burgalat's musical training started in the family home when he was a child. As the son of prefect, Burgalat travelled a lot and fell in love with the piano when he was six years old, yet quit his classical training at the age of twelve. Nowadays, he admits that he 'understands the spelling of the music but not the grammar'. It doesn't matter – Burgalat eventually wrote scores that he could be passionate about without too many hitches because he managed to get his ex-partner, the actress Valérie Lemercier (Chante, 1996) and the writer Michel Houellebecq (Human Presence, 2000), to sing. His battle with time, fashion, the music industry and much more started in 1996. He was signed by Tricatel, a label which signed such bands as April March, AS Dragon and Count Indigo, and was given the order of the arts and letters ('l'Ordre des Arts et des Lettres') by the minister of culture in 2009. Yes, Burgalat has been given the title of 'knight', yet another thing which seems a bit outdated.
High above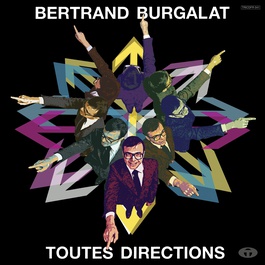 Sixteen years later, in April 2012, Tricatel released Burgalat's second album, All Directions – an album where the artist is so relaxed that it is a sure sign of progress. 'I'm more confident and I ask myself more questions,' he says. Recorded in the Pyrenees, 'Toutes Directions' is an exceptionally modern album where you can almost sense the altitude at which the songs were recorded by the sheer amount of words. The words have been left to the lyricist – in this case, Burgalat himself. 'I am able to stick to my own words if I don't use a lyricist,' he explains. In this way, the latest 'architect' of French pop leaves us with a set of signposted directions in order to better understand his music. It's a sensual kind of music. After a disc like All Directions, I can be sure of one thing: I wouldn't do the same thing again. I need to move on.' No doubt Burgalat will, in all directions.
Images: © Bobby Watson; in-texte © courtesy of IVOX music/ videos: Bardot's Dance (cc) TricatelVision/ This Summer Night (cc) TVSHADES/ both via youtube
Translated from Burgalat : cosmique, Bertrand