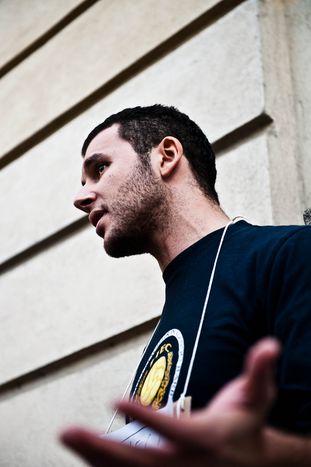 Contentious Guéant circular rejects work visas in France
Published on
France's governmental memo on employment for their residing non-European students caused quite a commotion, and we're not talking Jerry Maguire style. Graduates like Nabil Sebti are taking a stand against what could either turn into a long-term policy of sealing France off or be a strategy to gain votes in 2012 elections
How would you imagine a clandestin, as the French call anyone remaining in a country illegally. In the case of Nabil Sebti, he wears a dark blue hoodie from the elite French business school HEC, as well as jeans and trainers. He also speaks several languages fluently, has just completed his masters and has started up two companies in France. For years he paid hefty tuition fees at one of Europe's best known business schools. Only a sign around his neck makes it apparent that Nabil has been living illegally in France for the last month, in the country where he's been linked to since childhood as he went to French school and where he had planned his future. Recently the Moroccan graduate lost the hoodie and switched to a business look complete with shirt and jacket whilst on the metro, so as not to be caught.
Codename 'circular of shame'
The 25-year-old is one of the victims of the so called 'circulaire Guéant' (pronounced 'geyah'). The ministerial recommendation on how to apply the visa laws was sent to all 'prefectures' in France on 31 May by Claude Guéant, the French interior minister that the document is named after. It was approved by the labour and employment minister Xavier Bertrand. The ministry's official mission is that: 'the procedure of changing the status of residency (from student visa to work visa for non-EU citizens) should be brought under more control'. In other words, more refusal stamps on foreign graduates' work visa applications so that the annual number of legal immigrants (200, 000 in France) sinks by 10% by the end of 2011. For quite a while now France has been pushing foreign university graduates away, simply so that right-wing conservative voters don't turn to the extreme right wing party, the national front headed by Marine Le Pen, in the spring 2012 presidential elections.
This election strategy is not new. The 300 or so students who have come to metro station Varenne in western Paris to protest on 12 November know that their future has been swapped for a plane ticket home in return for a handful of votes. It was because of that that Nabil, together with others affected, started the Collectif du 31 Mai ('31 May collective') which demands the withdrawal of the circular. Politicians from all camps as well as the principals of many universities and heads of firms which like to emphasise their international profiles such as L'Oreal or Ernst & Young have joined the movement against the absurd decision by the interior minister. 'Even the conservative camp is more against the circular than for it,' says Nabil furiously. The senate has tuned in and is demanding the annulment of the circular, whilst on TV channel France 2, the former education secretary Jack Lang appealed: 'For goodness sake, ask Guéant to withdraw his circular.'
New stigma in Europe: 'Moroccan engineer'
The 'undesirables' at the demo chant in chorus 'Gueant, if only you know where we would stick your circular' (Guéant si tu savais, ta circulaire où on se la met). Nabil is wearing a red arm band with a large white 'C' on it. On the signs of other graduates you can read 'two months' or sometimes 'four or five months'. This refers to the time that remains before they hear from their prefecture. After six months of legal residence France's foreign elite has to line up to go home. Studied, graduated, deported! The European family now has another scapegoat next to the 'Polish plumber: the Moroccan engineer', according to Omar Saghi, professor at the faculty Sciences Po, who describes the stigmatization under Sarkozy in the French daily newspaper Libération. It's well known that France has being sounding the nationalist drum ever since Nicolas Sarkozy has been at the head of the band. The creation of fortress France has become ever clearer in the last few years, with a ministry of immigration and national identity being established (with those last two words later dropped), European citizens expelled because they were Roma and the freedom of movement in Europe questioned. Now things are being made tricky for elite foreign students – despite the fact that France desperately needs engineers.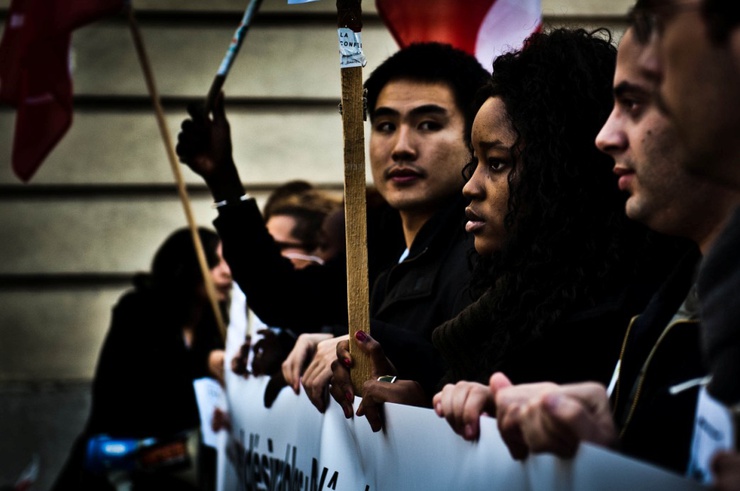 France hasn't made any friends abroad with its short-term immigration policy either. Nabil explains that according to one university director China has already threatened to block its international voluntary programme (VIE) to French applicants. Nabil claims that no other country in Europe has introduced such tough measures. The exception is Great Britain, where immigration minister Damian Green introduced new visa restrictions for students in April. In contrast, in Germany, where the lack of skilled workers is already making itself felt, the working immigration policy was eased in June, although for the moment only for doctors and engineers.
La France aux Français – France for the French
Despite everything, 23-year-old Ndes Ndour from Senegal is planning to wait the policy out. Officially the informatics graduate has two months left. However, his prefecture quietly let him know that the situation will ease after the elections. Martin LeCap from the university in Troyes, Reims, has reluctantly become a long-term student. The informatician from Cameroon has to re-register himself at university after studying for five years and despite having a work contract. One 24-year-old Cameroon woman who wants to remain anonymous is certain that the prefectures are deliberately holding back documents for the six-month period. Like 300 students before her, she is preparing for the return home.
And Nabil? 'It's sad to see that because of my presence in the media I don't have any problems,' he says. 'However, I will leave. Out of principle! The circular has taken everything away from me. I have shut down my companies. I'm running out of financial resources. This circular is questioning our worth. It damages enterprises, education institutes and France's reputation. In fifteen years time, if I'm sitting somewhere with influence and have anything to do with France, then this story will absolutely certainly be revisited.'
All images © Davide Riccardo Weber; video (cc) cafebabel.com/ youtube
Translated from Guéant geht um: Frankreich macht Schotten für ausländische Studenten dicht