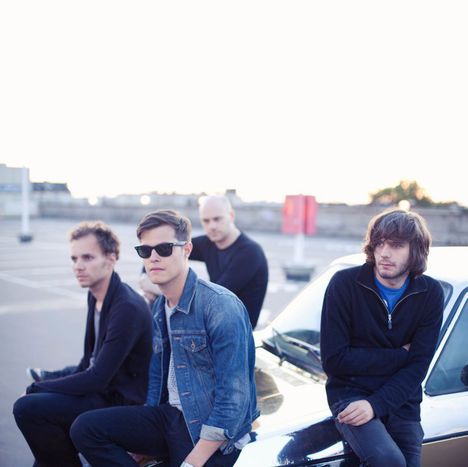 Concorde: 'Breaking a tooth on a baguette was a really defining moment for us'
Published on
Bringing out an album during a grey June is a paradox that well defines this band from Paris. The foursome's pleasure in playing around with conflicting ideas is solidified in their album 'Summer House'. Max, Clement and Roger tell us whether they are the new pioneers of mish-mashes of sound
At the end of a wooden staircase on a narrow pathway filled with flowers, the harmonies of an almost dreamlike music are floating out of a half-open doorway. Cooped up in a studio in the 20th arrondissement (district) of Paris, Concorde are re-playing their scales in front of two young cameramen, who don't seem to know how to film in the middle of this organised pig-sty of an apartment. It's cold outside, and the notes that come from the instruments are the only thing that reminds us that it's already the middle of June despite the gloomy backdrop.
Lesbian nightclubs and broken teeth
Concorde are a group of late twentysomethings who are self-proclaimed big fans of the Prozac-fuelled quartet Joy Division. Despite the names of their debut single and album - Candy Boy and Summer House - the music that the foursome from Paris produce isn't quite as sexy and upbeat. Their songs could just as well be played at a summery barbecue as they could make the most callous German mechanic start snivelling. 'The idea is that we are imagining ourselves in this summer house, but outside the sky is more November-like,' says keyboard player Max. 'A bit like the weather just now!' adds guitarist and singer Clement, who met Max at university and who boasts a vague resemblance to Cristiano Ronaldo. Although a few tracks do make the sky seem a little less grey, the rest of the album is a homage to the 'no-wave' music from the end of the seventies, which as everyone knows, evokes more of an image of the concrete streets of Manchester than the sandy beaches of Santander. Yet somehow everything is included in this ambivalence. 'We do have this paradox. We're not trying to make solely upbeat or solely mellow music. Even if there are a few depressing notes to our songs, there is always a positive element to be found somewhere.'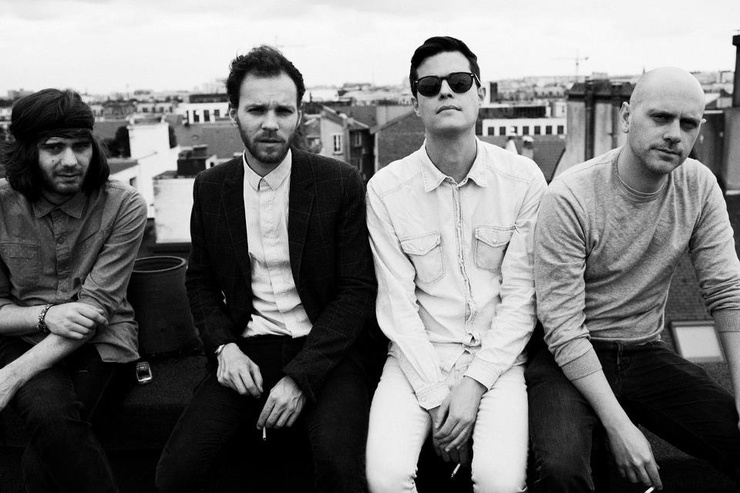 Originally, they were called Candy Clash, and started writing small parts of songs in the early hours of the morning, after coming home from the Parisian lesbian nightclub, Le Pulp. 'There is a level of continuity between the two bands,' explains bassist Roger, Max's brother. 'The difference is mostly the addition of Louis, our drummer. He adds a lot more warmth to a song.' Max describes Roger as the geek of the band. 'He had a studio in Rue de Rivoli in the centre of Paris which had some amazing equipment. So when we got back from the club, we composed our first song.' Roger reminisces about the first time the group played together. 'It was for a friend who was studying to be a sound engineer. We quickly came up with a title for the song Chico (which means tooth in French slang - ed) because earlier that day Max had broken his tooth on a hard baguette. I think that was a really defining moment for us.'
Harmony
Concorde is essentially about a group of friends. Clement's graphic designer wife takes care of all the press-related matters. Black Joy (arrangements), and Akroe and Krsn, who designed the album cover, are friends of the band. We're meeting at a friend's home, as if to illustrate that everything about Concorde was self-made from the beginning, as with most other French bands, right down to the band's name. 'Everything is done by association,' says Clement. 'The main reason for our success is definitely down to who we know and who we meet. 'Concord' means harmony in Latin, which I think is really fitting. And there's the plane as well!' Ah yes, the the supersonic airliner that flew at twice the speed of sound for 27 years. 'It was a nice story really,' says Roger. 'In all of our songs we talk about the innocence of being a child. The point is to live life to the full and the aeroplane represents that. Also, Concorde is such a good ambassador for France.'
'We're not rejecting Frenchness, but naturally what we listen to is very English'
'France' is a word that sounds almost fake when we apply it to music that could be the product of a Manchester warehouse. When 79 came out during the times of Candy Clash, the French cultural magazine Les Irocks published a column about them entitled 'French rock that ignores everything French'. Clement blurts out that he thinks in English. 'We're not rejecting Frenchness,' says Max, 'but naturally what we listen to is very English. We're not completely on the same level as other French musicians. It's a question of idols; all of our idols sing in English, so by pure imitation, if we were to make pop, it would be English.' In any case, as former president Nicolas Sarkozy once said, 'France; like it or leave it'. It would be a lot simpler to do that on a Concorde.
Images: courtesy of © Concorde official facebook page/ videos 'Candy Boy' (cc)Housecorporation; 'Summer House' (cc) 3emegauche/ via youtube
Translated from Concorde : du rock à réaction