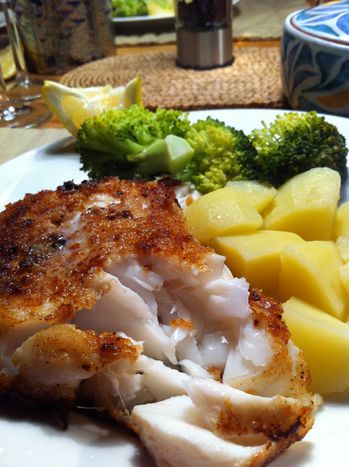 Cod in breadcrumbs, posher than the average fish and chips
Published on
For any Englishman who lives abroad, there is a shortlist of products and foods which are dearly missed when away from the motherland. My own personal list includes Irn Bru, HP Sauce and Yorkshire pudding (not all mixed together!) …but above all I miss fish and chips
Fish and chips has become mythical in its position as a national staple, so much so that friends and colleagues that I worked with in China would think that the majority of Brits ate it exclusively. Sadly wherever the dish was offered, in Shanghai at least, the result was a soggy disappointment…a cheap replica. In England the 'real' fish and chip shops ('chippies') are always found in the centre of towns. Due to the fact that I grew up in the middle of the countryside, I rarely had the opportunity to buy myself a large haddock and chips – but what was available was home-made cod in breadcrumbs, made to my Dad's own recipe. Below is a recipe for the British classic, cod in breadcrumbs. Prep Time: 25 minutes. Cook time: 10 minutes
Recipe: Cod in breadcrumbs (serves 4)
This recipe uses the 'fluffy white middle' of a baguette to make the crunchy covering for the fish. If you don't have access to that you can of course use pre-made breadcrumbs or normal bread – I find white to be the most visually appealing after cooking. There are also a number of herbs and parmesan cheese mixed in with the breadcrumbs – don't be afraid to experiment with your own favourite spices and flavours to make the fish perfect for yourself. Many people get worried when it comes to breading meat and fish, but I've broken it down into simple steps so hopefully it won't be so intimidating!
Ingredients:
Cod fillet - 500g White bread - Half a baguette Parmesan - 3 tbsp (grated)Paprika - 0.5 tsp Ras al hanout - 0.5 tsp Salt - 0.5 tsp Pepper - 0.5 tsp Peanut oil - 1 tbsp Egg yolk - 2
Instructions:
- Blitz the fluffy white middle of the baguette in a food processor until fine (30 seconds or so)
- Spread these breadcrumbs on a baking tray and bake at 170 deg for around 3 minutes (don't let them turn brown on the tips)
- Remove from oven and let cool, before mixing with the parmesan, paprika, ras al hanout, salt and peppers
- Crush it all together to remove any larger chunks
- Beat the egg yolks in a dish that's big enough for the cod fillets to fit in
- To prepare the fish, first check for bones. Run your fingers over the cod fillets to feel if there are any obvious bones sticking out and if you feel any then pull them out with pliers, tweezers or your nails
- Gently put the cod into the egg yolk and brush the liquid over the fish to make sure it is nicely covered; instead of egg yolks you can use mayonnaise to bind the breadcrumbs to the fish
- Carefully sprinkle the breadcrumbs on the cod and pat down to make sure they are evenly covered
- Heat your olive oil in a frying pan and when it's up to cooking temperature (one drop of water will evaporate immediately when dropped onto it) fry for 3 minutes on one side, then turn and fry for 3 minutes on the other until golden brown
- When you take the fish out of the frying pan, quickly put them onto a couple of sheets of kitchen roll in order to get rid of any excess oil. Don't leave them on there too long to avoid them sticking to the kitchen paper!
Serve with roasted potatoes, chips (french fries) or on a bed of salad.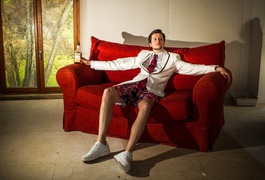 'I've been cooking for several years; I'm not a chef (by any stretch of the imagination), but I do think that preparing food is way simpler than cook books and television chefs want you to believe' - Read more from the author's blog It's Not Rocket Salad (with the original Cod and Breadcrumbs post), follow him on facebook and instagram
Images: © Oliver Denton