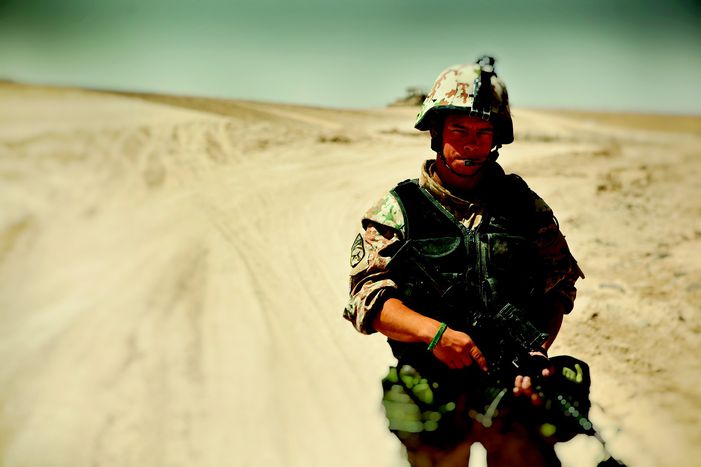 Cinema review: Danish documentary Armadillo
Published on
To make this documentary, Danish director Janus Metz Pedersen spent three and a half months at the allied camp on the front lines of southern Afghanistan. There's a tenuous division between fiction and reality in a film which finds the cruel violence of the fighters unbelievable
War really depends on your point of view. With this in mind, Janus Metz Pedersen set up his cameras within a Danish regiment in Afghanistan, to give viewers a sense of the reality of the war. But the film raises a question: is it documentary or documentary-style? Documentary-style films are fiction films which acknowledge the role of the camera in the story: examples include the reporters' relationship to the camera in Spanish film REC (Jaume Balagueró, 2007), or in American disaster fantasy Cloverfield (Matt Reeves, 2008). Some have declared giving the camera a prominent role in the film is more than a style; it is the beginning of a new genre of filmmaking. In Armadillo (2010), the handheld camera is so steady and its images so lyrical that the film seems, at times, more like fiction than reality. Then again, there are more raw, documentary-like images in combat scenes, where cameras were attached to the soldiers' helmets. Although the camera takes the place of an objective observer, and the viewer can almost forget the presence of the camera at times, the way in which the director employs music and interviews creates a type of emotion characteristic of fiction films. Yet the interviews themselves are documentary in style. The film's status as a documentary film feels ambiguous.
That said, war is full of ambiguities. Although the regiment feels that it is necessary to save us from the Taliban, whom they consider to be more like animals than humans, when faced with a fellow human being, how do you bring yourself to kill him, no matter what his crimes? If one feels too attached to civilians, it is more difficult to defend them. You have to put aside your feelings of pity and sympathy. You can't overlook the crimes of civilians, as they will go on to contribute to the enemy's cause. In this beautiful landscape, a paradoxical series of events take place in the present moment: in order to save lives, you have to kill. 
In any case, war serves to degrade these armed defenders of national security. Their attitudes and ideas become difficult to justify, as their masculinity becomes caricatured: they are addicted to pornography and war-themed computer games. The audience begins to understand how the soldiers themselves may find that the division between reality and imagination blurred: what is the difference between throwing a grenade in a computer game and throwing one in real life? The film notes that all of the soldiers in the film will ultimately return home.
This critique was first published on Cannes Critique, a blog which 24 French and German high school students collaborated on. These student bloggers were selected by the OFAJ (Franco-German Bureau for Youth, l'Office franco-allemand pour la Jeunesse)
Image: ©Lars Klee, with the kind permission of Critics' Week
Translated from Armadillo, documentaire ou documenteur ?