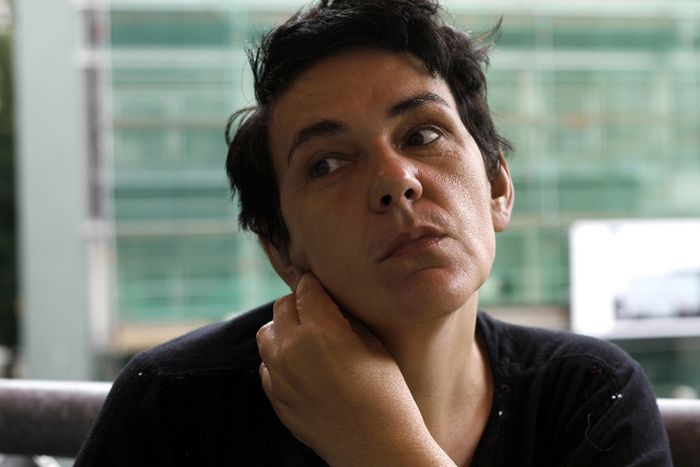 Christiane Rösinger: 'Young people have become more conservative'
Published on
Love is overrated, she sang around the turn of the millennium. The Berlin-based author has since developed the idea into a book which came out in March 2012. We catch up with the German writer and musician, 51, to talk happiness outside relationships, driving to eurovision 2012 and how to say 'freedom' in Russian
When I turn a corner to find a bag lady, a man relieving himself at a lamppost and a burly yet metrosexual young father, I know for sure I am in Kreuzberg. The neighbourhood in west Berlin is home to German writer and musician Christiane Rösinger and the scene before my eyes could easily be straight out of one of her articles. After approaching the father for more precise directions, I am soon on my way to Café Markthalle, where Rösinger herself used to work. Not long after I order my cappuccino she arrives, as hurried and perplexed as I had been five minutes earlier.
Remember Lassie Singers and Britta?
The 51-year-old writer and musician grew up in the countryside in south-west Germany. She spent her teens longing for the bright lights of west Berlin, moving to the city in her early twenties. What advice would she give to someone now who was in that position? 'Go ahead!' she exclaims laughingly. 'I wouldn't ever advise anyone against becoming a musician. Besides, I think it's important to just get away and leave everything behind.' More sombrely, she adds, 'I'm glad I left. I can't imagine what would have become of me if I had stayed. That would have been so awful!' Christiane is perhaps best-known as a one time member of two former German bands, Britta and Lassie Singers, which was disparaged by some as a group of hysterical teenagers. She co-founded both bands, as well as being songwriter and singer for them.
Christiane claims that now she is known as 'the one who always does such sad songs'. Nonetheless, all her songs are united by a fair dose of irony, whether directed towards herself or society. Although Rösinger doesn't see music as her main career, she continues to perform as a solo artist, with her latest album Songs Of L. And Hate nominated for the German echo music prize in 2011. She responds to the success with characteristic self-deprecation. 'No one wants to see a fortysomething woman in a band. A lot of people just bought the album because they thought it was a woman their age, sitting behind a piano. My music now is rather chanson-like. With the band there was more of a rock element, a bit riot girl even. I was always more of a singer-songwriter; I preferred quieter things.'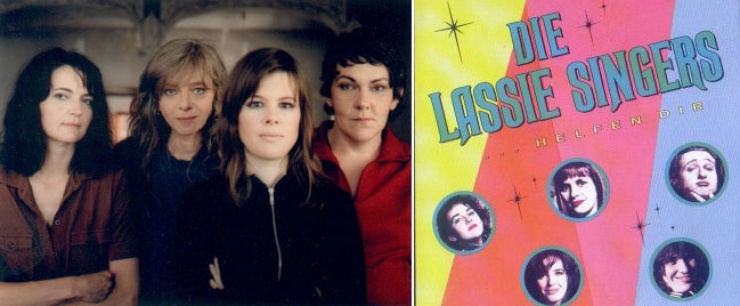 Forced relationships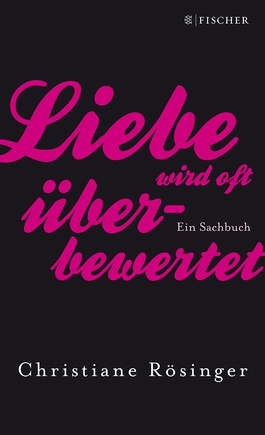 Around the time she formed her first band, Christiane started writing concert reviews in a small left-wing paper. Eventually this led to a weekly column with Austrian radio station FM4 and two published books, her first appearing in 2008. Her latest, Liebe wird oft überbewertet ('Love Is Often Overrated'), reached shop shelves in March 2012. 'The basic theory is that we live in a society where we're forced to be in a relationship. There are couples everywhere – but the whole thing is only a construct. Romantic love is a construct. Love came out of the eighteenth century, following the development of bourgeois society. I wouldn't say that everything was better in the seventies and eighties, but the social sciences do speak of a backlash. When I was young, things were going in the opposite direction: there was very much the feeling that you didn't just find happiness as part of a couple. Now it seems that everyone goes in for bourgeois relationships, everyone gets married, people don't experiment as much. Young people have become more conservative.' She shrugs. 'Those are all generalisations. However, on the whole it's true.'
'We live in a society where we're forced to be in a relationship'
As I gulp down my now lukewarm coffee, Christiane glances at her watch. She has to get on; she has an appointment to view a car. 'In May I'm going to drive to Baku for the eurovision song contest,' she explains. For a moment, I picture unassuming Christiane dressed all in black, as she is today, and singing Depressive day following a performance from a skimpily skirted ensemble from Cyprus. Unaware of my momentary confusion, Christiane continues: 'It was just a whim. When Azerbaijanwon last year, I couldn't even think where the country was. I looked at a map and figured, well, that's somewhere you should go. I'm going with a friend, and we'll see if we can maybe perform on the way. It's tricky because of the conflicts between the countries. You can't go from Russia into Azerbaijan or from Turkey into Romania. Anyway, we want to buy a car we can also sleep in if necessary. I also want to learn a bit of Russian. I don't think they speak English or German in Ukraine and Georgia.' She smiles. 'I know that svoboda is freedom in Russian. In Georgia you're not actually allowed to say the word svoboda on the streets. When I heard that, I said, 'but that's one of the few words I know!'' She thinks for a moment. 'Svoboda, freedom. Spasibo, thank you. Pravda, truth.'
Image: (cc) Christiane Rösinger by OTRS/ Christina Zück/ wikimedia/ videos Depressive Day (cc)  playgrrround;