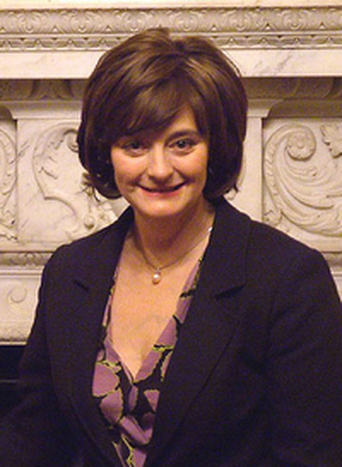 Cherie Blair, a legal knitter
Published on
Cherie Blair, 52 years old, wife of the British PM, explains her views on law, knitting and the Beatles
Britain's first lady is never short of a bit of motherly advice. Even before the interview had started, I was in for quite a grilling. "So you're a third year student?" asked Mrs Blair. "You should really be giving this up. If you are thinking of a career in law, then in your third year, you've got to work hard. You can't do the barristers exams unless you get a 2:1!"
From knitting jumpers to wearing a jilbab
Her advice was further evidence of the single-mindedness and strong work ethos which has characterised Tony Blair's 'better half' for decades. In recent years, Cherie Blair, known professionally as Cherie Booth, QC, has had to endure a lot of flak, partly because of these character traits. Cherie has come under fire for her involvement in controversial law cases. In 2004, she defended Shebiba Begum, a Muslim girl who was barred from her school for wearing a full head-to-toe jilbab. Pundits maintain she is 'ungracious' and the tabloid press attack her for her extravagant three-figure bills from the hair dresser. The ranks of Cherie-supporters appear to be thinning fast. Even staunch supporters of the lady were angered by media allegations that she had accused chancellor Gordon Brown of 'lying' during the last Labour conference. With everyone appearing to fall out with her, is there nothing good to be written about 'the British Hillary Clinton'?
Not necessarily. Cherie did graduate from London School of Economics (LSE) with an overall first for her degree in Law. Besides taking multitasking to new levels (i.e. eating her meals off her reading material), she tells me her secret weapon was knitting. "I can remember getting through my finals thanks to a very complicated series of jumpers I was knitting," she recollects. "I spent a long time getting through these patterns and at the end of it I never wore a jumper again. I couldn't bear to look at them."
I inform her of the existence of an LSE knitting society. "Delighted to hear it," she answers. "There is something very therapeutic about knitting, but I'm not sure that you ever want to wear the garments that you knitted during your exams."
Cherie hopes she is still an idealist
The daughter of the famous actor Anthony Booth, Cherie Booth met Tony Blair while she was studying to be a barrister. Cherie Blair did briefly consider a political career and in 2005, former US president Bill Clinton urged Booth to stand as a Member of Parliament, offering his personal support in her campaign. Her response was and still is no. "I did stand as an MP in 1983, and then I spent a long time as the wife of an MP (Tony Blair won the Sedgefield constituency in 1983 ed.), and I think that's as close to being an MP as I want to be," she concludes.
Despite sticking to the political sidelines, she does have a clear view of the ideal politician. "You need to do some serious job before going into parliament so you have some experience of life. Like Tony, I do not appreciate careerist politicians."
Law and insecurity
I challenge Mrs Blair about her own renowned 'workaholism'. She is quick to assert that one must find a healthy work-life balance. "Well, I think you do have to work hard, but I think you should play hard too," she insists. "You should have a balance throughout your life, and anyone who basically works 24 hours a day is a very sad creature indeed. I would say that for me one of the great advantages of being a barrister and being self-employed is that I have a great deal of flexibility in how I organise my time."
The main disadvantage of her career as a self-employed barrister, Booth believes, is that her job is insecure. "If you're self-employed, if you don't work you don't get paid, if you're ill, you don't get paid, if you're pregnant don't get paid. Because you're in control of your life, you tend to work more than you should. I know plenty of barristers who never take holidays at all."
Nonetheless Blair thoroughly enjoys her work. She also believes that it is possible to 'change society' while working in a legal profession and enjoys argue 'cutting-edge cases'. Though Cherie is familiar with the hidden secrets of Britain's political world, she hopes she is still an 'idealist'. 'I think that all lawyers should be dedicated to concepts of justice and quality before the law," she maintains.
The Beatles
Chair Blair is close friends with Mary McCartney, daughter of former Beatle Sir Paul McCartney. Having grown up in the 60s, did Cherie prefer this band or their archrivals the Rolling Stones? "As a Liverpool girl I was in favour of the Beatles. I was a huge devotee of Paul McCartney. When I met him I told him I used to sleep with a picture of him under my pillow. But at LSE in the 70s I was always dancing to Stones music."
Nowadays though Cherie Blair doesn't go out as much as before. "As a student, certainly, there were a lot of drinking and dancing discos, as we used to call them. These days I don't do much of either of those activities. Since I have to go out so much in public, I prefer staying in with my family, though I enjoy going to theatre, opera and ballet."
However her husband, Tony Blair, remains entangled in the world of popular music. Booth tells me about a noteworthy recent encounter between the British PM and the lead singer of the Rolling Stones. "My husband was very excited to meet Mick Jagger and really wanted to talk to him about his music. But he soon found out that all Mick Jagger wanted talk about was Tony's politics." Ironic indeed.