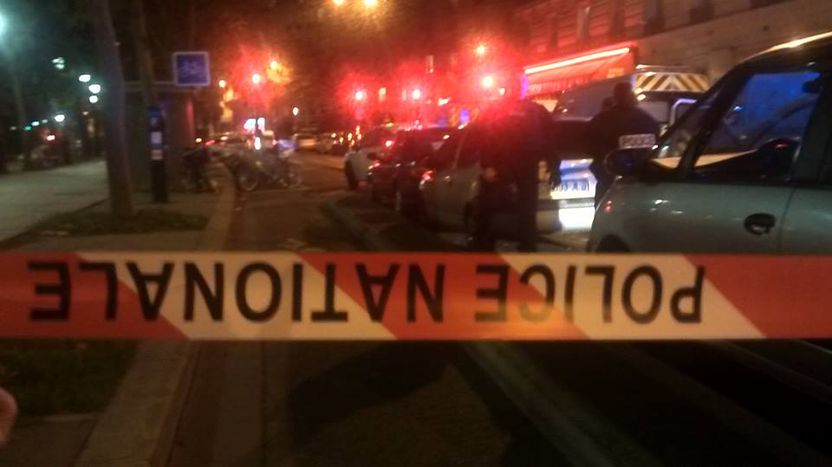 Chaos at Bataclan: an eyewitness report
Published on
Translation by:
Jack Cater
On 13th November, more than 120 people were killed in terrorist attacks in Paris. The French capital is wounded. The city is in a state of shock. An eyewitness report.
Friday evening. Business as usual. I go to football training, go home and lounge about on the sofa. Wrapped in a cosy fleece jacket, I'm watching the France vs. Germany match on TV. In the 81st minute, the commentator interrupts in a low, pensive voice: "Something bad has happened. We won't be interviewing the players after the match, but instead will go to a special report."
While fans celebrate France's second goal in the 86th minute, I log in to my Twitter account. From my living room window I see blue lights speeding past down the boulevard. The street in front of my house is deserted. A harbinger of a terrible incident.
11:41 P.M. My phone rings. It is Richard Gutjahr. Presenter of the Bavarian radio programme Rundschau Nacht. He asks me to get a taxi to the scene immediately, to give an eyewitness report live on his radio show in 20 minutes' time. I don't know him, I don't know how he got my mobile number, but I agree to do so. Wearing my cosy fleece and wellies (no need to tie laces), I jump on my bike. Calling a taxi would take too long.
My knees tremble.
An ambulance rushes past me. I feel small and vulnerable. With a clumsy hand movement, I accidentally switch off my phone. 64 updates need to be installed. I'm in a cold sweat. Time is ticking. I'm supposed to be going on air in a few minutes. 53 of 64 updates to go. I approach Place de la Bastille. State of emergency. My way is blocked by soldiers in camouflage, with large guns across their chests. My first thought – war. I've never seen so many police cars in one place. Then my phone rings. 12:05 A.M. After the introduction, I should get going. I start with "Good evening" and regret my choice of words immediately. I describe what I see and hear. My sentences are incoherent. My thoughts come thick and fast. Lots of soldiers, policemen. Everything blocked off. Frantic civilians. Ten people gather around a motorcycle with radio reception. Sirens. Emergency doctors. Numbness… "Many thanks, that was Paris". It's over. The tension remains.
I feel drawn to the Bataclan as if by a maelstrom. I'm able to get 400 metres away from the scene with my bike. 12.33 A.M. Police storm the concert hall. I'm hungry and my heart is racing. My Twitter account is gaining new followers. I'm ashamed of this idea and decide to go home. The city is quiet, aside from the howling sirens. Ambulances race past me. Going towards Pitié-Salpêtrière Hospital. Will they survive or is it too late? And why was I spared such horror?
Translated from Im Schlabberlook zum Bataclan