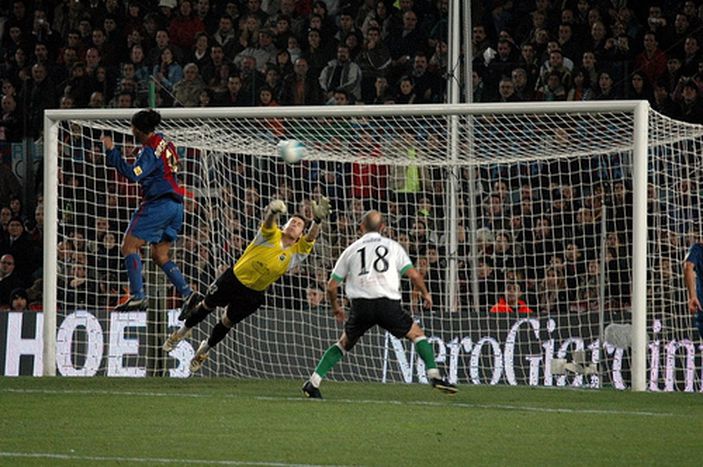 Changing times for FC Barcelona
Published on
While most European football fans are concentrated on Euro 2008, FC Barcelona's are living puzzling, changing times. Only two years after winning the UEFA Champion's League, Ronaldinho's magic, Etoo's fierce rage and Deco's tactical witness have all disintegrated in a highly disappointing, hideous season.
Neither beautiful moves by Tierry Henry, who is close to his career's end, nor an intermittent Leo Messi, handicapped by his muscular fragility, were enough to wake up this depressing team.
Under the pressure of a vote of no confidence (as unlike most European clubs, Real Madrid and FC Barcelona are the property of their members, who periodically vote to elect their presidents), Joan Laporta's board of directors intends now to quickly rebuild the team.
Ronaldinho, Etoo, Deco, Thuram and Márquez will surely leave FC Barcelona after Frank Rijkaard's goodbye. The Dutch coach wasn't capable of administering the daily life of a star-crowded team.
What about their substitutes? So far, FC Barcelona has strengthened its defence with players such as Keita, Cáceres and Pique and Daniel Alves (who plays as a right back from the good old days). Besides, Josep Guardiola, highly acclaimed among FC Barcelona's fans, has been trusted to coach the team. What no-one knows yet is who will substitute Ronaldinho and Etoo it the forward line. Benzema, Trezeguet and Hleb are only some of the candidates.
Everything is welcomed to give hope to the fans that have seen how archrival Real Madid has won the last two Spanish championships.
Translation: Martí Purull Photo: Arnau(Bcn) (Flickr.com)