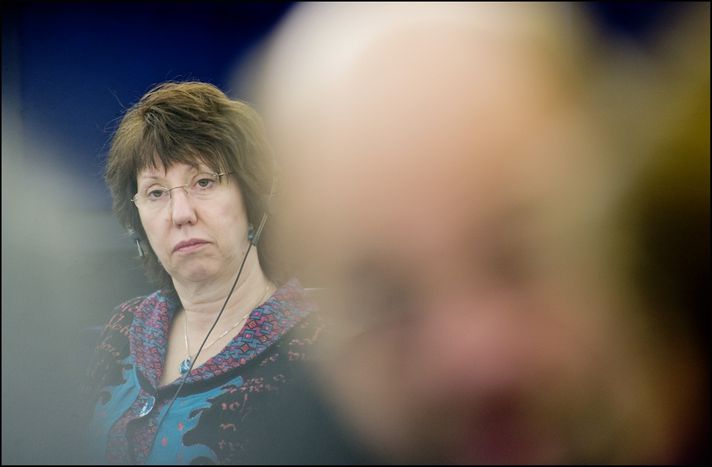 Catherine Ashton, Ashford or Ashley?
Published on
Never mind that she went to earthquake-stricken Haiti six weeks late, or that she missed a ministerial conference, or that she's not David Miliband, or that she can't speak French. Let's begin with the fact that some struggle to remember even the name of the first ever EU foreign policy chief. Maybe it's the title 'baroness' which throws everyone
It's a bit of a European disease. In the UK, a report in The Times marking Catherine Ashton's '100 days in power' mentions how 'one of the all-female audience on the BBC's Question Time referred to the baroness as 'Ashcroft'. At a Europe panel moderated by cafebabel.com at the international journalism festival in Perugia on 24 April, the Italian-and-French-to-English interpreters are both taking turns in pronouncing her name as 'Ashford' and 'Ashley'. Now, we might be in danger of forgetting it entirely; the cold waves of the UK election have swept as far as the 54-year-old's job. On 3 May the European commission (of which Ashton is also vice president) was forced to deny that she would be quitting within months.
Ashton: 'easy option'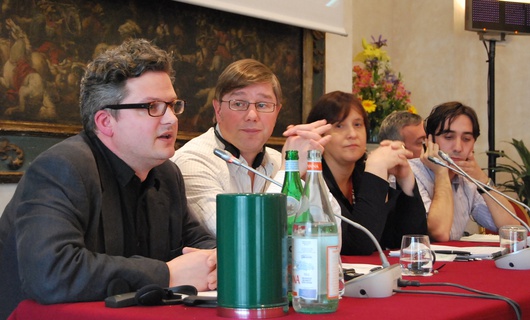 The Daily Telegraph journalist who first fuelled this rumour on 30 April, Bruno Waterfield, is a guest on the panel alongside his fellow Brussels-based colleagues, Jean Quatremer and Marco Zatterin. 'The EU is strong but the pieces still needed to be put together,' begins La Stampa journalist Marco Zatterin from the beginning. 'When the time came to choose the men for Europe, uh-oh, first mistake.' He sounds much the same as the other liberal Italian media (take Il Sole de 24 Ore), who seem to have wanted more showbiz election standards. 'They chose some not very prominent figures,' he continues. 'Mrs 'Ashley' and [EU council president] Van Rompuy, a very grey figure.'
Indeed, 'our' 27 governments of the EU voted for Ashton's job to be created by passing the Lisbon treaty in summer 2009. Bruno Waterfield criticises the 'secrecy' of the elections behind the two new institutions, and refers to Ashton as the 'easy option'. 'The current British foreign secretary David Miliband – a charismatic, popular figure - was supposed to have this job,' he explains. 'He decided not to do it because the labour government was exhausted in terms of personnel. Ashton went from the back room of a regional health authority to become a political fixer in the house of lords [in 1999]. She was almost the last person available, which shows how low the expectations that Europe's elite hold of the project are.'
'The point is who Ashton is working with and surrounded by' - Jean Quatremer
French journalist Jean Quatremer, of the left-wing Liberation newspaper founded in the seventies by Jean-Paul Sartre, understands the appointment. 'Did you want heavyweights as candidates?' he challenges. 'French president Nicolas Sarkozy still wants to represent France, not someone for him in Brussels. It's the same for his counterparts. European foreign policy in Brussels has had to prove that it is different than national foreign policies, which the British and the French hold very close to their hearts.' By pointing the two out as the most powerful diplomacies in Europe, the foreign policy chief could apparently really only have been British or French. Quatremer supposes that for the French, the 'shocking story' of having an unelected politician is nothing new. 'We've had loads of unelected politicians – look at Villepin!' he exclaims. 'The point is not whether Ashton is the right option or not. It's who she is working with and surrounded by.' Bruno Waterfield agrees with Quatremer, to an extent. 'French and British diplomacy is a byword for realpolitik, unpleasant forms of colonialism,' he argues. 'Do we want it to be based on ideals and values?
Ashton's work so far
Whatever Brussels might harbour for EU diplomacy, what has Ashton been doing for the past five months, aside from creating a mythical EU diplomatic service? She abstained from visiting Haiti, which was hit by an earthquake a couple of weeks into her job; her 'disaster tourism' took place six weeks later. In February, she endorsed 'free and fair' elections in the Ukraine and took a trip to the Balkans, visiting both Serbia and Kosovo; their tensions continue to simmer, and she's threatened not to attend an EU-Balkan summit on 2 June. She also annoyed the suit masses by not attending the first defence ministers meeting. March marked 100 days of Ashton-watching by the European media. El Pais in Spain declared itself to be not impressed (their header ran 'Worrying Ashton'), and some British papers are between apopleptic and apologetic. The Swedes are happy with Ashton integrating more development policy into EU foreign policy. In April, her first defence minister meeting brought fruit: soldiers in Afghanistan will have access to a forensic laboratory on the roads. Of late, she has been in China, pushing for UN sanctions against Iran.
And so it will go on. So what is it that really annoys us? The fact that Catherine Ashton is a new kind of politician? That she can actually be a chairman of foreign and security affairs for millions of people for £328, 000 a year at all? Jean Quatremer points beyond and says we miss the point entirely: this is a set of states which, by the clock strike of midnight on 8 May 2010, will only just have been ticking together for 60 years. Providence is something we don't need to clamour for yet, no matter what her name is.
Image:©cafebabel.com moderates a panel at the international journalism festival in Perugia 2010 ©Nabeelah Shabbir/ video Ashton in Haiti ©EUXTV/ Youtube