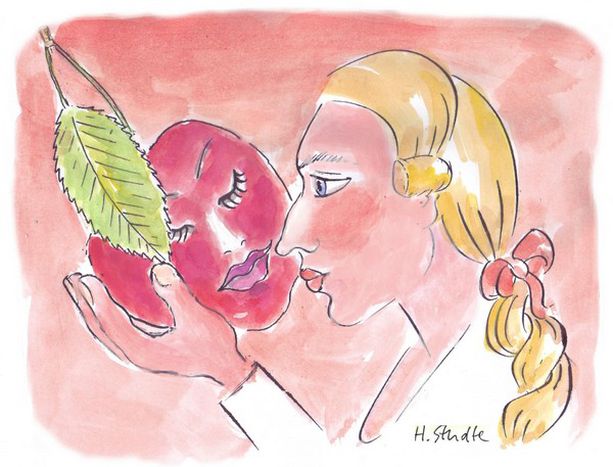 Casanova pops the cherry
Published on
Translation by:
Natasha Doff
Where does the cherry come into European womanising? Weekly look at pan-European expressions
The various fruits of the fairer sex were not the only objects of desire for the Italian debaucher, Casanova; he also had a weakness for cherries. He couldn't get enough of either of them. His followers today still live by the womanising motto Le donne sono come le ciliegie: una tira l'altra
(women are like cherries: you can enjoy them one after the other).
The little Italian knew how to win the hearts of the fine Venetian ladies and promised them le temps des cerises
(cherry times, or rosy times) on romantic gondola rides through Venice. If the women turned him down in spite of his offers, Casanova didn't lose heart, but just took a second bite at the cherry
.
Casanova soon got a reputation as a ladykiller, even across the border. The British icing on the cake of his conquests though Europe was their cherry on the cake: la ciliegina sulla torta
(Italian), la guinda en el pastel
(Spanish), la cerise sur le gâteau
(French) and wisienka na torcie
(Polish): namely to pop a girl's cherry
(take a girl's virginity).
Even in Lagoon Town (Venice) the cherries in the neighbour's garden (die Kirschen in Nachbars Garten
) tasted better; the sensation of being a green-eyed monster. Eating cherries with the butch neighbour, on the other hand, wasn't such a good idea: nicht gut Kirschen essen
(to not eat good cherries, meaning 'it's best not to tangle with him'). The resulting cockfight between the rival and the jealous Venetian was inevitable. Temps des noyaux
(cherry pit-times, or difficult times) came about for the womaniser. The best thing for him to do would have been to quickly make himself scarce by fleeing to Japan, kraj kwitnącej wiśni
- the land of cherry blossoms.
Kleenex, Hoover, Tempo - stick a post-it memo for next week's 'Tower of Babel' discussing Europe's brand names
Translated from Casanovas Kirschen