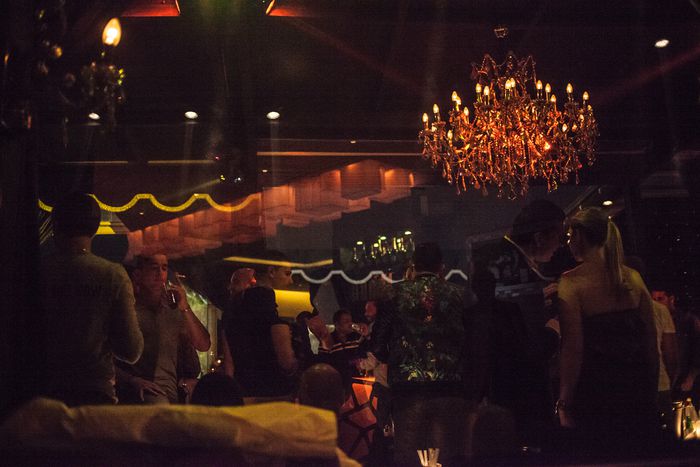 CASABLANCA'S GOLDEN YOUTH: THE BOURGEOIS SPRING
Published on
Casablanca is prob­a­bly one of the only cities in the world that could have a trendy night­club and a slum side by side on the same post­card. Be­hind the di­vide, this is a snap­shot of the so-called 'golden youth' who many see as car­ry­ing the seeds of an en­tire coun­try's so­cial rift. caféba­bel re­ports on the bling that sits be­tween ex­is­ten­tial suf­fer­ing and vodka by the gal­lon.
As the bar gets closer, the light dims like a screen fad­ing to black. Soothed by the lounge music, a few girls in high heels bob their heads slowly while tak­ing a drag of their cig­a­rette, their hands wide open. In the dis­tance, two girls are laugh­ing over a glass of Chablis and or­der­ing a plate of food they won't touch at the ta­bles re­served for big spenders. All around are boys in suits and girls in strap­less dresses, slid­ing over the Ital­ian mar­ble back to the room where the DJ is get­ting ready to start his deep-house set.

THE PRIME MIN­IS­TER'S SON IN TRAINSPOT­TING
'Thurs­deep' night in Casablanca. Overlook­ing the sea, the Sky­bar wel­comes its reg­u­lars. Young heirs, rich kids, wealthy ex-pats, a few mod­els. Simo Sajid knows Mo­rocco's golden youth well. Every Thurs­day, he is the one who brings to­gether the young elites of Mo­rocco's eco­nomic cap­i­tal at the hippest venue in what's known as 'la Naïda', Casablanca's nightlife scene. With his neck­lace and bracelets of wooden beads, the 39-year-old DJ looks just like a guru. Simo aka 'See­jay' has a lot of in­flu­ence in these parts. Out­side of the Sky­bar, he is the res­i­dent DJ at 25, an­other hot spot for spoiled youth. But Simo's ex­cel­lent con­nec­tions to the elite stem from the fact that he is part of it him­self. 'Sajid' is also the sur­name of Mo­hammed, the mayor of Casablanca, and Simo's uncle. His fa­ther heads a large fam­ily busi­ness which deals in tex­tiles and prop­erty. "I was al­ways going to be­come the boss, which I was for ten years. And now I've gone from turnovers to turnta­bles," he says, look­ing down be­hind his sun­glasses.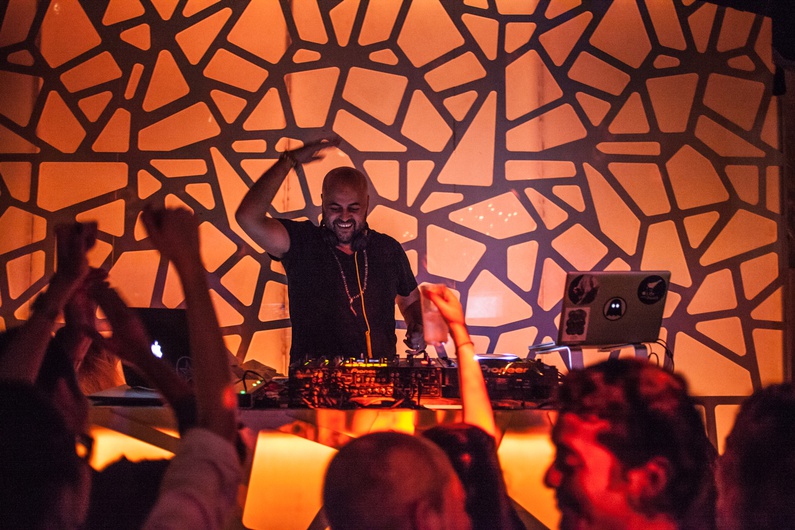 At the wheel of his Audi A6, Simo takes plenty of time to re­flect on how to de­scribe Casablanca's golden youth. 'Un­com­fort­able' is the word he fi­nally chooses, a cig­a­rette in his mouth. On the other side of the win­dow are the streets of the dis­trict of Anfa, one of the city's rich­est areas, whose palm trees and huge gates make it look al­most like Bev­er­ley Hills. "The golden youth doesn't like being talked about," he says as he turns a cor­ner. "Peo­ple have trou­ble being com­fort­able with them­selves." It's well known that the young trendy bour­geoisie de­fines it­self first and fore­most by how much it spends. Huge saloons, vodka by the gal­lon, es­corts — all the clichés are true. "You know the line from Trainspot­ting? ("Choose life. Choose a job. Choose a ca­reer. Choose a fam­ily..." – Ed.) Well, that's how it is around here."
It took Laïla Mar­rakchi's 2005 film about Casa's rich kids, Marock, for the whole coun­try to re­alise their ex­cesses. Drugs, un­bri­dled sex­u­al­ity, car races — the film sparked con­tro­versy. A jour­nal­ist lost it right in the mid­dle of a press con­fer­ence dur­ing the 8th na­tional film fes­ti­val in Tang­iers, de­nounc­ing the Mo­roc­can film-maker for putting Casablanca's filthy rich youth under the lime­light while the city is home to 6.3 mil­lion peo­ple liv­ing in poverty. This anec­dote comes from Sonia Terrab, a pro­fes­sional jour­nal­ist and au­thor of a no­table book, Sham­ablanca. The young woman of 30, who comes from a well-off fam­ily from Mek­nes, in­curred the wrath of her peers by paint­ing the life of Shama. Why? "Be­cause I was telling the truth." In other words, a youth that is scared of its own shadow and which is try­ing — not with­out prob­lems — to save face. "It re­minds me of 1950s high-so­ci­ety Amer­i­can youth," says Sonia. "The ones who were around just be­fore the sex­ual rev­o­lu­tion, who en­joyed every­thing but did it in se­cret."
Trailer for Marock, by Laïla Mar­rakchi (2005)
"THE WOLF OF WALL STREET, WITH­OUT THE COKE"
Anis isn't at the Sky­bar to drink. Right in the mid­dle of the dance­floor, he's only there "to have a Coke and enjoy the music". In a dark suit with a pink shirt and a match­ing hand­ker­chief, this young Casablanca en­tre­pre­neur — he's only 28 — splits his time be­tween Paris and Casa. In Paris's 16th ar­rondisse­ment, he's about to be­come a no­tary. Here, he sells lux­ury chan­de­liers. He sighs heav­ily when asked about the in­dul­gence all around. "To be hon­est, 60% of the peo­ple here don't do a damn thing and are happy to live off their par­ents' wealth."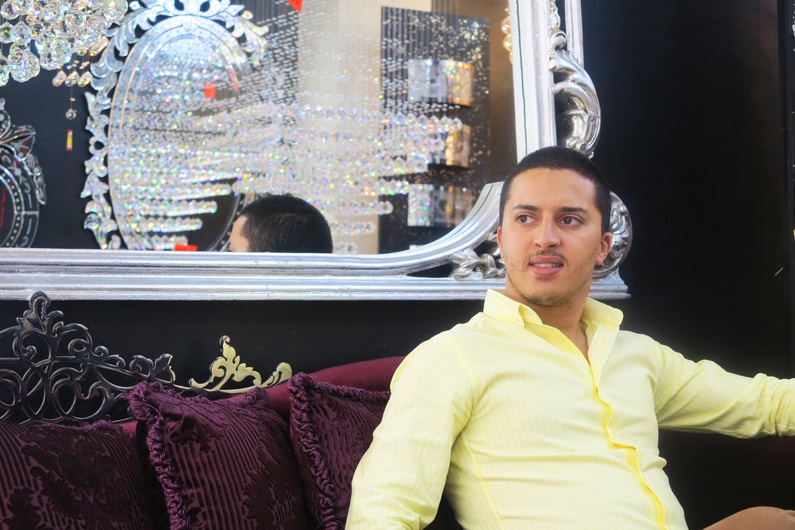 The next day, when Anis El Hamzi wel­comes cus­tomers to his shop, Cristolux, sit­u­ated in the shabby chic ar­rondisse­ment of Mers Sul­tan, he's as fresh as the night be­fore. Anis climbs into his Re­nault, closely-shaven and fully decked out in Ar­mani. "I could have got my­self a Panam­era, but you see, I'm not a show-off. I de­cided to in­vest in a busi­ness in­stead," he ex­plains. Some­thing which meant he could buy a €650,000 villa with his mother, two streets away from one of King Mo­hammed VI's palaces. While he does the grand tour, the young busi­ness­man high­lights the val­ues his fam­ily in­stilled in him com­pared to those of the over-priv­i­leged youth. "Hard work, de­ter­mi­na­tion and man­ners," he ex­plains. If he owes half of his suc­cess to his ed­u­ca­tion, he owes the other half to France. His role mod­els? "Sarkozy, Valls, Xavier Niel," but also Jor­dan Belfort, the dodgy trader brought to the screen by Leonardo Di Caprio. "You know, the Wolf of Wall Street. I iden­tify with him a lot, just with­out the coke or the show­ing off." Anis El Hamzi sums him­self up in one sen­tence, in­scribed on a plaque in the villa's liv­ing room: 'Think Rich, Look Poor'.
In the bub­ble
The truth is that Anis is the only one pro­mot­ing the self-made man cul­ture. In Casablanca, con­for­mity re­mains the norm, and it is re­in­forced by what a monar­chy en­tails. "Don't for­get we're talk­ing about a coun­try where the king is still a rock star to young peo­ple," Anis says, be­tween bites of a vanilla éclair from lux­ury food com­pany Fau­chon. "Or that he's elected for life!" In re­al­ity, it leads to the kind of thing where peo­ple "go abroad, party loads, then come back and pre­tend to work in the fam­ily fold," says Simo, "and the girls look for a job and a good hus­band." "When I sit down with these priv­i­leged young peo­ple to talk about so­ci­etal is­sues, I get the im­pres­sion that they're more closed-off than their par­ents," Sonia con­cludes.
The rea­son? It's not their priv­i­leged lifestyles or the par­ty­ing, but that a part of the pop­u­la­tion that could change things isn't. "I ex­pected them to be open-minded, con­cerned by things, be­cause most of them have lived abroad, be­cause they're well-read. In a lot of coun­tries, young rich peo­ple have been a dri­ving force, but in Mo­rocco, that's just not the case," says Sonia. In Casablanca, where 'the hippest place there is' rubs shoul­ders with one of the city's 500 slums, ig­no­rance re­mains the by­word in terms of sum­maris­ing the re­la­tion­ships be­tween the rich kids and the out­side world. "There's a real phys­i­cal bar­rier," Sonia ex­plains through the clouds of smoke from her cig­a­rette. "And that bar­rier is the car win­dow." Once again, Anis dis­tin­guishes him­self from the rest. He says he "helps with the city's poverty" by giv­ing "a cer­tain amount" of money to dis­abled peo­ple among the 111,500 fam­i­lies liv­ing in the slums. In any case, for the golden boy, "it's thanks to this con­trast that we're one of the ten most sta­ble coun­tries in the world." How­ever, in the minds of the golden youth, every­thing points to­wards Mo­rocco re­main­ing an un­fath­omable coun­try where the lives of the rich con­sists of, in Sonia's words, "hav­ing your arse be­tween sev­eral chairs and find­ing it com­fort­able. Or not."
THIS AR­TI­CLE IS PART OF A SPE­CIAL CAFEBA­BEL EDI­TION ON CASABLANCA AS PART OF THE "EU­ROMED RE­PORTER" PRO­JECT, INI­TI­ATED BY CAFEBA­BEL IN PART­NER­SHIP WITH I-WATCH, SEARCH FOR COM­MON GROUND AND THE ANNA LINDH FOUN­DA­TION. YOU CAN FIND ALL THE AR­TI­CLES from this edi­tion ON THE FRONT PAGE OF THE MAG­A­ZINE.


Translated from La jeunesse dorée de Casablanca : le printemps des bourges