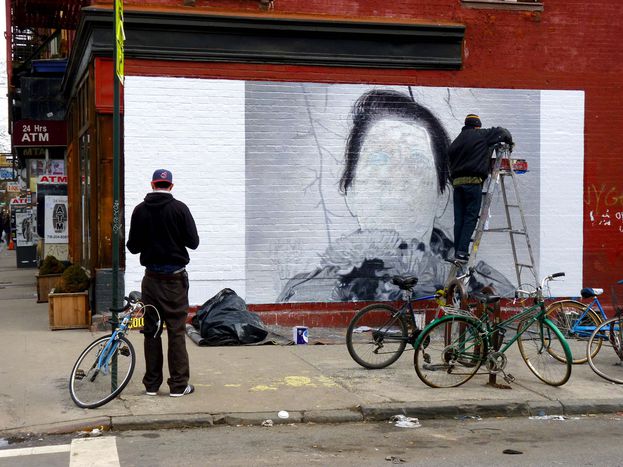 Can contemporary art change 'new capitalist' Tirana?
Published on
Far from having a 'pan-Balkan' culture and being under the influence of a consumerist society, the Albanian capital is exploring new ways of expressing itself. Whilst politicians are tripping on the urns and ignoring blank canvases (literally), local artists are boosting a non-existent contemporary scene
Passing through the streets of Tirana gives you the impression that a giant hand has been playing with all of its buildings, arranging them around at random. Your eyes jump from one place to the next, following the impulses of a jungle which wants to play at being a big city. Buildings stand in mid-construction or just simply in pure ruins. They mix affably with skyscrapers. Everything is collected together in one anarchic dizzy bath of kamikaze drivers and human fauna. Tirana is a city of contrasts; its impossible mixes create a splash on its landscape. The central square of Skanderberg is the best example of this superficial chaos of giant dimensions, housing skyscrapers, a mosque and an imposing museum whose façade is decorated with an unforgiving communist mosaic. The mix is so dazzling  that only one question pops to mind: where the golly is Tirana going?
More needs building
'The city is in continuous construction,' explains a local journalist who I meet in a hotel with views onto the main square. 'It's a good question,' she continues when I ask about cultural life in the city. 'I'd speak about the beauty of today's youth.' It may not be the most helpful  of responses but it's a starting point in investigating one of the predominant tones of this city: the crushing presence of pop culture in the Albanian capital. When a country like Albania has gone through such an asphyxiating communist regime, making it fertile in cultural topics which are dominated by strict censorship, you feel the need to rebel against everything and embrace its new capitalism which was once demonised .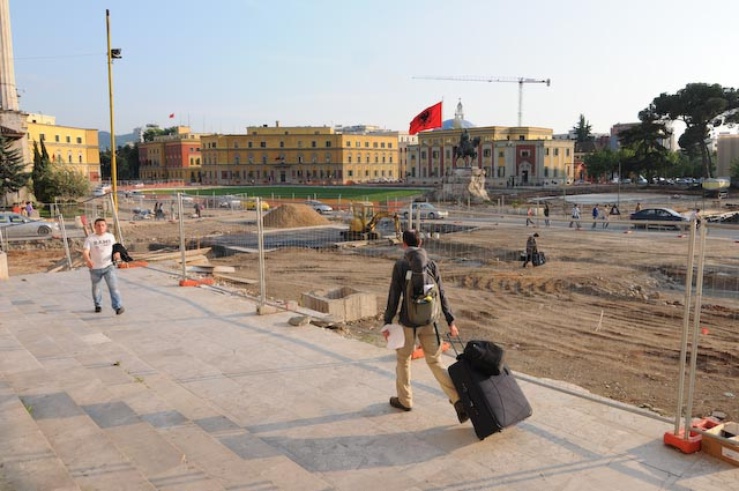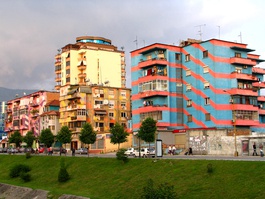 'The only forms of symbolism - and the art which basically is formed around these symbols - come from a corporative culture,' explains Rubim Bego, who is an artist and music promotor. 'You can blame television a lot for this situation.' We're meeting in Radio Bar, one of the last redoubts of independent music in Tirana's most fashionable neighbourhood, The Block, where the elite lived during the communist era. 'There are similitudes in all of the former communist countries,' continues Rubim. 'They all give into more of a pop culture in the end, coming up with a kind of kitsch, extravagant art.' Russia is one of the highest exporters of this trend, with its new powerful classes hoisting the flag of consumerism as the biggest expression of its personality - and consumerism means western culture. 'The key is to think global and act local,' says Rubim. 'For the moment we're only imitating, not creating. We have to get a hold of external influences and put them into context. In this sense, local culture has a long way to go.'
Shop and business signs in Tirana are often published in English and Italian, the most common foreign languages here. You can especially see the influence of the latter everywhere: even the headquarters of Italian prime minister Silvio Berlusconi's centre-right party the People of Freedom ('Popollo de la Libertá') are in the city's main square. It was when the communist regime fell in the nineties that Albanians started to consume a lot of Italian television. Between telegiornales and the vellina television showgirls, the foreign cultural virus infected the city a little at a time, contributing to the melting pot that Albania is today. 'Tirana does not have a personality, it's self-defined,' adds Bego. He was one of the organisers of the MJAIT Fest, an old independent music festival, and is now running a non-commercial radio project aimed at creating new cultural alternatives. He says one of the main problems of contemporary culture in his country are the lack of creative spaces for young people to express themselves. 'The government should help create infrastructures and make the first step to extend the arm of contemporary art.'
Political art: money doesn't speak
It's true that politicians aren't really massive arts supporters in Albania, as Andamion Murataj explains. He is the cinematographer of The Forgiveness Of Blood, a film which won 'best script' at the 2011 Berlin film festival. The film, directed by the American Joshua Marston (who is most known for Maria Full Of Grace, 2004), was never supported by the authorities at any point. Murataj is in New York now, from where he explains that apart from applying to the Albanian national centre of cinematography (ANCC) to finance the film, 'it was quite difficult to penetrate the walls of bureaucracy and the blurry territory of laws on Albanian arts. Yet the film ended up winning the highest accolades that the country has seen to date!'
Read cafebabel.com Berlin's film festival 2011 review of an Albanian drama with little dialogue, Amnesty
The issue of having a lack of arts funding stays in the dry dock in a market which continues without taking off, staying anchored as it is to more traditional art. I am told that the problem also lies in the lack of connections with the authorities. 'Public institutions just aren't interested in financing contemporary art because they don't think it is important,' adds Rubim Bego.
Professor and visual artist Ilir Kaso explains that any such subventions or funds only go towards nepotist goals or to those who create something that officials feel closest to. It's not a surprising admission if you bear in mind the numerous international reports which have Albania down as one of the most corrupt countries in the Balkans. Favouritism is the order of the day and it's a burden on the development of new ideas and trends on the local scene. 'Young people want to move around fast but politics is always in the middle,' comments Ilir. 'It's difficult to experience and live art here. There is no market, there are no galleries, there are no people who are prepared to organise exhibitions. I could say the same thing about theatres – there are always only classical pieces showing. There is no place for young creators, yet many young artists are trying to create modern art.' Aside from being a well-known artist, Kaso is forced to fit his art in with teaching classes at the academy of arts of Tirana (Akademia e Arteve), which helps him make ends meet until the end of the month.
Economic censorship?
'Albania is a country rich in resources but its cultural institutions are too linked up with the government to be able to get out of that closed circuit' says art critic Susana Varvarika. 'Anyway, the government doesn't understand art.' Everything comes down to politics in the end. So many problems confront the system that in the end all faces are turned towards the urns and the question of art is left aside. But art can be a form of reverting the situation, Kaso believes. 'I am thinking about creating an exhibition around electoral posters, of using these images to create new messages and say that we don't want all of these politicians. We need to launch this message of the renovation that we need: we still have so many politicians who are bound to our communist past.' Kaso emphasises that youngsters are breaking down those barriers to the development of the arts that politicians are keeping up. 'I remain constantly impressed with ideas which leave me feeling perplexed,' he says. Susana Varvarika is equally expressive. 'Artists are very able to explain reality and other things through their work. Young people are against the manipulation of art by the government. They are the ones who can change this country.'
This article is part of cafebabel.com's 2010-2011 feature focus on the Balkans - read more about the project Orient Express Reporter and read articles from the mission here
Images: main (cc) Sharilyn Neidhardt/ Flickr; in-text one © Sladjana Perkovic; in-text two  (cc) davdulf/ Flickr/  video Lightfilms/ Youtube
Translated from Tirana se redibuja: la ciudad busca su identidad lejos del virus capitalista