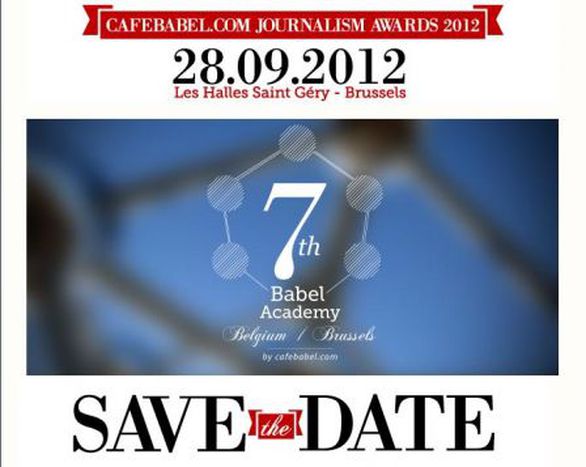 Cafebabel.com Journalism Awards 2012 ceremony, Brussels
Published on

The European magazine cafebabel.com is proud to invite you to the cafebabel.com Journalism Awards 2012 ceremony. The cafebabel.com Journalism Awards 2012 will reward the best feature report and the best photo report from the . Orient Express Reporter 2 is the flagship project of feature report and debates carried out by cafebabel.com. In 2012, cafebabel.

com sent in the European Union, the Balkans and Turkey for a mutual pendulum of insight.

Orient Express Reporter 2 project40 young journalists, photographers and video makers

The awards for and the will be given by the jury in presence of the President of Babel International.

the best journalistbest photographer

Celebrate with us the first edition of the cafebabel.com journalism awards 2012, and take the chance to meet over 40 young journalists and team leaders from cafebabel.com European network, and of course the editors and staff of cafebabel.com!The award ceremony will take place at and will be followed by a cocktail and a balkan party with

9:00 pm DJ Gaetano Fabri.
Come and enjoy some bubbles with us!
When ?
Friday 28 September 2012
8:30 pm
Welcome of the public. (sharp)
9:00 pm
Award Ceremony & Party with DJ Gaetano Fabri
Where ?
Les Halles Saint Gery 1000 Brussels