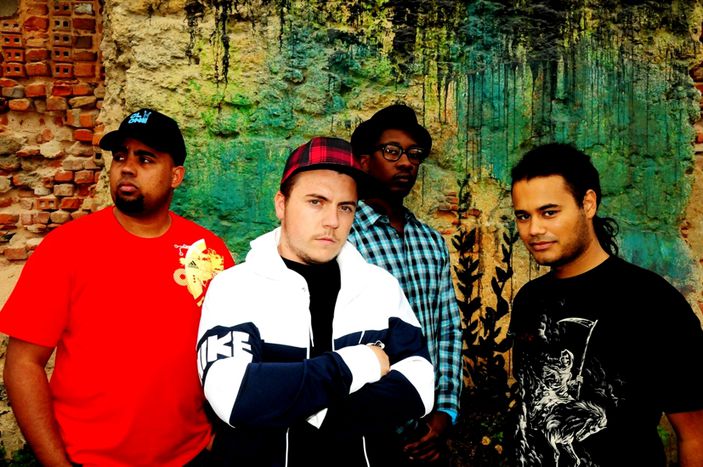 Buraka Som Sistema: 'We never wanted the African flag thing in our music'
Published on
As four men from Lisbon and Luanda set Angolan disturbances to breakbeat music, the European press scrams to box the sound. We have a shot too when we meet the band on one of their tour legs in Paris. After all, they have been on a gradual rise in Europe over the last couple of years
'None of us know how to dance to it!' Buraka Som Sistema say when asked for tips to move to their music - it's like Atlantic breakbeat making hectic crime with local African sound. 'Just do whatever you need to to survive!' advises producer João Barbosa ('Li'l John'). MC Kalaf Ângelo points vaguely at his co-lyricist 'Conductor', aka Andro Carvalho, the round man with the sharp moves. 'I just copy him.'
Buraka the band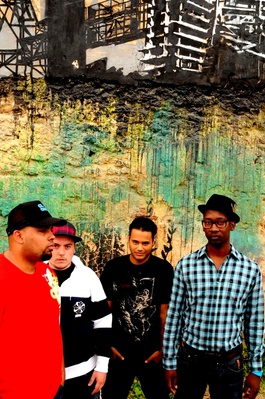 A woman on a micro scooter slices our corridor gathering at the Maison de la Radio in Paris, where Conductor's 'being honest' with me. 'We're really tired,' he warns. 'You won't find the four of us very much arguing about one question.' The man has spoken: we manage to lose him and Rui on the short walk to the sofa, where behatted, bespectacled Kalaf books himself a gentlemanly corner and Joao sprawls comfortably in the other. DJ Johnny - 'the guy who introduces everybody to everyone and then just disappears' - introduced João and Rui Pité ('DJ Riot'), two high school friends from Amadora, to Kalaf. 'He's too shy, he should get more credit for that,' João says.
Conductor slipped into the equation as 'some sort of bigger, closer connection that could lead us in a different way.' As principal loop-digger, Conductor inspires with a 'new strange beat, these strangest things from the sixties and seventies' that technical whizkid DJ Riot makes happen. 'He can spend hours trying to do something with a synthesiser and a plug-in. We all quit after twenty minutes and he's there alone' - 'he's the geeky one,' Kalaf interjects. 'It's just stupid if no-one can put all these wonderful ideas together.' 'I'm always thinking which song would go best with what element,' João finishes. 'I put an album together in my head before transmitting it to the rest of the band.' He also takes credit as being the main 'odd-sentences-that-we-say-in-interviews' notetaker. He bats off my query on why the band's English is so good.
Waving stereotypes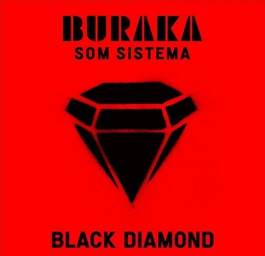 As he is exempt from production and studio hours, it's Kalaf who is inevitably 'much fresher with concepts.' The seeds of ideas - like debut album Black Diamond - usually cook over dinner, where the group also discuss what they want to avoid. 'The African or exotic flag thing is definitely something that we never wanted in our music,' says Kalaf. He and Conductor both grew up in Angola, but its the latter who 'consumes more African music', whilst Kalaf 'got into different things' when he moved to Lisbon to study in 2006. 'We get the flag thing in some places more than others. Scandinavians get it' - 'because they have fun,' Joao interrupts, 'and do what they're supposed to do. They don't try and relate it with ancestral drums from Africa. It's to do with the history of a country. France has a bigger connection with Africa; Cape Verdean music came first to Europe through France before Portugal.' 'People like to understand why this African thing,' Kalaf mocks. 'They should just get drunk and go for it,' João laughs.
Some hystericise Buraka's music as echoing the drums of Angola's 2002 civil war, but the group don't answer to history with their unique genre. 'Kudoru came after that war in the seventies and eighties (Angola overthrew the Portuguese dictatorship in 1974 - ed), so maybe it's a reflection, but it's not intentional. When we met we had the idea of grabbing this rhythmical pattern of kudoru and doing our own club night with it.' From Lux club in Lisbon to international fame; today, their ever-mainstream satisfaction label is guaranteed through collaborations with names like American DJ Diplo and British artist MIA. Their most famous hit is arguably Sound of Kudoru, on which the latter features. Conductor offers a more classic analysis of the collaborations from his spot lurking behind the sofa. 'Music works in cycles – when you meet one person in their cycle you're suddenly just doing the right thing at the right time.' 'Soulmates.' says another. 'We're connected, like the stars were in position,' Kalaf jokes. 'MySpace,'  João promptly rounds up.
Waving flags
Who downloads and who buys legally? It's a question the band routinely ask in their gigs. 'We don't mind either,' João says. 'We just like to know! 'Downloading is present in our culture now,' Kalaf says, as Rui adds, 'it's kind of like a poll,' 'how you understand what audience you are getting,' business-minded Conductor offers. And their audience is? 'Downloaders,' Kalaf says, as they all erupt in laughter. 'They're mostly females,' Conductor adds, 'very good dancers,' Kalaf murmurs. 'Females who attract males, who attract ravers, and always twenty Portuguese people with a Portuguese flag who always stay on the right side of the audience,' João precises.  'Yeah why, why?!' Conductor cries. 'They scream for us to speak in Portuguese, yet all the songs are in Portuguese,' says Kalaf. 'We're in front of 1,000 people and they're 50 and they want us to speak in Portuguese with them instead of the other 950 people in the room.' Despite this, it's known that Portuguese fans don't really feel represented by BSS. 'We represent something too new,' Kalaf explains. 'They don't understand because it's too fresh.' Europeans might  appreciate BSS's exotic touch from gigs at major festivals like Glastonbury, Roskilde and Exit. 'Amazing,' Conductor repeats about their festival experiences, before the others laugh his trance off.
Buraka's three tips on:
A night out in Lisbon - 'Starts at Bairo Alto. Then two in the morning some of us go to Cais do Sodré to Music Box, until more or less four, when we go to Lux' (Kalaf)
MIA - 'We only spent six hours in a studio with her before going home with her stuff and deciding what to do that' (João)
Other Portuguese music - 'Galadrop is a more experimental Portuguese sound' (João)
Catch the band on the rest of their tour in Portugal and Italy, and at this summer's Heineken Open'er festival between 2 and 5 July in Gdynia, Poland