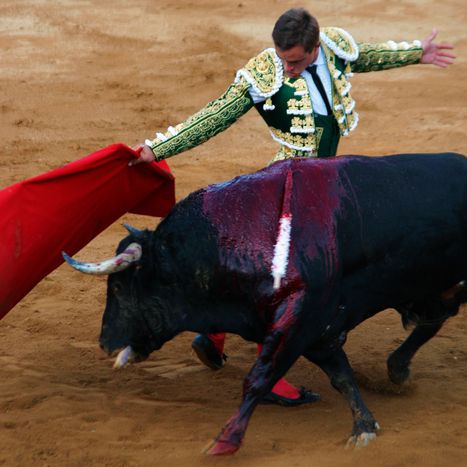 Bullfighting: 'anti-democratic spectacle par excellence'
Published on
The French anti-bullfighting alliance is asking Euro MPs to make a ruling on the violent practice. Fatally torturing an animal for the pleasure of a precious few is scandalous, says the founder of the French organisation
Ban bullfighting in Europe runs the slogan of the anti-bullfighting alliance, a French association. It is among the most popular of all the proposals approved by the members of the 'European Consultations' website, which has received the patronage of Hans-Gert Pöttering, the German president of the European parliament. The abolitionist proposal will be discussed by 100 French citizens, chosen at random to participate in the European citizen's consultations on 21 and 22 March.
After all, it's a fundamental principle: we don't have the right to inflict physical abuse on animals. It's not because an animal is aggressive and uncontrollable that man must necessarily war with them against an artificial backdrop. A bull is not there to fight in an arena, nor are those unfortunate bullfighting horses who are trained over and over again, only for most of them to come out 'broken'.
Fair fight?
I am from Nice and, like over half of the people here, I don't like bullfighting. However, where I live and in eleven other departments in the south of France, it is totally legal to kill calves, because this area insists upon not breaking with local traditions. I have the right to erect a makeshift arena in my backyard. Add a few litres of Pastis, some spicy Merguez sausages, one or more little bulls, sell tickets from a receipt book (to stay within the law) and it's all systems go. Performed by myself or whoever, under the supervision of a person considered as 'experienced', the massacre can begin.
For fifteen long minutes, the bull receives wounds sinking in up to one and a half metres in its body, from blades, lances, harpoons, daggers and spikes… Over a quarter of bulls are mutilated and drugged with products which induce serious behavioural and sight problems. The aim is to allow the bull's behaviour to be controlled. In this way, bullfighters take more and more risks to gain more and more money: up to 300, 000 euros can be made in a single ninety minute performance. How can this be called a fair fight?
Bullfighting has become a huge business, with most arenas being subsidised with taxpayers' money. Via public institutions, France grants generous subsidies to over 70 communes in deficit (only 7, 000 spectators regularly attend bullfights in France). In Europe, the anti-bullfighting alliance estimates that 20 million euros are allocated to those who raise bulls for the fight, but are counted as cattle farmers. However, only 27% of Spanish and French people are still interested in bullfighting, according to the Sofres France 2003and Gallup Espagne 2007 surveys. Bullfighting is an anti-democratic spectacle par excellence.
The use of fighting bulls
In many departments in the south of France, meat from fighting bulls is sold without being labelled as such. So you can end up unknowingly eating the product of an activity which you are against. That's not to mention the health risk this poses, since the toxins greatly exceed any acceptable levels. Amateurs claim that they want to avoid injuries and deaths of bullfighters at all costs, yet they can't stop their exposure to danger. These are not people who are, as some might incorrectly believe, 'sadists or perverts thirsty for blood.' Through the bullfighter, the spectator tries to touch death, that great, fascinating unknown. It is about actualising a morbid urge. Bullfighting is highly condemnable because it encourages this urge. Even if violence is something innate in humans, should we let it flourish?
Through the bullfighter, the spectator tries to touch death, that great, fascinating unknown
The real question lies in the function of fighting bulls. Keeping them is only of interest to owners who want them as a good luck charm. The steel industry has disappeared, the coal mines too and nobody died from that … Many breeds of cattle are disappearing every day and nobody, to my knowledge, has yet taken the trouble to be indignant over this. There are natural reserves, like the Camargue regional park in Marseille, which shelter all sorts of protected species. For now, in the coming days, the association will choose candidates to take a clear stance on these issues.
Translated from Corrida : « Le spectacle antidémocratique par excellence »