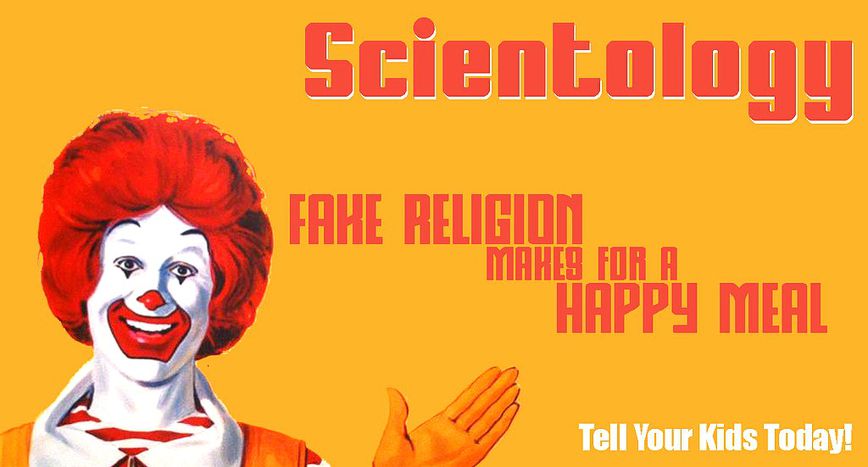 Brussels: 'There are many more scientologists than we think'
Published on
Last January, the Churches of Scientology for Europe opened a new branch on boulevard Waterloo in Brussels. Considered a cult or simply a commercial organization in France, Belgium and Germany, scientology continues to claim to be a religion. A interview with Agnès Bron, in charge of public relations at the boulevard Waterloo site.
Agnès Bron is roughly fifty years old. She arrived in Brussels in January, guided by her faith in scientology, to take over the public relations of the Churches for Europe. She knows her job well, having occupied the same post in Paris since 1995. A brand new address plate marks the entrance to the building. A small red-carpeted staircase to climb, topped with a cross with eight branches, the symbol of scientology. On entering, a small foyer opens up into a reception hall measuring more than 1000 m2, where the answers to all of humanity's questions are supposed to be exhibited. Those in search of answers are guided by videos based on the 35 million words written and recorded by L. Ron Hubbard. Hubbard is the creator of scientology and all of its beliefs. The exhibit begins with him; his life, his work, and his goal: a civilisation without madness, crime, or war. A short film biography of the founder lasting nine minutes is shown. Hubbard was a young genius, an explorer who sought out the different cultures of the world before creating scientology...Hollywood continues to sell dreams, his dreams. Ron is everywhere, on each interior wall, a photo, a quotation. In the chapel, his bust watches over the ceremonies, an object of worship for the faithful.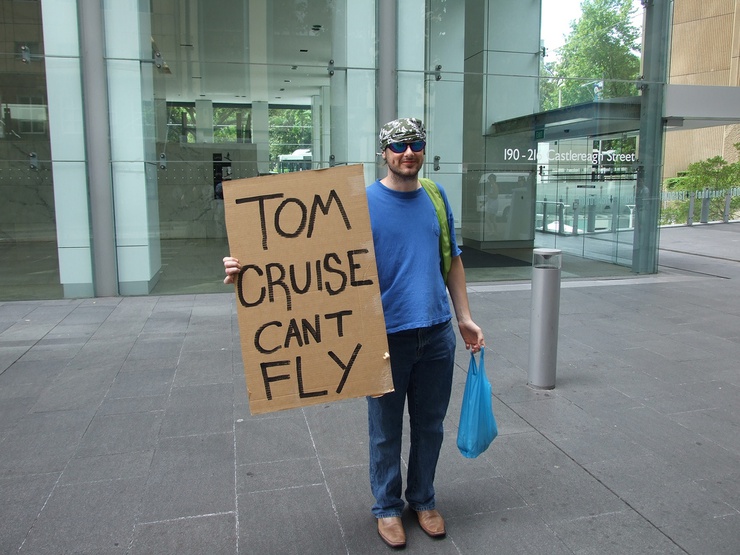 Ron Hubbard, Hollywood hero
'It's important to know that all of our beliefs follow the writings of Ron Hubbard,' explains Agnès. With a clear gaze, she talks about her beliefs with an unproven sincerity. She stumbled on the bible of scientology, Hubbard's Dianetics, n 1991, while visiting her sister in 1991. She borrowed it and discovered its teachings: how to resolve the problems of life through alternative psychology. 'If it's true, I want to try,' she confided to her sister. A few months later, she moved to Marseille and became a scientologist. Before her initiation into scientology, Agnès was 'very resistant to all religion'. Only advancing in the hierarchy of being changed her mind. 'With advancement, I came to belief in a spiritual being,' she explains. On the other hand, she is careful to note that 'all religions and all gods are accepted by the churches.'
'It seems better to be rich if you want to become a scientologist'
Although all religions and all gods seem to be acceptable, it seems better to be rich if you want to become a scientologist. When asked if you do indeed have to have money to participate, Agnès responds: 'Myself, I have never had to spend my money.' However she adds that there are special programmes for poorer people. There are also ninety euro (£77) weekend seminars, books and DVDs.' In the doctrine of scientology, all people are equal at birth. But stars, on the other hand, have their own places of worship, celebrity centres. No need to be reminded that Tom Cruise and John Travolta are important spokespeople for the organisation. In Europe, by contrast, people tend to keep their affiliation to scientology secret. 'Otherwise, they would lose their jobs,' confides Agnès. 'There are many more scientologists than we think.'
Scientology Brussels
There are supposedly 10 million scientology members throughout the world. The main mission of the Brussels branch is to welcome travelling scientologists. It is also charged with promoting social programmes. Under the umbrella of anti-drug and human rights organisations, the churches are able to reach into a number of institutions, including schools. Agnès Bron states that more than 600 opinion leaders, association presidents or members of political parties have visited boulevard Waterloo since January. It's an impressive number. Nevertheless, the new centre has not been designed to lobby European institutions. 'There is the office of human rights for that,' states Agnès. In fact, the office where lobbying campaigns are based is the international church of scientology's European office for public affairs and human rights, located on the rue de la Loi in Brussels.
In another setting, the European court of human rights in Strasbourg – which ensures respect for the European convention of human rights signed by 47 states – the scientologist lobby claims to have won a major victory in 2007 against the city of Moscow. 'You know, according to the council of Europe, scientology is not a religion,' says Agnès. As the head of the inter-ministerial commission on sects in France Jean-Michel Roulet explained to French magazine l'Express in January 2008, 'Following the principal of freedom of religion, it (the court) does not judge which movements are or are not defined as religions. In reality, the court has sanctioned delaying tactics such as those used by the administration of Moscow to slow the registration of the organisation as a religious association'. In other words, depending on where you are standing, the future for scientology in Europe looks very different.
Image in-text: (cc)THERKD/ Flickr
Translated from Scientologie à Bruxelles : une foi sans religion