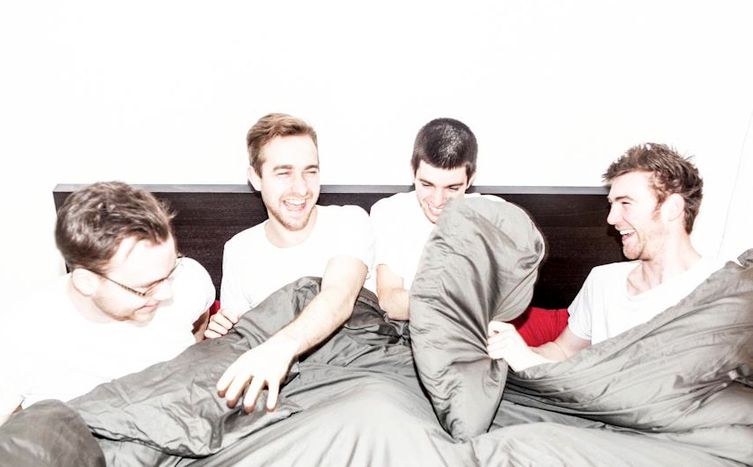 brainstorming with brns
Published on
BRNS (pronounced Brains) is the new up and coming band from Belgium. Rumour has it that Antoine and Tim created the band on January 1st 2010. Four years later, the duo, now a quartet, has an album on the way, "Patine" available on August 25th. In the meantime BRNS is on the road in Europe. We met with Antoine, one of the brains behind the band, after their show at the Chorus Festival in Paris.
cafébabel: Did you really create the band on January the 1st?
An­toine: No it is just a joke! Tim and I, we had played in other bands and in January 2010 we didn't have anything to do. We started playing together just for fun, without really thinking about what it could become. We composed the outline of a few songs together but they were a bit wobbly at first. We had never been in this position before and we had next to zero experience in songwriting, it took us quite a long time. We needed a guitar player on the band so we called Diego, with whom I had worked before. All three of us worked on the first EP, "Wounded". Just before it was released, we realized we needed someone else to play on stage and Cesar came along! We went on tour with him and on our spare time we wrote songs for the first album that comes out in August. pour le pre­mier album qui sort en août. 
« WE HAVE ALWAYS LIKED SEEDY THINGS »
cafébabel: How did you work on the album as a quartet?
An­toine : It changed a lot of things! When it was just Tim and I, we wrote all the outlines then we gave them to Diego. He added the guitar and we changed what didn't work, but for the songwriting, it was really just two people. For the album it was different. Some songs were done the old way, others we did all 4. We spent some time in a country home rehearsing all day! It took us more time but it was really interesting. This album will be more consistent. Our songs used to go all over the place but it was really hard to play on stage. This album is also darker, more melancholic, there are more sad songs than on the first one and the melody is more affirmed.
BRNS - « Mex­ico »
cafébabel: Your first album was also quite sad, even though the rythms were more upbeat...
An­toine: I don't think there was such a contrast. Our old songs were not really happy, most of them were even gloomy. People often associate us with our single "Mexico", it is more cheerful and lively but we've always been into grim and morbid stuff. We've always like seedy movies. As for the music, we prefer a cavernous sort of pop, or post rock stuff where you can really hear the singer's hurt. We got into that kind of music naturally, we didn't even think about it. For the lyrics, we didn't want to talk about the weather, we wanted to shape another universe. That is something you can see in the video for "Void", the first song of the upcoming album (it will be released as a 45T on April 19th for the Record Store Day, editor's note), it's a David-Lynch-inspired short movie with a pessimistic mood.
Écouter :  « Wounded » EP  (Pa­tine, out on august 25th)
Translated from BRNS : Tempête sous les crânes