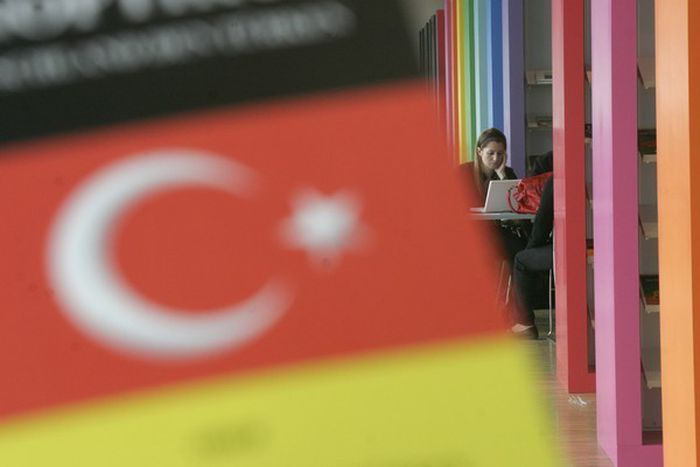 Björn Kuhligk at Frankfurt book fair 2008
Published on
Turkey is the guest of honour at this year's Frankfurt Book Fair between 15 – 19 October. Interview with the author from Kreuzberg, Berlin, who spent a month in Eskişehir as a 'city writer'
Yakın Bakış ('Insight') is the title of the literary exchange project of the Goethe Institute, several publishing houses and the Turkish ministry of culture. Eight German-language novelists spent time living in various Turkish towns and cities this spring. They kept diaries, and published their texts online. In the second stage of the project, eight Turkish authors visited German cities, including Berlin, Leipzig and Munich. All sixteen will report on their experiences at this year's Frankfurt Book Fair, which will take place from 15 – 19 October.

Mr Kuhligk, you spent a month as a 'city writer' in Turkey. How did you find the transition from Kreuzberg in Berlin to the small Turkish town of Eskişehir?
Kreuzberg has a large proportion of people of Turkish origin. I had some kind of idea of what to expect, as in Kreuzberg I had sometimes had the feeling that I was in a small Turkish town. I thought I knew what the food or Turkish music shops were like. Of course, what I found in Turkey wasn't what I expected. For example, I saw fewer women wearing headscarves than in Germany. And there was a basic openness and friendliness that you don't find so much in Kreuzberg.
How was this friendliness expressed?
For example, in the time I was there I got at least twenty phone numbers of people who I had met for half an hour at most. They said, 'If you have problems, call me'. There's also an unbelievably friendly attitude towards children. When my family came to visit, there was no chance of going down a street without our child being hugged. In the villages they have a lovely gesture, they place a hand on the chest to show their joy that you are there. However the women always stayed in the background and even my wife didn't really 'exist' when saying goodbye.
How are Germans received?
An old friend who I met in Istanbul told me something that has stayed with me: 'As a German in Turkey you are minor royalty. You'll be welcomed everywhere, because everyone has family in Germany and Germany is the great role model'.
Was there a particular situation that made an impression?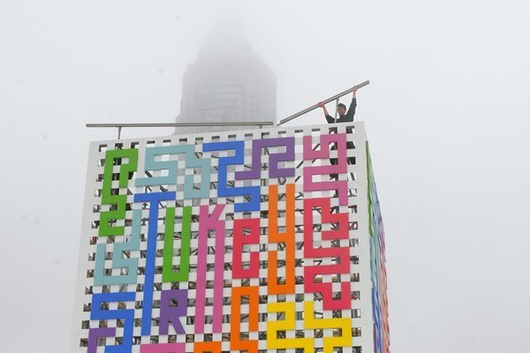 I had one deeply distressing encounter. I met a 70-year-old artist who was in Germany for thirty years as a Gastarbeiter. There he became psychologically disturbed. Afterwards he began to draw caricatures. He repeatedly dealt with the theme of being a Gastarbeiter, and how workers were exploited in the sixties, seventies and eighties. Although I live in Kreuzberg, it has never occurred to me that I could met someone who had fallen apart to that degree. It was also odd when, in the middle of his stories, I had the sudden feeling that I ought to apologize for something for which I have no responsibility.
What is you impression of the Turkish literary scene?
I didn't really see much of it. In Eskişehir there a few authors, but they have no strong links like in German cities. The all potter about on their own.
To what degree to Turkish writers write differently? More politically? More visually? 
I mostly read poetry, it was also a way of preparing for my stay. You notice that the poetry written fifty to one hundred years ago comes from a completely different tradition, which seems stuck in the heritage of song. It works a lot through myths, folk tales and anecdotes. I found that strange in the first instance. After I'd read a bit more I found it exciting. As for recent literature, I think there are a lot of good exciting authors. I am waiting for new contemporary Turkish poetry to be translated into German. But as far as I know there won't be any at the Frankfurt Book Fair.
In retrospect what did you participation in the project give you?
I am currently working on a new book of poems. So far I've written four which take my time there as a theme. Perhaps I'll make something from the diary I kept there, but that's in the lap of the gods. It's exciting to be plunged into another life, different surroundings. I have discovered a new country, a new culture. I've lost many of my prejudices and antipathies. It is really an eye-opener for each respective individual, who has their own internal contradictions, and carries prejudice with them, whether they want to or not.
Translated from Frankfurter Buchmesse 2008: Türkisch-deutsche Literatour