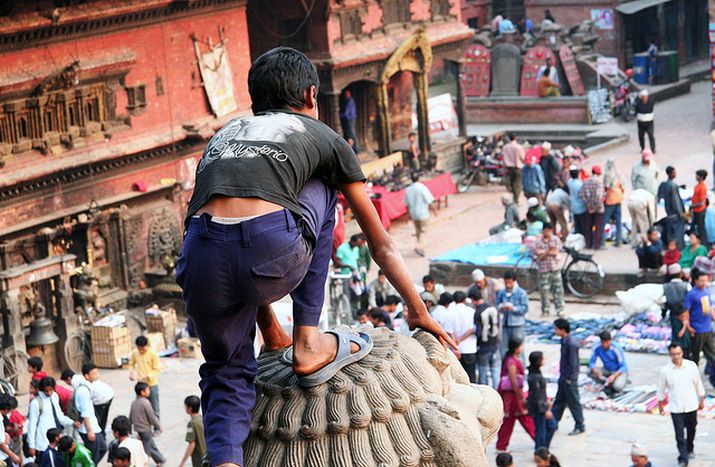 Bijay Dantani: My Freak Street Life
Published on
Kath­mandu is lovely, but how is life in Freak Street? Bijay Dantani, whose fam­ily moved from Gu­jarat to the Nepalese cap­i­tal a long time ago, knows every nook and cranny in the his­tor­i­cal old town of Kath­mandu. Be­tween chai stalls, tai­lor's shops and mo­tor­bikes, life for a young man isn't al­ways easy, but sur­pris­ingly po­etic at times. A day in tem­ples, al­ley­ways and cin­e­mas.  
Spring days in Freak Street are short. Around 10pm, when even the most stead­fast sell­ers have long packed up shop, only stray cats prowl around the crum­bling stone build­ings with their in­tri­cately carved wooden gables. At 7am, how­ever, you will have to search a bit longer for an open chai stall. Power cuts are fre­quent in the morn­ings and evenings – and even more so in be­tween. While I am sip­ping steam­ing hot chai at a street cor­ner, wait­ing for Bijay to turn up, a few shop own­ers are slowly start­ing to open their doors. You will find every­thing here: glit­ter­ing Ra­jasthani style cush­ion cov­ers, Nepalese purses, colour­ful ac­ces­sories for mar­i­juana afi­ciona­dos and the oc­ca­sional, dusty Shiva statue. In short, any­thing that pleases the west­ern tourists who like to stay in this wind­ing lit­tle street of Kath­mandu's old town. In the 1970s, Freak Street was an im­por­tant stop on the opium trail of the hip­pies and dropouts, but today every­thing has re­verted to nor­mal.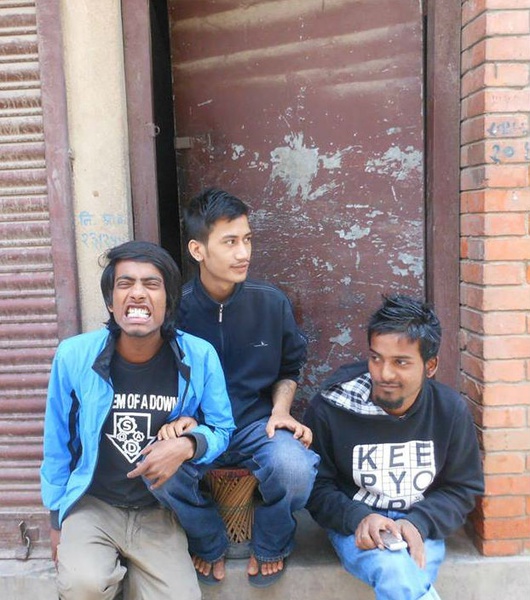 "Let's drink an­other chai, okay?" Just as I have given up hope of see­ing him, Bijay leisurely am­bles down the street, sits down on a plas­tic stool next to me and or­ders tea. Days in Freak Street are ob­vi­ously slow in com­ing. "Orig­i­nally, my fam­ily is from San­thal in Gu­jarat. That's near Ahmed­abad", Bijay tells me in be­tween sips of chai. But by now his par­ents, his six sib­lings, their fam­i­lies and him­self have been liv­ing in Nepal for many years. His fa­ther is one of many Freak Street shop own­ers, sell­ing scarves, bags and other knick-knacks. "It's this funny pseudo-Ra­jasthani style that for­eign­ers like so much." Bijay laughs. He him­self is a tai­lor's ap­pren­tice, which earns him 6000 Nepali Ru­pees (around 44 Euros) a month. This isn't nec­es­sar­ily his first choice, but he is happy to have found a place. How much are you pre­pared to sac­ri­fice to your fam­ily? 
Be­fore he can an­swer my ques­tion, Bijay steps through a small win­dow at ground level, be­hind which lies a dark al­ley­way. As we crawl out of the black­ness on the other end, we find our­selves in a small inner court­yard in front of a Hindu pagoda tem­ple. "The Newar, who are the orig­i­nal in­hab­i­tants of the Kath­mandu val­ley, in­vented this roof struc­ture and ex­ported it to coun­tries as far away as China." While an age­ing priest with a lit­tle oil lamp in his hands is march­ing around the tem­ple, cel­e­brat­ing the pooja (a Hindu prayer ritual), we are sit­ting on a small bench, lick­ing sticky lemon and nut ice cream. Just as the court­yard is being drowned under a mu­si­cal wave of gongs and bells, it starts to driz­zle and Bijay men­tions that he isn't that re­li­gious after all. "Shall we go to the cin­ema?"

At mid­day, most seats in the big cine­plex around the cor­ner are empty. On the way, we have col­lected Bijay's sis­ters Poonam and Ra­jani who also wanted to watch the ac­tion thriller Au­rangzeb (2013), star­ring Bol­ly­wood actor Arjun Kapoor. As we step on the es­ca­la­tors lead­ing up to the sec­ond floor, the girls gig­gle and hold onto each other: Au­to­matic con­veyor belts are new to them. While Kapoor rides around Gur­gaon in posh cars in this mod­ern adap­ta­tion of the life of Mughal em­peror Au­rangzeb (1618-1707), bring­ing down cor­rupt po­lice­men, Bijay's sis­ters don't stop laugh­ing even dur­ing the blood­i­est, most vi­o­lent scenes, rustling mer­rily with their pop­corn bags. "Haha! This is so stu­pid!" Bijay is hav­ing a ball, al­though he doesn't re­ally like Bol­ly­wood films. Some­times, he sounds like a lit­tle mis­an­thropist, but it would prob­a­bly be more cor­rect to say that he prefers being se­ri­ous. "That's just me. I don't like all that su­per­fi­cial fuss on Freak Street."
Back in the wind­ing al­ley­ways, Bijay ex­plains his fam­ily ties to me. While a lot of Eu­ro­pean lan­guages don't dif­fer­en­ti­ate be­tween rel­a­tives on the mother's or the fa­ther's side, such dis­tinc­tions are vital in a lot of In­dian lan­guages. After all, fam­ily ties are much more closely knit here, often but not only due to liv­ing cir­cum­stances: "We all sleep in the same room, al­though we are nine. It's a bit crowded some­times." When I ask Bijay if he doesn't some­times yearn for a lit­tle bit of pri­vacy or a room of his own, he looks at me star­tled. "That would make me feel very lonely I think."  
Pago­das, chai and fam­ily ties
Liv­ing arrange­ments aside, there is not much pri­vacy in Kath­mandu. With a bur­geon­ing mass of 976,000 in­hab­i­tants, most streets are per­ma­nently jammed with cars, pedes­tri­ans and mo­tor­bikes. Es­pe­cially the lat­ter are a pain in the neck, says Bijay. As we slowly we make our way through the traf­fic jam, we fi­nally reach a less pic­turesque part of Kath­mandu where we visit Bijay's tai­lor's shop. Right next to it looms a tall, red and white tem­ple un­der­neath a bodhi tree. As prayer bells start chim­ing in time for pooja, the sky changes from grey­ish blue to light pur­ple. But the near per­fect pic­ture is dis­turbed by an in­tense stench of dirt, death and cold ashes. Bijay points at the rub­bish tip on the other side of the river. "On very bad days, the stench is al­most un­bear­able." On the way back to Freak Street, we stop in front of a small shop to drink chai and smoke a cig­a­rette. What to do with one's life? Bijay is un­sure.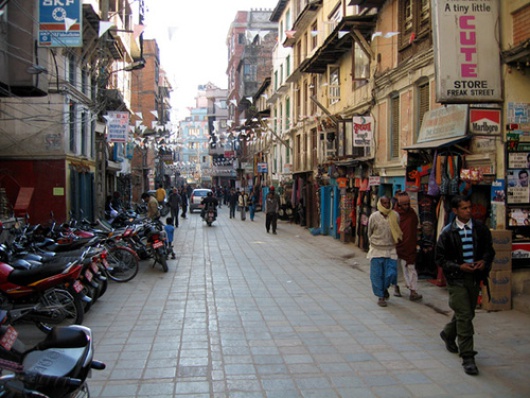 "I think I'll fin­ish my ap­pren­tice­ship first. This month I even got a raise!" Bijay smiles hap­pily be­cause this means he will be able to sup­port his fam­ily more. Rents for shops and flats in Freak Street are high and at some point his three sis­ters will have to be mar­ried off. "First we'll have to find an In­dian hus­band, then enough money for the dowry, the wed­ding and so on – the full monty." Bijay him­self would pre­fer to re­main sin­gle. "I don't want to get mar­ried, you can't re­ally trust girls." His Nepalese friends only ever tell him sad sto­ries about un­faith­ful girl­friends who break every man's heart. "I don't re­ally want that", Bijay laughs.
Back in Freak Street, most shop own­ers have al­ready started pack­ing up. Bijay quickly buys some choco­late be­fore the last win­dow is shut. Prowl­ing around my legs, a stray cat starts me­ow­ing loudly, in tune with the chimes of the tem­ple bells. "When you come back, I'll show you a lot more. The side streets of Kath­mandu are beau­ti­ful." And Gu­jarat even more so! After all, the desert state is the most beau­ti­ful place in the world. Nev­er­the­less, Bijay is happy to be in Kath­mandu. "A big city is al­ways more in­ter­est­ing, I sup­pose." Even if you like nei­ther girls, nor mo­tor­bikes nor Bol­ly­wood films.
Translated from Bijay Dantani: Mein Freak Street-Leben