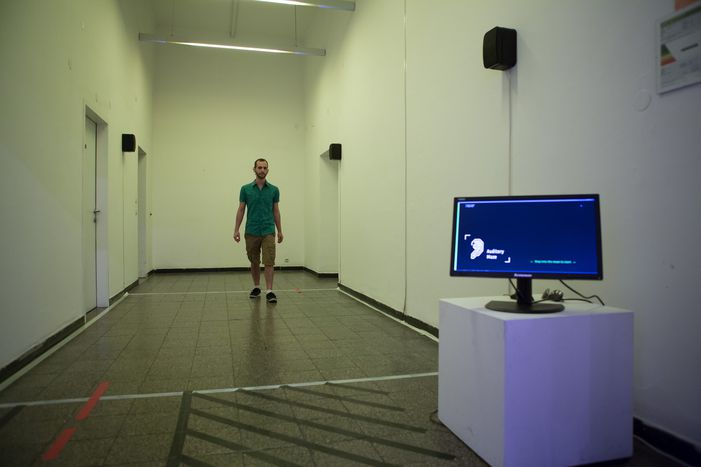 Bezalel End of Year Graduating Students Exhibition in Jerusalem
Published on
At the Mount Scopus Campus of the Hebrew University of Jerusalem takes place the End of Year Exhibition of the Graduating Students of Bezalel Academy of Arts and Design from July 13 to 31, 2009
For a visitor to the event first must come the disorientation. The Humanities and Social Sciences campus of the Hebrew University spreads over a hill: Mount Scopus. This is what mailing address says.
Bezalel Academy of Arts and Design is a place that to reach one needs to practically cross the sprawling, for all its compact size, campus to its other, more creative side. From the Frank Sinatra Plaza, you need to cross a corridor that draws a straight light across the geography of the slopes that go up and down, breath-taking glimpses of surrounding villages, and a sky-line of desert plains that built structures rhythmically interrupt. Past two more open squares, the entry to the exhibition welcomes its seekers of what this year's graduating artists and designers present. Foreign visitors would need some help since a small and handy floor plan of the split-up of the exhibition spaces by discipline and medium is available in Hebrew only, as is a booklet offering a brief academic review of what's on display.
No doubt, inquiring googlers have already pulled from their searches a rather critical review of the exhibition from the Ha'Aretz newspaper that dutifully translates its articles for the web and a print edition with the International Herald Tribune. This local counterpart of The New York Times sets as high standards for artistic novelty, market independence and institutional missions. However, the exhibition offers much more than so many occasions for aesthetic judgement. In fact, it is the transformation of the academic institution into a temporary autonomous zone for an unideological flanerie from one space to another that makes, for two weeks, out of a person wandering into here per chance or by intention a witness to how culture and space interact. As Israel's Resling publishing house regularly throws into the book market translations of both classical and new works in theory, criticism and research on arts and humanities, one expects to see the traces of European culture in what young artists create.
Indeed, each corner of the eighth floor leads, from the entry, to a pause as yellow and black wall-sized posters gave an occasion to take a socially relevant cause of social work or nature's protection as a subject for short video works, advertising leaflets and up-to-the-minute design concepts. More targeted video works of shoes, cartoons and indy ads doubled on two flat screens make one appreciate artistic vision, funny concept and colour choices of the graduates. The enfilades of spaces showing photography, fresh from editing software, memory cards and analogue films, run the gamut of everyday life, subdued documentation, and inevitable staging. What emerges is not only that the medium of photography is relatively new for its diploma-carrying students, but also that each batch of images has an individuality of its own. It is as if the prolonged exposures that lens-mediated looks at houses, bodies and paraphernalia require also succeed at getting under the skin of what is conventionally called reality.
Turn after turn and floor after floor, photography appears to be the primary medium in which the theoretical, social, and fictional contradictions are attempted to be spelled out within these spaces of art. While photography sets the terms of exhibition experience increasingly in between motion picture and still shots, design plunges visitor's gaze into the three-dimensional disorientation of objects that clamouring for everyday uses dream of artistic recognition. Blown up to be sculpturally appreciable, made to scale to be tried out on the spot, or destined to be concept-models of alternative future, densely exhibited objects of graduating designers put into question neat separations into modernist, avant-garde and postmodern aesthetics of what hopes to be mostly prized for its everyday uses. Condemned for mechanical reproduction, these objects of industrial design were hardly whipping the masses of their on-lookers into an aesthetically revolutionary fervour. Rather, the realisation of these objects dreams could be likened to the aspiration of the neighbouring dresses waiting to be taken for a high fashion cat-walk to have a say on what ready-to-wear clothing stores will be hopefully having on offer.
It is the art exhibitions of course that losing hold of the privileged medium of painting in hesitant favour of either installation or video that send the wanderers among their works into search after meanings rather than things past. Pace Proust's neurasthenia, the time spent in these galleries is definitely gained, as surprising moments of hesitation about where photography goes over into art, action sequence triggers an affect, and artistic influence gives birth to originality. From one exhibition space to another the suspense of discovery is quite palpable as heretofore unknown art students become discovered by sharp-eyed gallerists, as invitations to follow up on new art on youtube and internet are offered, and as artistic performances become presented, documented and integrated into the exhibition process. Not unlike the universal expositions of the past centuries, this exhibition brings what is far apart into a near presence via the most globalized space of computer and plasma screens that through the interactivity of flash animation bring ecological footprint, dream interpretations and foreign lands into the clickable proximity of playful interest.
Animation sets and digital cartoons show the influence not only of the powerhouse of Disney, but also of the Manga animation that preserves its philosophical touch even in its admittedly local adaptations. In the similar no-man's land between design and installation were made bold steps with glass, ceramics and plastic that put into question the stubbornly remaining dividing lines between art and design that did not make their crossing any less intriguing. Applied poster, product and media design sections of the exhibition have developed, in contrast, their own aesthetics of striking book covers, stop-in-one's-tracks ad spots, and attention-grabbing expository maps. Though there are corners of the exhibitions that are harder to recall after strolling through, such as architecture's, it does not retract from the appeal of the event. To wrap it up, one can walk into the green yard adjacent to the Bezalel cafeteria to have a drink to take it in together with still modern look of red steel and shaded concrete of the building that sees distant sands change their colours under the setting sun.
Those who took part in the festivities of the opening night of the exhibition have surely also taken part in the rave party thrown in one of the wider back-yard plazas of the university campus on the same day. Two right-angled walls of the student union edifice back-side served as a giant screen showing visual stream of consciousness that weaved the drumming rave sound-tracks into the dissipating attention field of celebrating graduates and their friends getting their drinks, smoking around and dancing in front of a row of smaller screens. The latter multiplying the visual message of the larger projections drew a symbolic line under the pulsing event.
Pablo Markin is a post-doctoral fellow at the Centre for German Studies of the European Forum of the Hebrew University of Jerusalem, Israel.