Best locked up?
Published on
European prisons are bursting at the seams; prison sentences are becoming ever longer and are ever more frequently dealt out. Notions of social re-integration and human dignity are falling by the wayside. Are there alternatives to the slammer?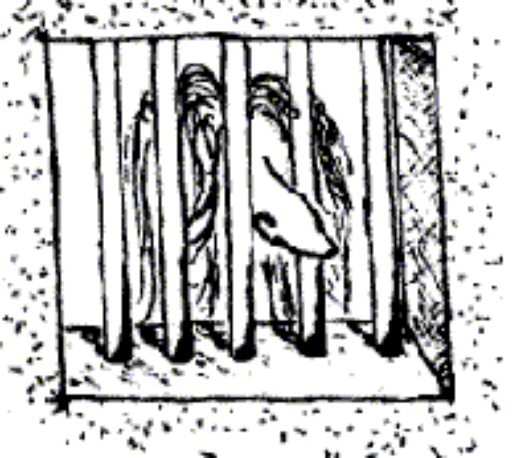 The first prisons in England and the Netherlands no longer saw revenge as the point of punishment but rather sought to improve the prisoners' social integration through work. Instead of focusing on the notions of revenge, in 1764, an Italian criminal law specialist, Beccaria, re-thought the aim of punishment as a way to deter prisoners from harming their fellow citizens. Today, the purpose and validity of punishment are the source of real debate. It is not clear, based on crime policies in various European countries, whether it is the crime or the criminal society seeks to punish. On the one hand, the primary aim and even, in part, constitutional principle is to socially re-integrate prisoners; on the other this is made more difficult by longer and stricter prison sentences.
What does social re-integration mean today?
The goal of social re-integration is to prepare inmates to return to a life of social responsibilities, free from punishment. A successful re-integration policy has to respect a prisoner's human dignity, while upholding the duty of the state to protect all of its citizens, those in prison and outside prison. But, Europe's increasingly overcrowded prisons, make this task almost impossible. A chronic personnel shortage, combined with a growing prison population, leads to a rise in prisoner aggression and makes for overall tense relations between inmates and their supervising staff.
Quick and frequent imprisonment increases the waiting time for a trial and sentence, which results in courts being just as stretched. Yet, social re-integration is only possible when the criminal is confronted to his crime and his punishment. The intention, by former French Home Secretary Nicolas Sarkozy, to automatically lock up re-offenders will not improve the situation. Similarly, Austria's initiative to transfer Romanian prisoners incarcerated in Austria to specially built prisons in Romania, in order to save costs and deal with chronic overcrowding, seems just as much a naïve fallacy (see article). Research has shown that extremely long prison sentences can be counter-productive. After a certain number of years behind bars, resignation sets in and a prisoner no longer see the sense in the length of his sentence.
Alternatives
One possibility would be to guarantee single prisoner cells and maintain overcrowding at no more than 103%. If there is no space due to overcrowding, the person sentenced should remain on a waiting list and live 'outside' under control of the courts. This system was abolished in 2002 in the Netherlands. It was never introduced in France or Germany. Other counterproposals to immediate incarcerations include, community service or electronically monitored house arrests. Community service is a good alternative because it can help criminal repent his crime, while building bridges with society.
The problem with a monitored prison sentence, served outside prison walls, is in finding partners, (societies or organisations), who are prepared to help carry out the verdict. Electronically monitored house arrest was abolished in Canada two years ago on monetary and ethical grounds. However, it is becoming increasingly popular in Europe, with pilot scheme already active in some Federal states in Germany. France plans to widely use this system after a two-year trial period. This alternative allows prisoners not to be alienated as they serve their time in their own surroundings. Critics argue it is an extension of the state's social control that affects the prisoners but also impacts his neighbours. Besides, private companies produce the technology with a view to profit. Whether this is concordant with the aim of punishment remains debatable.
Punishment has a point when it is meaningful. A stricter policy on imprisonment to ease citizens' and politicians' minds on a national and an international level will, in the long run, have a boomerang effect, which will have negative consequences, both for the fight against terrorism and for the fight for greater internal security.
Translated from Am besten wegsperren?