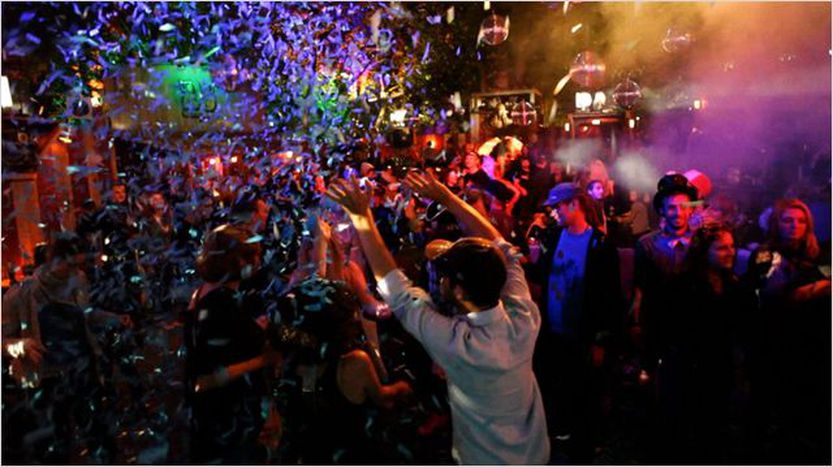 Berlin's legendary Bar 25: Requiem for a bar
Published on
In 2004, four fun-loving and ambitious young Germans turned a riverside wasteland into a party dreamland. Bar 25 was an irreplaceable treasure of Berlin's party scene; a place like no other with a lamentable fate that put an end to this nonstop weekend fantasy world in September 2010
Not too long ago in east Berlin, beyond the big wooden railings near the 'Ostbahnhof' ('east train station'), existed a wonderful land. A small village on the banks of the Spree river offered an open air club, restaurant, bar, small hotel, improvised cinema and even a swimming pool. This was Bar 25.
Time warp
Bar 25 was only open during the summer from Friday night until Monday morning and you often had to wait over two hours to get past the bouncer. It was not rare to see two cute, well dressed Parisian ladies get pushed back so that a single guy in tattered clothes could waltz in. The bouncers' selection criteria remained a mystery.
Read also on cafebabel.com: Green dancefloors Berlin: spread the eco-dance germ to Europe
However, those who successfully made it in were rewarded with a long, surreal experience. These lucky few lost all sense of time at this outdoor night club, where the Friday evenings turned into 72 hour nonstop weekends. The best night, which could last until Monday morning, was Sunday. It was reserved only for the survivors, the true Berliners who didn't work on Mondays or who simply didn't show up to work.
Upon entering, you were first met with a nauseating stench emanating from a small, wooden hut, which housed the toilets. It certainly prevented people from lingering too long at the entrance before heading right down to the banks of the Spree, zigzagging through all the ravers and drunks. There were bars, food, swings, mirror balls in the trees, bumper-cars, which were out of order, and, above all, great music.

Bar 25 wasn't just famous in Berlin, it was known around the world as being an exceptional club, day or night. Several scenes from the film Berlin Calling were filmed behind these wooden railings. Paul Kalkbrenner, a famous DJ from Berlin and leading actor in the film regularly played sets in the main cavern, which welcomes the best DJs and houses the biggest bar and in which you could sit on the sofas or dance on the tables. And then there were the unique people who frequented Bar 25. Like this shirtless, tattoo-covered man, donning red sunglasses and wearing a snack wrapped in foil as a necklace, who kept repeating 'Berlin ist der absolute Hammer' ('Berlin is wicked sick'). But a dreadful fate hovered over such a world that was maybe just too good to be true.
Was Bar 25 short-lived? Not really
The land on the banks of the Spree had long been targeted as a place for development by the property project Mediaspree and the landowner who wanted to construct a residential quarter and offices. On 14 September 2010, eight years after its opening, the club closed its doors, a victim of the Mediaspree project. The Berliners sadly witnessed the end of one of the most mythical places in the German capital.
Fortunately for them, Berlin is a city which never fails to regenerate itself and the creators of Bar 25 haven't given up. One of them, Danny Faber, intends to reopen a club in July 2012 in the former Heinz Minki building. The abandoned site where Bar 25 used to be might be turned into a cultural centre, the 'Holzmarkt', built in agreement with politicians, investors and the Bar 25 founders. Another bar, Kater Holzig, has relocated to an abandoned soap factory on the opposite side of the Spree. The concept is almost the same: far more than a simple bar-restaurant, it offers a venue for events in an unusual, off-beat atmosphere where one can pleasantly spend the afternoon sipping a beer and listening to electro while enjoying the view of the Spree. Kater Holzig is a great success and is attracting more and more people both day and night. The only unattractive aspect of Kater Holzig is that, just like at Bar 25, the queue is oftentimes incredibly long. But as French author André Gide once said 'any pleasure for which you don't have to wait, isn't worth it!'
Images: Main and in-text © courtesy of allocine.fr; videos:  Bar25 trailer (cc) bar25video, 'Sky and Sand' (cc) donSchnavolta85 (all from Youtube)
Translated from Berlin et le légendaire Bar 25 : requiem pour un bistrot