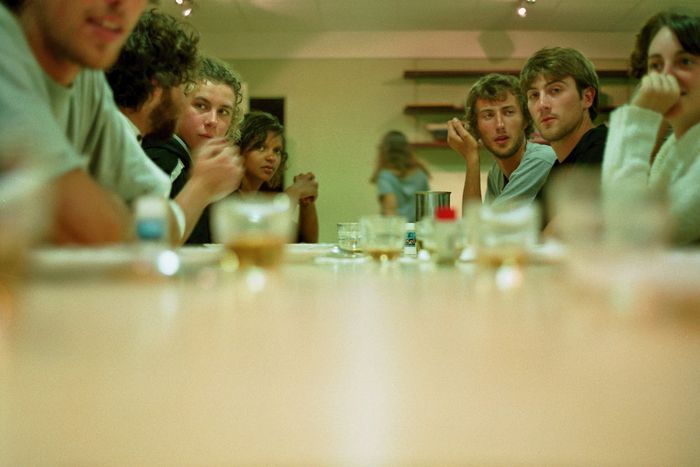 Berlin to Champagne: anecdote of harvesting wine
Published on
For many people picking grapes off the vine and throwing them into a bucket is farmwork like cutting asparagus or picking strawberries. In one way they are right: the intellectual requirements of each of these activities is at most low. For me though other criteria counted
We've been sitting squashed up against each other in a red pickup for five minutes, thigh against thigh. Instead of seats there are wooden benches in the luggage compartment and we slide into the person in front when the driver brakes. The sun peeks out over the hills of Champagne. It's a cold morning but we are warm under our raincoats, so warm that our hands are steaming. I'm tired and close my heavy eyes. I admit to myself that I had imagined the wine harvest would be easier. After two long days of work my back aches and I'm exhausted. But despite this I feel great, because I somehow realise that my holidays have only just begun.
Wine harvester in all of us
The journey to Neuville-sur-Seine starts in a flat in Berlin. When I first hear about the wine harvest, a merciless winter is reigning in Berlin and the grape vines in Champagne stand rigid in an icy wind. It's then that my French flatmate tells me rather tipsily about the harvest of the past year. She sounds excited and definitely wants to repeat the experience. She also says that the owner of the vineyard pays well and that those working on the harvest don't need to worry about accommodation or food. I can of course apply, after all my French is quite good, she says. I write a message to the vineyard the very next day and soon all of my friends know that I will be harvesting wine in France in the coming summer.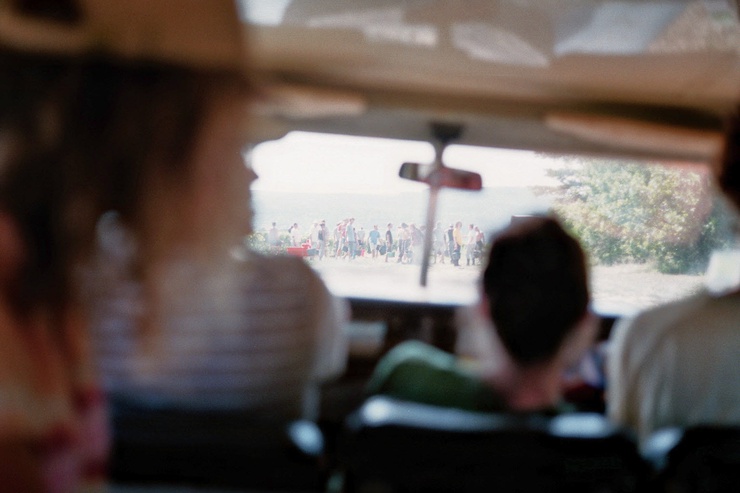 Half a year later I receive an email informing me about the imminent start of the harvest. I immediately book a train ticket and start to borrow expedient things from friends: waterproof trousers, wellies and peaked caps. The team of wine harvesters are expected in Troyes station on a Tuesday. On the train I start to look out for suitable faces, but then what do holiday farm labourers look like? Three girls with Spanish sun hats pose at the station entrance in front of their trolleys and the cutest one glances at me curiously. In the corner opposite a guy crouches next to his rucksack, his head resting on a guitar cloaked in material. He surely belongs to the category of wine harvesters. As a minibus approaches, the guitar guy, the three good-looking girls and I climb on. We are all driven to the house of Hubert, the wine grower. A wine harvester hides in us all, I think.
I find it fascinating to carry out work rich in tradition in the midst of cheerfully singing French people in the valleys of the legendary wine region of Champagne. I can learn the language, customs and expertise at the same time. As the only foreigner in the group, the confrontation with the national language seems unavoidable. If I want to learn to differentiate one variety of grapes from another I have to listen intently to the lesson on wine growing to understand everything. If someone has cut their finger they cry frantically in French for plasters. There is a lot of swearing, whether because of backache or because the late summer sun makes us thirsty. Payment in the form of eurocheques is also typically French. Eight hours work a day over ten harvest days brings me a pay of about 800 euros (£741).
Champagne for well-being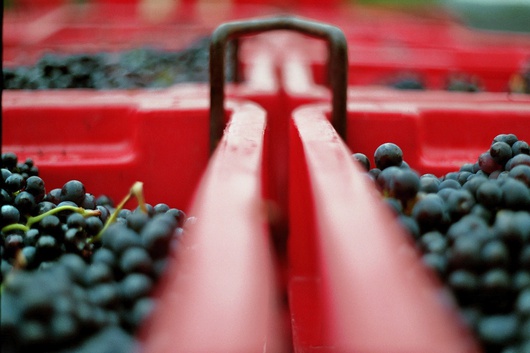 The daily exertions in the wine fields cause me considerable problems. Every position, whether standing, sitting or lying, makes my back even stiffer. Sometimes it helps here to moan together. Soon an old wine-growing tune sounds in the fields and everyone agrees with the sentimental song: 'Dans notre vignoble terrible se lève ton coeur de chanson!' (translating poorly to 'the heart of song awakens in the tough vineyard' - ed).
Shortly before finishing time, face and back muscles abruptly loosen. It's time to have a hot shower and to peel off the sticky jeans which already smell musty. Every evening is sacred: the late hours are composed of heated discussions as well as songs which many of the guys happily take as an occasion to undress completely. Cigarettes are rolled and cold beers drank. In addition I make a deal with an enchanting medicine student that we would give one another reciprocal massages. She isn't bothered that I owe her a massage at the end. She says we'd see each other again.
Translated from Weinlese in der Champagne: Wo die Trauben tiefer hängen