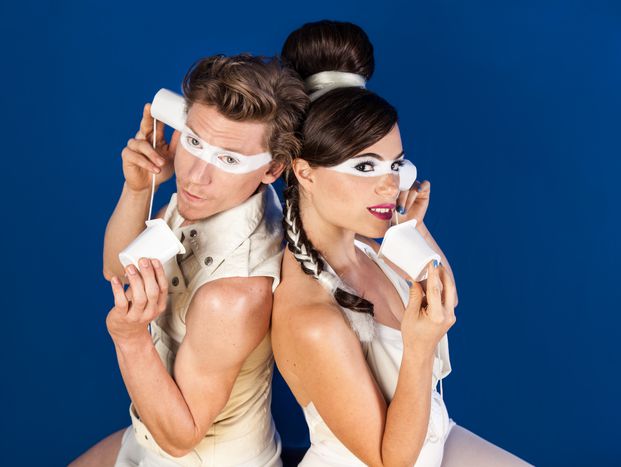 Berlin Jukebox: Anatopia
Published on
Ever heard the sound of hand-made high-tech pop? If not, you were just waiting to meet Henrietta Morgenstern and Klaus Plötzlich of Berlin-based electro-pop band Anatopia. Across musical, artistic and national borders, the pair have created a galvanising experimental live act. Tune in.
Think of a song as a performance, "like a small world with its own story and character in terms of theatricality". Add beautiful 80s costumes, white make-up, fictional characters and various synthesisers, and you will have a rough idea of why Anatopia is such a surprise on stage. No wonder, as both band members have a background in experimental theatre: Shani Leiderman, who hails from Tel Aviv, is an actress and theatre maker by profession. In 2008, she teamed up with musician Valentin von Lindenau to make a song for one of her performances. Since then, they have developed a galvanising electro-pop act, performed by their alter egos Henrietta Morgenstern and Klaus Plötzlich. Their concerts have taken them all over the world, from Germany and Poland to the Netherlands, Switzerland, Israel and Japan. With a first EP 20110609 (Random Robots) released in 2011, their second album User Experience (Snow White Records) will be out in October this year.
Cafébabel: Anatopia - what's in a name?
Henrietta: In the beginning, when we were still playing with a lot of names, we found "anatopia" and checked what it meant: "the state of things when they are not in their proper place". We liked the sound of it and it fits what we do, too.
Cafébabel: How would you describe your music?
Henrietta: Over the years, we came up with seven terms, like "maximal techno" and "intergalactic cabaret". Now we call it "hand-made high-tech pop" because we are inspired by electronic music and techno, but we make every sound visible. We play everything.
Klaus: Our goal was to play techno, but to do everything live. We were so sick of all those live-acts using loopers and samplers.
Henrietta: It's a nice challenge because people are used to hear beats that are very tight and machine-like. We try to do what a machine does with our bodies! That's why our performances are energetic and banging, but also fragile.
Cafébabel: Why did you invent your alter egos Henrietta Morgenstern and Klaus Plötzlich?
Klaus: I want a performance to surprise people. Very often when I see bands, I find it hard to be drawn in if it's only a bunch of guys in fairly normal clothes. We both have a theatre background, so we wanted to give our act a clear aesthetic line.
Henrietta: We both love fantasy, this moment when you are taken away from your daily aesthetics and environment. Costumes and characters are a way for us to create this fantasy.
Cafébabel: Is Berlin a good place for up-and-coming musicians?
Henrietta: It's great because there are lot of people to collaborate with and a lot of inspiration. You can create without thinking about the commercial side of it, which gives a lot of freedom and joy. But it's difficult as well, of course, because there is not a lot of money around.
Klaus: Berlin is a very musical city, but lots of it is DJ music. I wouldn't say that Berlin is very big on the live side, unless it's small scale bands or techno. With a bigger band, the opportunities are harder to come by, but sometimes being a more extravagant live act works quite well.
Excited to see Anatopia live? Well, you're lucky! On Friday September 19th, Anatopia are playing their first Berlin autumn show at Supamolly (Jessner Str. 41, Friedrichshain, 10pm).  See you there! 
CAFÉBABEL BER­LIN HAS TURNED ON THE JUKE­BOX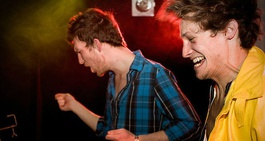 Fed up with the eter­nal sun­shine of Top 10 hits, radio loops and Spo­tify playlists? From April 2014 on­wards, we will in­tro­duce you to young mu­si­cians, DJs and live acts from Berlin who still have the mu­si­cal power to sur­prise you. Check out the juke­box! More tracks and playlists on Face­book and Twit­ter.