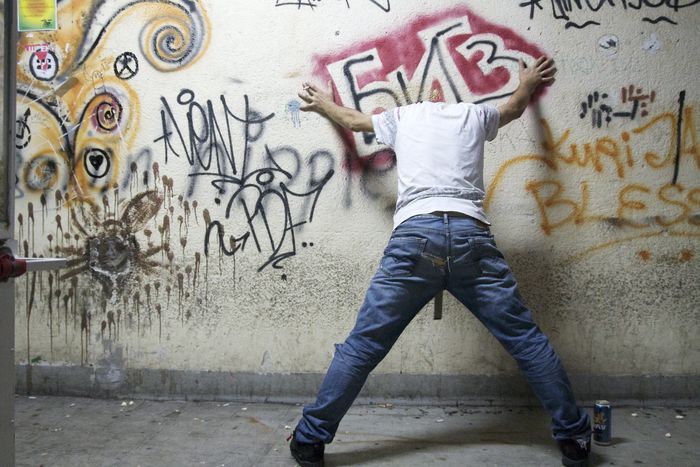 Belgrade: urban spaces, alternative faces feed modern Serbian identity
Published on
Belgrade, which means 'the white city' in Serbian, is an artistic and cultural hub thanks to an active minority that has created an alternative culture by developing public places no longer in use. This new generation of NGOs, cultural centres and squats are trying to give their city a more modern feel
What first comes to mind is the epicentre of the Belgrade underground: the Akadamia Club, as seen in British journalist Matthew Collin's book This is Serbian Calling (2001), where young art students would meet. Today, these gatherings have spread farther out into various parts of the city to offer cultural events, exhibitions, concerts and debates. Strolling through these quirky and unconventional places, which are a proof of the success and expansion of the modern Serbian culture, Dobrica introduces me to the young activists. At the city centre, Dobrica shakes hands with locals at every corner and I quickly learn that this thirty-year-old isn't just anybody. He is fighting for the accessibility of public spaces for Serbian citizen initiatives. In 2009 he launched the 'open spaces' campaign in partnership with the city's institutions and various youth groups to seek ways to develop abandoned lots. By raising public awareness, these young people hope to incite citizens into activism despite their general lack of political will.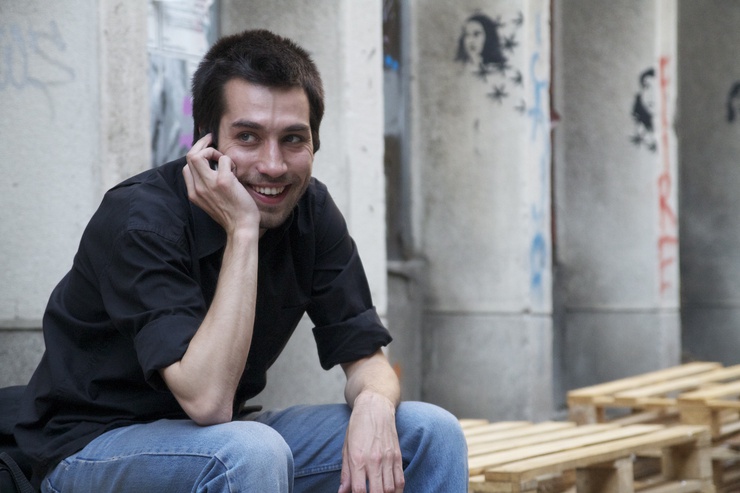 'Activism is optimism from pessimism'
93 Bulevar Kralja Alexander. In this room, formerly used for producing films but now refurbished, two young women run the Vega youth centre where they organise discussions and debates. In yesterday's meeting, Jovana and Dubrawka's discussion topic had been the future of their venue. 'In Serbia, the taxes are enormously high even for small organisations,' says Jovana. 'They no longer have enough personal financial contributions to assure the venue's longevity. A group of about thirty people who launched No radio, an internet station promoting the young alternative scene, come together here.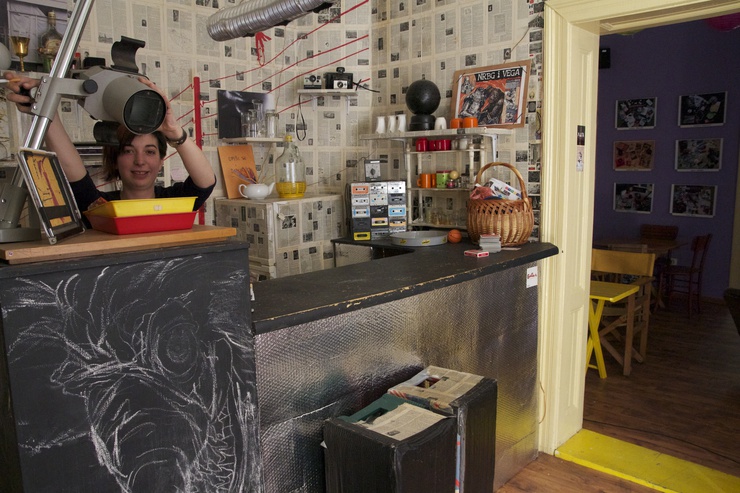 The reason being that in Belgrade, a certain exodus hangs over the artists, a sector in which the youth are leaving the country in large numbers. Between 2001 and 2011, it is estimated that about 30, 0000 young Serbs emigrated due to the lack of work or professional opportunities in their field. Somewhere between the river Sava and the old town, the KC Grad  (the European centre for culture and debate) holds a ten-day-long exhibition of a dozen contemporary sculptors. However, many readily admit that 'everything is happening primarily via the underground culture' and not through established institutions. They also bemoan the lack of means to 'be able to create more ambitious projects'. To dream of other lands is unthinkable; Asia, Western Europe or Scandinavia sound like the promised land.
Green commitment
Many young artists are still making commitment a kind of mantra: ecological activism in this case. In the Ada Huja district, people stroll along the banks of the river Danube. We get the feel of a newly-built place surrounded by large tracts of wasteland. In this new green space, an unusual-looking hut catches my attention with its circular shape, straw walls and roof made of wood and grass. Tatjana and Dragan, two leaders of the KultUrban NGO, are a young couple that were happy to achieve the creation of this green home, encouraging less consumption by using renewable energy sources. This project reflects their commitment to create much with little investment, explains Dragan. After much fundraising with ecological fashion shows, art workshops and lectures in partnership with the city schools, the hobbit house appears to be their biggest project since the creation of the NGO.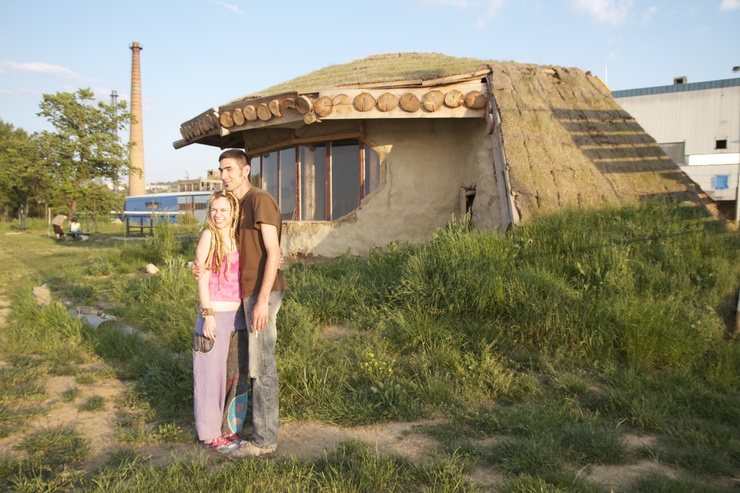 Once back in the city, it seems like we have gone back in time to the days of Spanish botellónes. This is not the case. In the passage between Nikola Pasic square and Nusiceva street, the area has taken on another scale since April. 'We need young people to express themselves,' says a passerby. The locals have mixed feelings about this new landscape but those who complain about not being able to find a spot to park their car will get used to it. After a year-and-a-half long administrative procedure, the Mikroart collective was finally able to kick start this street art gallery. Danilo Vukovic also expresses his enthusiasm at the opening of his exhibition of Paris-Belgrade artists (Kunstleri Pariz-beograd) these being nearby cities, according to him. With stickers juxtaposed with images, it exhibits nostalgia for an era of recklessness that blends friendships, children, fear and love - a time when worries didn't exist.
Squats else?
Despite the social and economic ups and downs, the youth of Belgrade still share a common passion for artistic expression. The cultural centre Bigz, based in an enormous abandoned building that used to be a publishing factory, is a key location for the new Serbian scene. Bigz focuses on providing public studios that artists can rent. Srdjan, a 22-year-old Serbian who is changing the skins of the toms of his drumset before the evening concert, juggles odd jobs with his studies and his dream of becoming a musician.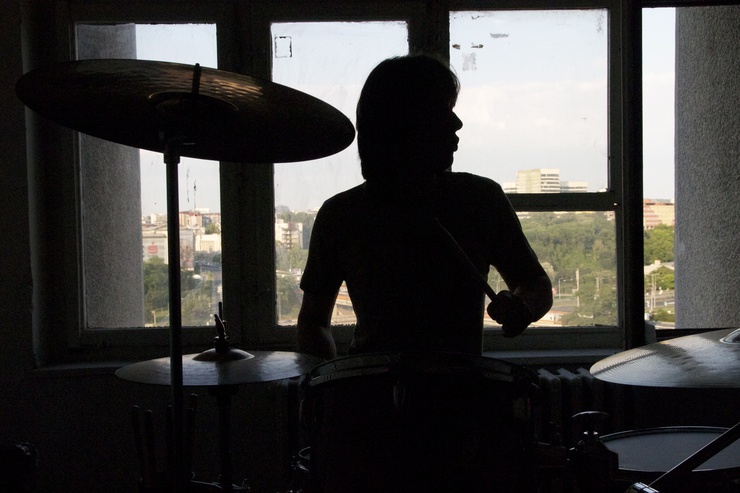 Srdjan and his band rent the room for 300 euros (242 pounds) a month but for him music has no price. I go down to the sixth floor. Punk music turns into electro and the converted studios transform into public bars where Rakija, the popular local alcohol, flows freely. It goes to show what driven youth can accomplish; in this case, convert abandoned public places into dynamic city life. Efforts aside, they will still need much energy and motivation to give Belgrade the status of being a European city of culture.
This article is part of cafebabel.com's 2011-2012 feature focus on the Balkans, Orient Express Reporter 2, a project co-funded by the European Commission and with the support of Allianz Kulturstiftung.Many thanks to Senka Korać akacafebabel.com Belgrade
Images: main and in-text © Alpin Charbaut for Orient Express Reporter II Belgrade
Translated from Belgrade Off : une jeunesse entre engagement et enthousiasme