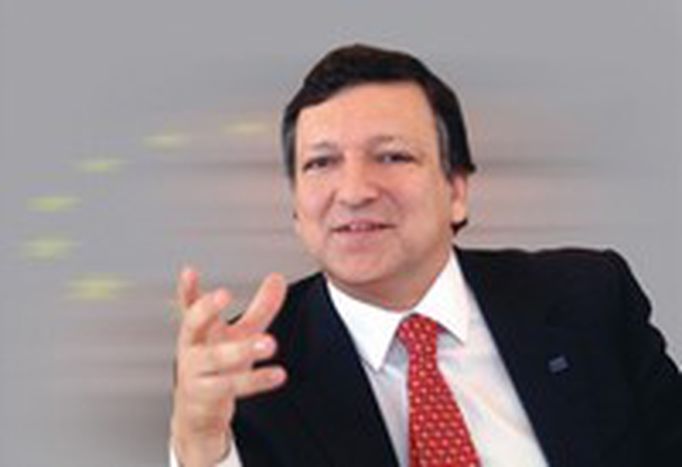 Barroso: "I have no doubt that Portugal's integration has been a success"
Published on
The Portuguese President of the European Commission, Jose Manuel Barroso, talks to café babel about his role, Portugal and European solidarity.
After his Commission got off to a shaky start, Barroso has firmly established his credentials as its President. Here, the Portuguese ex-Prime Minister discusses the importance of EU financial aid for the integration of new member states and his hopes for a political Europe.
Is the fact that a Portuguese person is President of the EU Commission significant for the current role of Portugal in the EU?
The Commission Presidency is one of the world's most important international positions and I don't need to stress how important this is for my country. The same could be said for every EU member state, but it is, of course, even more so for a smaller country like mine. Since 1958, the Commission has had ten Presidents: two Italians, two French, two from Luxembourg, one German, one British, one Dutch and one Belgian. It is the first time that a Portuguese has been entrusted with this important task and it is only the second time that the President is not from one of the six founding member states. However, as Commission President, I am not representing Portuguese interests alone. I am a big supporter of a strong political Europe. Free trade within the Single Market is necessary for our economic competitiveness, but it cannot stand alone. We also need strong institutions, which play a key part in ensuring solidarity between the rich and the poor. This is the signal that the last European Council on 17 December sent out [by coming to an agreement on the EU budget].
Portugal has come a long way since its accession to the EU in 1986. How did its entry affect you personally?
Portugal's accession to the EU was, for me, the culmination of developments that began with the Carnation Revolution in my country back in 1974. On 25 April that year, Portugal shook off its dictatorial regime, but it took another twelve years for Portugal to become a full member of the European Community; a community based on freedom, democracy and solidarity. I was a member of the government at that time, so you can easily imagine what joy I felt that day.
Has being part of the EU fulfilled Portuguese hopes?
Today, Portugal is a stable democracy, fully integrated in the European Union, and, thanks to European solidarity, incomparable in economic terms with the situation in 1986. I dare say that yes, many of our hopes have been fulfilled. The establishment of a democratic system in both Portugal and Spain, and the raising of the prosperity and social conditions of citizens to levels similar to those in other European countries, are clearly the most important achievements. When I look at my own country now and remember how it was twenty years ago, I have no doubt that integration has been a success. Let me just give you one figure to underpin this: The aid received from EU structural funds helped Portugal's GDP to grow from 53% of the EU average in 1985, to 72% of this average in 2004.
Is the way in which Portugal and Spain integrated one which should be followed by potential new member states?
A lot can indeed be learnt from the reasons and conditions for this favourable outcome. Nevertheless, the situation of Spain and Portugal twenty years ago may not be comparable to the situation of potential new member states. Also, the EU and the world are completely different now. The challenge to integrate ten new members in 2004 was, in both political and economic terms, so much bigger than it was with Spain and Portugal at the time. It is a feature of European integration that the 'one-size-fits-all' approach doesn't usually work, and one has to be careful to take into account the political, economic and cultural variety of all European countries.
What do you think Portugal and Spain have brought to the EU?
Both Portugal and Spain have participated enthusiastically in the process of European integration. The fact that there is either a Spaniard or a Portuguese at the head of the three main European institutions - the Council, the Parliament and the Commission – is testament to the European commitment of both countries. And we shouldn't forget that Spain was the first country to hold a vote on the draft European Constitution, with an overwhelming majority in favour of it. Both countries also have rich, ancient cultures and a history of influence in European and world affairs. Their languages are among those most spoken in the world. In a moment where the European Union is trying to make its voice better heard on the international stage, Portugal and Spain have provided the EU with an invaluable bridge towards America, Africa, the Middle East and Asia.
What's more, the economic reforms undergone by Spain and Portugal since 1986 have not only benefited their citizens - they have also helped increase the wealth of the Union as a whole. Twenty years ago, both countries were more than 30% poorer than their European partners and thus received a substantial amount of EU funds under the cohesion polices. This money has been put to very good use, and both countries have since caught up with the European average, or at least got much closer to it, albeit to different degrees. In a few years time, Spain will most probably become a 'net contributor' to the EU - that is, it will be giving more money than it receives. This will help those who need it so that they can develop and, in turn, help others - that, to me, is a very good example of European solidarity.