Back in Kaunas
Published on
All good things end so that we learn to appreciate them. So did my research trip in Japan. Now I'm back in Lithuania and staying in my hometown Kaunas for a while.
Today as I was going home after meeting a friend, I suddenly had a thought that I would really recommend every foreigner visiting Kaunas to walk/drive/take public transport/ride a bike up the Savanoriu avenue (the name means "volunteers'", but not those who go to South Asia to distribute blankets, but the people who volunteered for the first Lithuanian army as the country was established after WW1. Would be nice, however, to have a street named in honour of the modern volunteers).
The street starts in the pleasantly eclectic old town of Kaunas, right after you end your walk down the Laisves lane. It goes up past some buildings which couldn't be considered old as they are not really ancient, but they are not soviet and not modern either. Kaunas is not as full of churches as Vilnius - most are either scattered or concentrated in one spot, which is near the city hall. So nothing stands out too much from the landscape.
As the street runs up the hill, there is a high school from red bricks, and the newly rebuilt huge white church can be seen within a distance. Further, the street becomes a enveloped with modern steel and glass buildings, not too tall fortunately. Apparently, the "Los patrankos" club, where we had one of our school celebrations, is now called "Nautilus". Even such things change.
Later on it becomes a residential area with some commercial establishments here and there.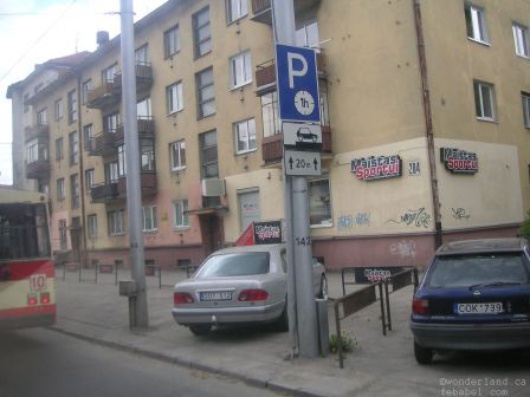 Near the Aukstaiciu bus stop there is a building which has been closed and left unused ever since I remember it. Strange misuse of strategically important location. Unfortunately, I took out my camera too late, but maybe I'll make more photos while I'm still here.
You can also see some red-brick architectural experiments here and there. One of them is this one (sorry, it's a really failed photo through a bus window).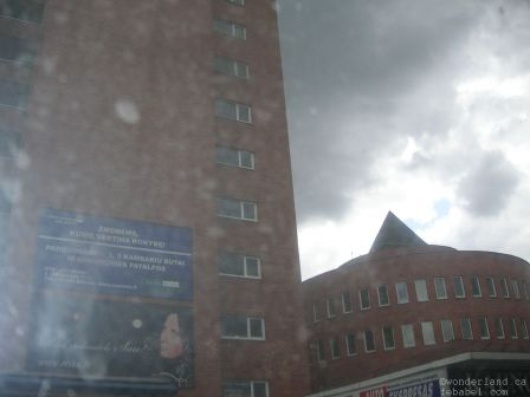 And then we enter a residential area once again.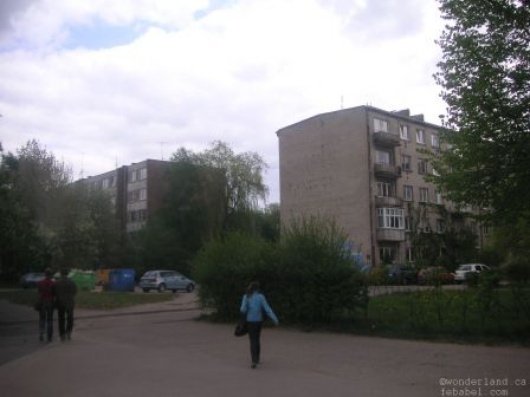 And here goes the Kalnieciai shopping mall - a monument/leftover of socialist functionalism mixed with I don't even know what.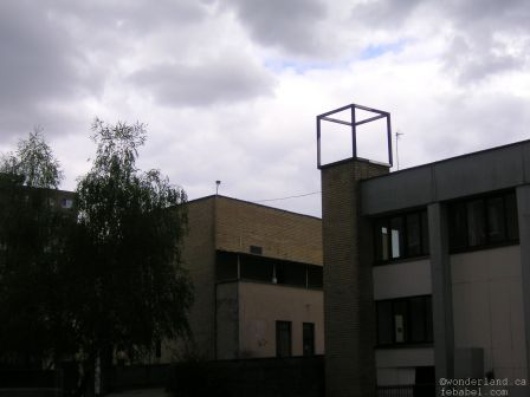 These empty unnecessary aquariums were supposed to decorate the shopping mall, and all of us who grew up around it think that it would be even worse without them.
The shopping mall has big spaces divided among small businesses. When a local supermarket chain wanted to step into this area, they constructed a new building instead of using Kalnieciai. I have no idea who owns it, but some parts of it are now being demolished. There's a food market in one part of it, I think it's very convenient.
Later on the avenue becomes a business street with many new buildings, which serve as shops, clinics, restaurants and what not. Right before it turns into the highway to Vilnius. Curiously, the street it runs into once reaching Vilnius also has the same name - Savanoriu.
As I say to everyone, Kaunas is not the most glamorous or the most comfortable city. But I prefer it to Vilnius because it has a face. I find it simply interesting.