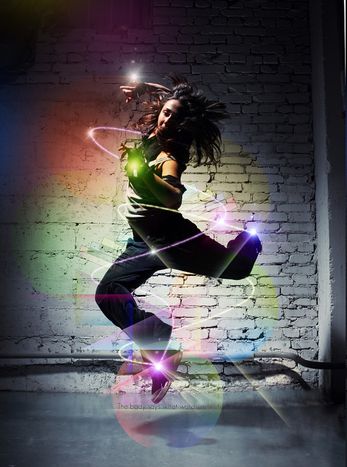 B-boys, b-girls and rappers on Seville's hip hop identity
Published on
Translation by:
Meggymoo
Seville and flamenco belong together like Don Quixote and Sancho Panza. Yet the Andalusian city also gained a reputation in the nineties for establishing a new genre of Spanish-speaking hip hop. Bands like SFDK grew in tower block neighbourhoods such as the one-time 'Bronx of Seville', Pino Montano
It's the end of the working day for Sara, but while her colleagues meet up for after-work drinks, this native Italian has other plans. She quickly slips into a comfortable t-shirt and purple peaked-cap, and less than half an hour later is in a draughty shopping arcade practicing breakdancing moves such as the 'windmill', the 'chair freeze' and the '6-step'. As a member of a casual group of about twenty dancers, Sara meets her friends several times a week to breakdance – following the same ritual as the first hip-hoppers in New York in the late seventies.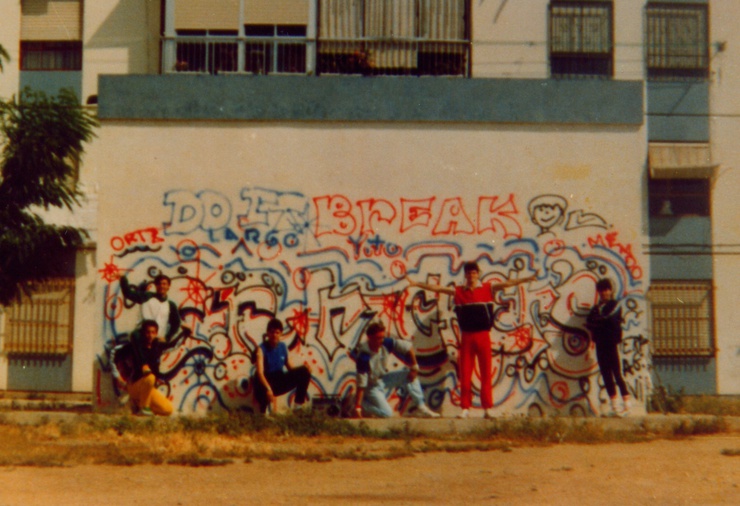 Sara is the only female dancer of the crew. What's more, she has only recently come over to Spain from her native Milan. Despite this, she felt accepted here immediately. 'Wherever I go, I breakdance,' she explains. 'It doesn't matter where you come from, you're accepted here.' During a quick breather, Sara talks in Russian with her visiting Hungarian friend Dori, who she got to know during an internship in Moscow.
Godfather of Seville movement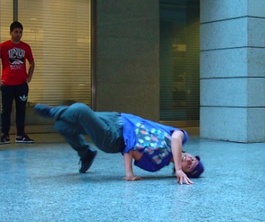 Together with Cristina from Portugal, the girls are in awe of the 'powermoves' being demonstrated by the half-Cuban Yobani, who spins so insanely fast that all of the photos I try to take of him are blurry. Bboy Fini aka Finizio, who has an Italian father and Andalusian mother, stands out from the younger crowd. 'I'm like a father figure for the boys,' he says. When you see how smoothly he moves and how he dances with such passion and devotion, it's hard to believe this guy is over forty. In a way, Fini is the godfather of the Seville hip hop movement; he even gave Seville its first smattering of graffiti. He describes himself as the 'erschte' (German for first), with southern German articulation, as he lived in Augsburg for a few years with his family when he was a teen and has spoken German with a Bavarian accent ever since. From the age of fourteen, Fini has devoted his life to hip-hop. At home he has a room that is full to the brim with records, films, posters and other memorabilia: 'It's a real little hip-hop museum,' he says with pride.
Finizio put a hold on his dancing for ten years, as he wanted to establish himself in his events organisation company, but dance took over once again. 'I was a bit worried about what my wife would say when I told her I wanted to dance again,' he adds. However, Elisabeth had no problem with it and, to show his gratitude, Fini had her name tattooed on his forearm. When Fini holds university lectures on the subject of hip-hop culture, he has to erase the misconception that hip-hop is only about music. 'Hip-hop is much more - hip-hop is breakdancing, graffiti, DJing, and so on,' to which Sara adds 'you are hip-hop!', and Fini grins happily.
Torreblanca: no-go-area
The conference centre in Torreblancais a half-an-hour bus ride north-east from Seville. It's a rather dismal area with a few fast-food restaurants, a supermarket and a coffee shop, where I am meeting with rapper Rabem, aka Iván González. He is accompanied by his colleague K-PO, and, whilst sipping a Coca-Cola light and a café latte in a very un-rapper-like fashion, they tell me about their background in Torreblanca, a notorious tower block neighbourhood in Seville.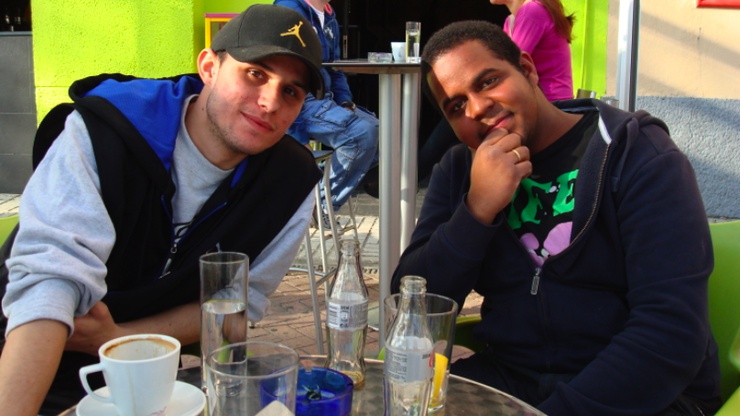 It all began in 2002, when a 14-year-old Iván discovered American hip-hop superstars LL Cool J, 50 Cent and Eminem on MTV, the music TV channel. He began to write himself, about his experiences in an area that is described by Sevillians as peripheral and dangerous. 'It was like therapy for me,' he says. 'My lyrics reflect what I go through every day. Of course, drugs and violence happen around here, but not everywhere. The neighbourhood is much better than its reputation.' In fact, a lot is being done by the town to blot out Torreblanca's shady reputation as a no-go-area. Torrerock, the town's festival, where Rabem had his first live performance, was also an attempt to do this. His mum was pleased at least, commenting that her son's head isn't just filled with nonsense, he has talent and there are a lot of people who want to listen to him rap.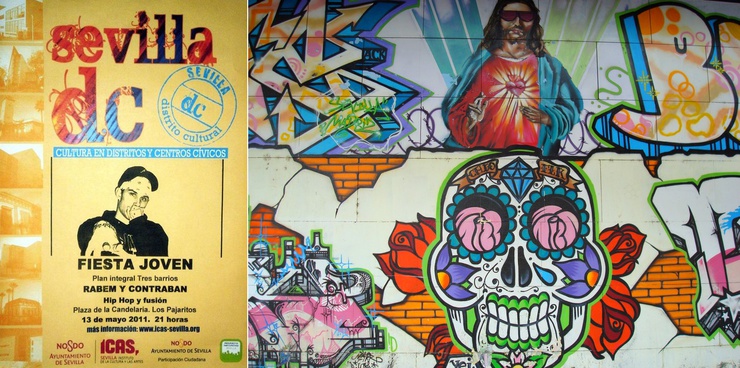 Love you mum
As well as the American examples of hip hop, Rabem was particularly taken with Vico C, a rapper with Puerto Rican roots. 'Latin American hip hop is different,' agrees K-PO. 'It's a fusion of reggaeton, jazz, funk and salsa.' The two young rappers also want to incorporate this intercultural discourse into their music. Just recently, they decided to unite under the name of 9 milimetros and make music together. They show me how it sounds while cruising through Seville's outer neighbourhoods. The briefly uneasy feeling of getting into a (gangster?) rapper's car passes quickly and soon Rabem is playing me the song that he dedicated to his mother. A lot of his writing is about 'lucha' ('fighting'); it's clear that he hasn't always had an easy life and that music has helped him to avoid ending up like some other people from Torreblanca. 'No tengo dinero, solo letras con furia' ('I don't have money, just lyrics with a whole lot of anger'). But, he loves his mum anyway.
As we give each other a friendly wave goodbye on the banks of the Guadalquivir river, I catch sight of the graffiti which, in addition to the music, gave rise to Seville's reputation as a 'hip hop capital' (one blog claims graffiti initiated in 1984 in Seville with Bboy Fini's Freeze Rockers themselves - ed). The American photographer Brian Miller is an admirer of the sprayed artistry and showcases it in his blog. 'Technically, this graffiti isn't legal, but I've often seen the police walking straight past without caring if someone has graffitied,' he says. The city seems to have a really positive relationship with its hip hop culture, evident through the numerous bottle banks which are officially allowed to be decorated with spray paints. Seville is simply awesome.
This article is part of the fourth edition in cafebabel.com's 2012 feature focus series on multiculturalism in Europe. Many thanks to the team at cafebabel.com Seville
Images: main (cc) Rohan Reid/ flickr; Sara © SW; 1985 Freeze Rockers © courtesy of Bboy Fini; video (cc) AbismoRecords/ youtube
Translated from Sevilla, Europas Capital del Hip Hop